DailyEdge.ie rounds up the TV shows that you'll be tweeting and talking about this weekend.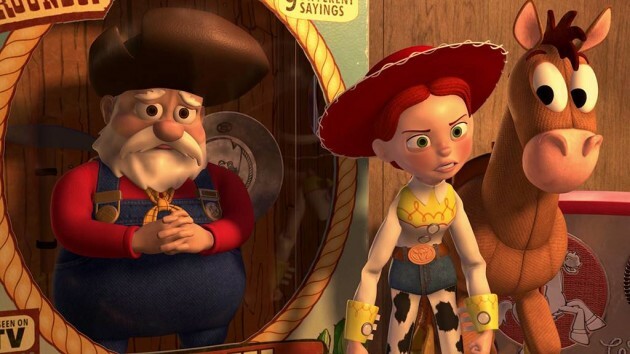 Disney Pixar Disney Pixar
Saturday 
The Voice UK (Virgin Media One, 8pm) 
Emma Willis hosts the singing competition as blind auditions continue. Judges Olly Murs, Tom Jones, Jennifer Hudson and will.i.am take their seats in the revolving red chairs to set about recruiting the best vocal talent. 
Princess Diana's 'Wicked' Stepmother (Channel 4, 7pm) 
Documentary looking at the turbulent relationship between Princess Diana and her stepmother Raine Spencer. A former debutante, Raine became a no-nonsense politican before taking on the job of mothering the future Princess of Wales. She was a divisive figure, doted on by Diana's father Johnnie Spencer – but loathed by Diana and her siblings. Yet, as her own marriage collapsed, Diana made the most unlikely U-turn, reaching out to Raine for support, and turning her into one of her closest confidants. 
Toy Story 2 (RTÉ One, 6.35pm) 
Ah come on, this one doesn't need an introduction. But just in case you've forgotten what happens in the second one, Woody's kidnapped by a toy collector so Buzz and the other toys set out in hot pursuit, only to discover that Woody's new life and his new pals are tempted the cowboy to remain in his new world. 

Sunday 
RTÉ RTÉ
Dancing with the Stars (RTÉ One, 6.30pm)
Week two of Dancing with the Stars sees the female celebrities take to the dancefloor to show off what they've learned and attempt to impress the judges. 
Drinkers Like Me – Adrian Chiles (BBC Two, 10pm) 
In this revealingly intimate documentary, Adrian Chiles takes a long hard look at his own love of boozing. He wants to find out why he and many others don't think they are addicted to alcohol, despite finding it almost impossible to enjoy life without it. Adrian, who drinks almost every day, decides to start a drinking diary and soon finds out his intake is way over the recommended limit. He decides to visit his parents to find out what motivated him to start drinking as a teenager and reveals that sneaking into pubs underage was all about friendship and being part of something, and that the allure of the social side of drinking has never really left him since his teens. 
Couples Retreat (RTÉ2, 9pm) 
Comedy about four couples who inadvertently end up on an intense therapy programme after booking a trip to the perfect tropical island resort. When childless couple Jason and Cynthia decide to try couples counselling in a last-ditch effort to save their marriage, they convince three other couples to go with them, promising that the therapy is optional. However, when the holidaymakers arrive at the beautiful Eden resort, they are shocked to find that a compulsory and intense counselling regime awaits them. 

Or flick over for…
Saturday
Jamaica Inn (Virgin Media Two, 9pm) Period drama based on Daphne du Maurier's gothic novel. 
Amazing Hotels: Life Beyond the Lobby (RTÉ 2, 7.45pm) Giles Coren and Monic Galetti join the 9,5000-strong workforce in one of the world's biggest hotels and see everything the employees need to do to keep the place running. 
I Love You, Man (TG4, 9.20pm) Lacking male friends, let alone a best man for his impending wedding, Peter Klaven struggles to bond with the guys suggested by his fiancee Zooey and others. Then chance brings freewheeling Sydney into uptight Peter's life, which is soon turned upside down.
Hidden Britain by Drone (Channel 4, 8pm) Could this show possibly air at a worse time? 
Ted 2 (RTÉ 2, 9.45pm) John and his teddy bear buddy return for another adventure, as Ted's relationship with his wife Tami-Lynn is on the rocks and the couple decide the best way to stop the arguments and save their marriage is to have a child.
Sunday 
The Flu That Killed 50 Million (RTÉ 2, 8pm) Christopher Eccleston narrates a docudrama about the 1918 flu pandemic, which killed more than 50 million people. Told using powerful personal testimony. 
World's Weirdest Homes (Channel 4, 7pm) Series showcasing bizarre homes. 

Dancing on Ice (Virgin Media One, 6pm) Phillip Schofield and Holly Willoughby present the celebrity ice-skating competition. 
The Eyes of Orson Welles (BBC Four, 9pm) Film-maker Mark Cousins dives deep into the visual world of the legendary director and actor, to reveal a portrait of the artist as he has never been seen before – through his own eyes. 
The Week in Politics (RTÉ One, 11pm) Reflections on the political week, combined with interviews and discussions with ministers, senators and TDs. 
DailyEdge is on Instagram!