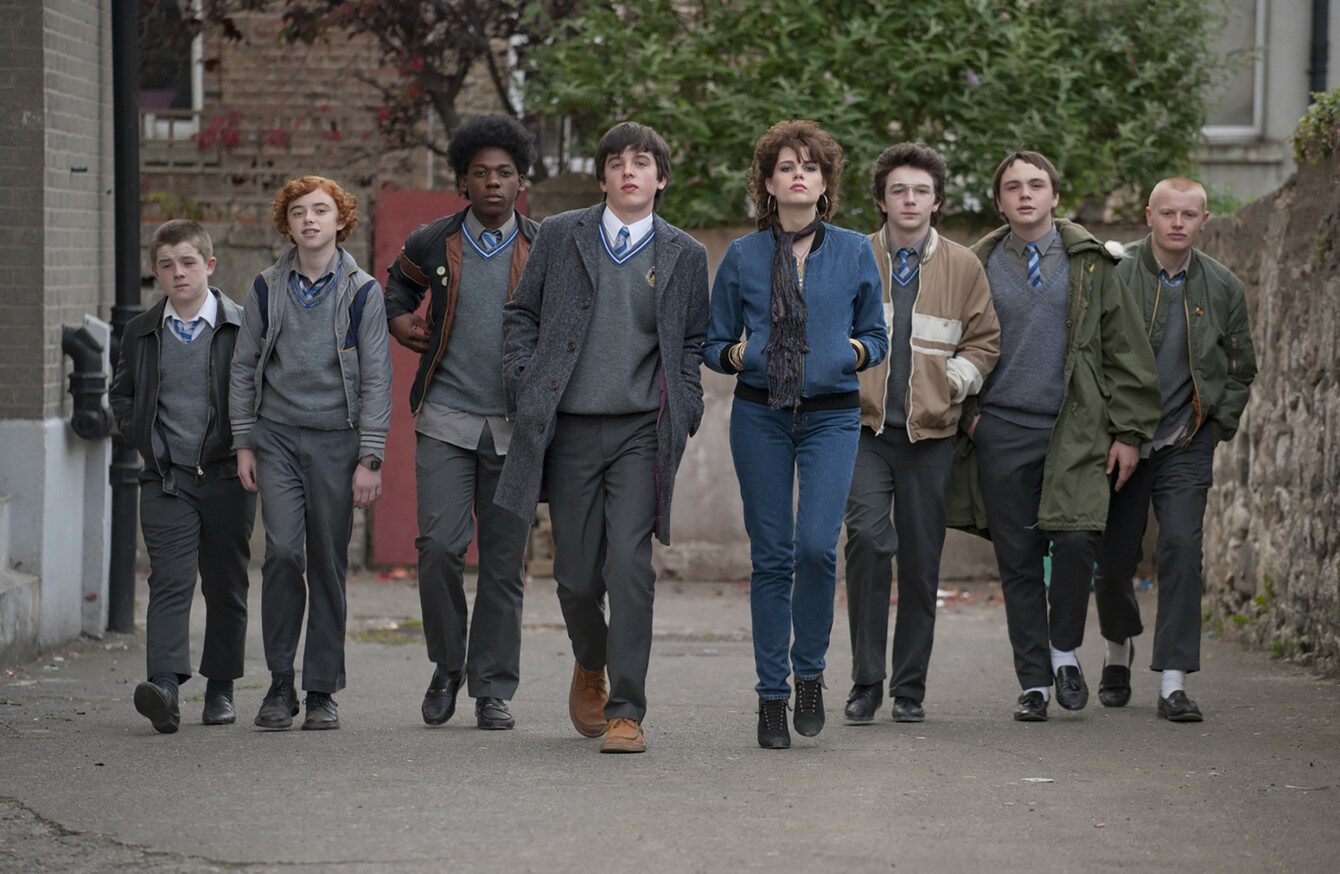 DailyEdge.ie rounds up the TV shows that you'll be tweeting about tonight and talking about tomorrow. And it's a bumper list given it's Christmas Eve.
Sing Street (RTÉ 2, 10.20pm)
One to watch once you get the kids to bed. The 2016 comedy drama set in Dublin's Synge Street secondary school. A boy growing up during the 1980s decides to set up a band to escape his strained family life, when his parents announce their divorce and his brother becomes more withdrawn and depressed. With a vast array of genres and bands to look to for inspiration, it takes the young man and his band a couple of tries before they can nail the right sound, and more importantly, the right look. But is it enough to impress the mysterious girl that he likes?
Jurassic World (RTÉ 2, 5.50pm) 
If you haven't seen the latest iteration of the Jurassic Park series, it's time to change that. Decades after Jurassic Park was opened, a new and more futuristic theme park has been opened on the island. In order to draw more tourists and customers to Jurassic World, the park's directors decide to genetically engineer an entirely new species of dinosaurs. Naturally, it goes all wrong. 
Miracle on 34th Street (Channel 4, 6pm) 
A woman raises her six-year-old daughter to believe that Santa Claus does not exist, but they both have a change of heart after meeting a department store Father Christmas who claims to be the man himself. When the kindly fellow is accused of being a charlatan, his new friends engage a lawyer to prove his true identity. Remake of the 1947 family drama, with Richard Attenborough, Elizabeth Perkins, Matilda star Mara Wilson and Dylan McDermott.
Click and Collect (BBC One, 9pm)
It's Christmas Eve and Andrew Bennett has already failed to buy his daughter's main present – the elusive Sparklehoof the Unicorn Princess. His over-friendly neighbour Dev D'Cruz manages to nab the last one in the UK online, by click and collect. The only problem? It's 270 miles away. Andrew has little choice but to embark on a cross-country roadtrip with Dev as he attempts to save Christmas and redeem himself as a dad. For Andrew, it's a nerve-fraying nightmare. For Dev? Well, it's the beer they've never got round to having. 
Father Ted Christmas Special (RTÉ 2, 8.05pm) 
Wouldn't be Christmas without it, would it? It's a nightmare Christmas for Ted and Dougal when they get lost in a vast lingerie section at a department store. Only Ted's quick thinking can save the church from another embarrassing scandal, but the incident still has far-reaching and dangerous consequences.
The Royal Family Christmas Special (BBC One, 10.30pm)
Festive special edition of the hit family sitcom. Inspired by Nigella Lawson, Denise decides to cook Christmas dinner for the family. Jim provides the yuletide log and, much to his dismay, Dave's mum and dad are invited to join the festivities. What could possibly go wrong? 
Or flick over for…
Gogglebox 2018 (Channel 4, 9pm) All of the highlights from the last twelve months of telly, as seen through the eyes of the Gogglebox couch critics.
Bridget and Eamon: The Musical Society (RTÉ 2, 9.10pm) The couple are held at gunpoint by paramilitaries, but with their TV broken it means that Bridget, Eamon and their neighbours must act out popular shows to keep the captors entertained.
Mission: Impossible – Rogue Nation (Virgin Media Two, 9pm) The 2015 addition to the MI series.
Mary Poppins (BBC One, 5pm) Might be worth showing the kids the original before taking them to the new Emily Blunt movie. 
Carols from the Castle (RTÉ One, 9.20pm) Mary Kennedy, Johnny Logan, Loah, Pauline Scanlon, Wyvern Lingo, and the Lost Brothers perform some Christmas classics live from Dublin Castle with the RTÉ Concert Orchestra.
O Brother, Where Art Thou? (TG4, 9.25pm) A crime comedy starring George Clooney as Ulysses Everett McGill, who is having difficulty adjusting to his hard-labour sentence in a Mississippi prison and decides to scam his way off the chain gang and decides to pursue freedom with some unlikely pals. 
Warrior (Film 4, 11.35pm) An estranged family finds redemption in the unlikeliest of places – the MMA ring. Starring Tom Hardy, Joel Edgerton and Nick Nolte. 
Pat Shortt's Music From D'Telly: Christmas Special (RTÉ One, 6.20pm) Pat presents a selection of festive favourites from a 50 year catalogue in the RTÉ Archives. 
The Lady in the Van (BBC Two, 10pm) The true story of Miss Shepherd, an eccentric woman of uncertain origins who 'temporarily' parked her broken-down van in writer Alan Bennett's London driveway, and proceeded to live there for the next 15 years. 
Ireland's Weather 2018: Climate Chaos (Virgin Media One, 10pm) Following the severe and extreme weather events of 2018, weatherman Deric Hartigan considers whether extreme weather conditions will be the new norm and examines the effect climate change is having on weather conditions in Ireland and around the world. 
DailyEdge is on Instagram!