EVERY MORNING AT tea-break time (aka 11am), DailyEdge brings you the most perfect pics, videos and posts being shared today. Take a minute and enjoy our Daily Digest.
Wow, cats really don't like rain.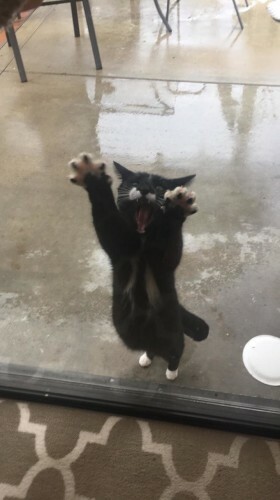 Imgur Imgur
Today, people are watching:
Happy New Year, everybody.
http://vine.co/v/OwxnvEbBOOm
MARIAH :( :( :(
http://t.co/YaDxWGhGNz
People are liking:
Exclusive footage of you coming in after your New Year's Eve sesh.
https://www.facebook.com/viralthread/videos/627037260802294/
People are retweeting:
Oh God. There are people who think January 1st is America's birthday.
Profound Happy New Year tweet from philosopher Jaden Smith.
WHERE'S YOUR QUIFF, IMELDA?
And finally… When you're out in the club and you feel like you're in a creche
Imgur Imgur
DailyEdge is on Snapchat! Tap the button below to add!
Want to get a notification when the Daily Digest is published for your tea break? Sure! Simply send the word 'Digest' in a WhatsApp message to 083 8120901, and add our number to your contacts as DailyEdge. (If you don't add us, we can't message you :( ) We'll never spam you or share your personal details with anyone. We'll just send you one notification packed with A++++ viral goodies every day. You can unsubscribe at any time.