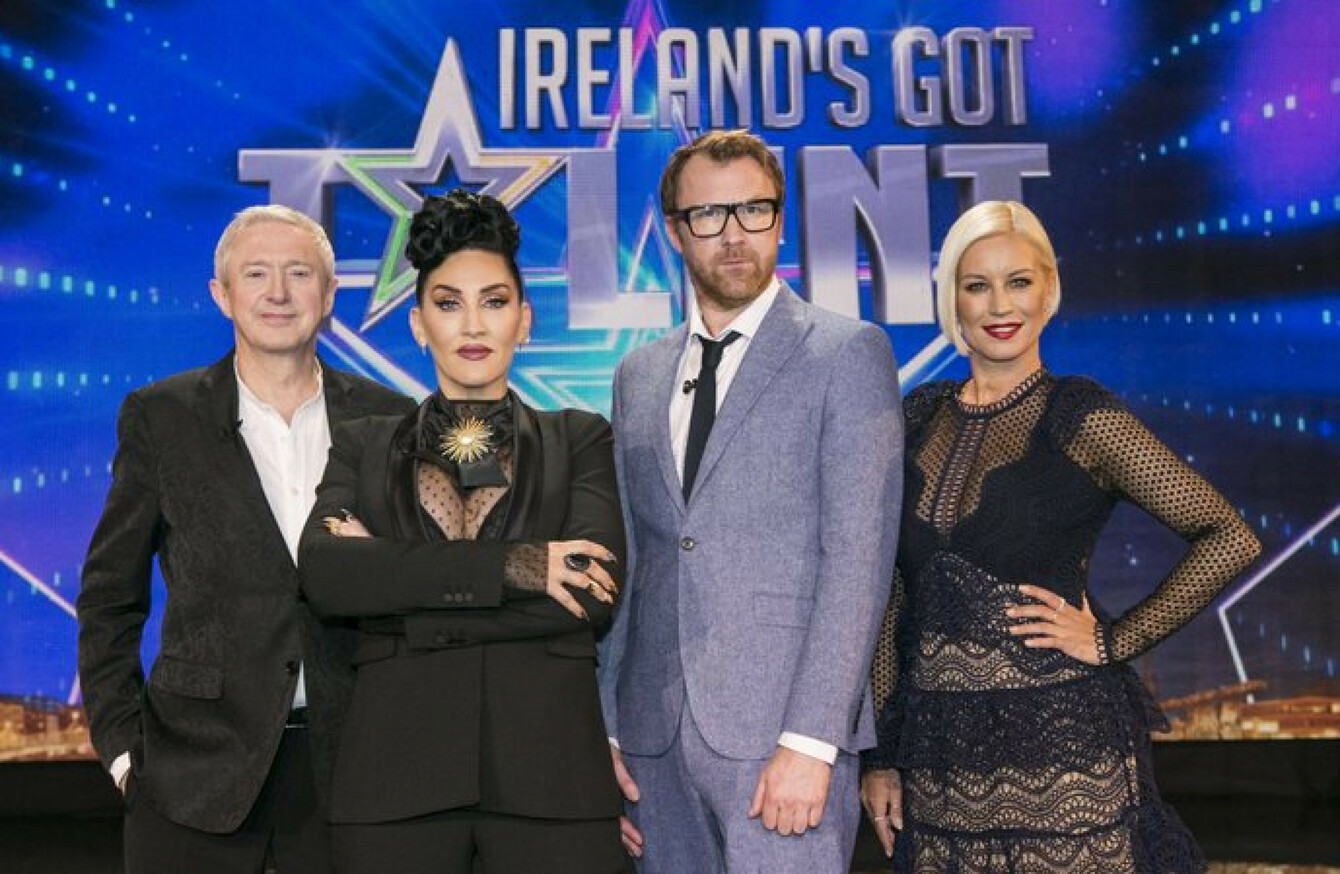 Image: TV3
Image: TV3
DailyEdge.ie rounds up the TV shows that you'll be tweeting about tonight and talking about tomorrow.
Ireland's Got Talent (TV3, 7.30pm)
Tonight the fourth episode of Ireland's Got Talent will feature the extremely awkward moment where Jason Byrne accidentally hits the golden buzzer for a contestant that none of the judges were too fond of.
If you're not interested in the drama of that (Louis Walsh gets fairly pissed off, so it looks like it's worth checking out), tonight'll feature the first animal contestants on the show. Tonight you'll get to see some Irish dogs and parrots showcasing their talents.
 What Richard Did (RTÉ 2, 10pm)
If you didn't get a chance to see Lenny Abrahamson's award-winning Irish coming of age movie way back in 2012 when it came out, now's your chance. A wealthy teenager brings his friends to his parent's beach house to celebrate the end of the school year. He loses the plot when he sees his girlfriend chatting with her ex, and what he does out of jealousy and rage lands him in a lot of trouble.
The Take (Channel 4, 9pm)
Richard Madden and Idris Elba star in this action thriller about an American pickpocket in Paris who accidentally ends up stealing some classified information. As a result, he must outrun the CIA. The CIA agent in charge of chasing him down discovers a conspiracy that threatens both of their lives, and recruits the pickpocket to help him survive.
Everybody's talking about… All of the changes in Gogglebox.
We've lost some classic Gogglebox members, but we've met some new Goggleboxers.
Or flick over for…
Mirror Mirror (RTÉ One, 6.35pm) Fantasy reworking of the classic tale of Snow White.
Ant & Dec's Saturday Night Takeaway (TV3, 9pm) The duo return tonight for a new series of their weekend variety show.
Survivor: Millennials vs Gen X (TG4, 6.05pm) See who's tougher.
Take Me Out: 10th Anniversary Special (3e, 8pm) Paddy McGuinness catches up with some of the real-life lasting couples that met on Take Me Out.
The Heat (E4, 9pm) Action comedy from the makers of Bridesmaids.
xXx (SyFy, 9pm) Vin Diesel's 2002 action thriller.
DailyEdge is on Instagram!