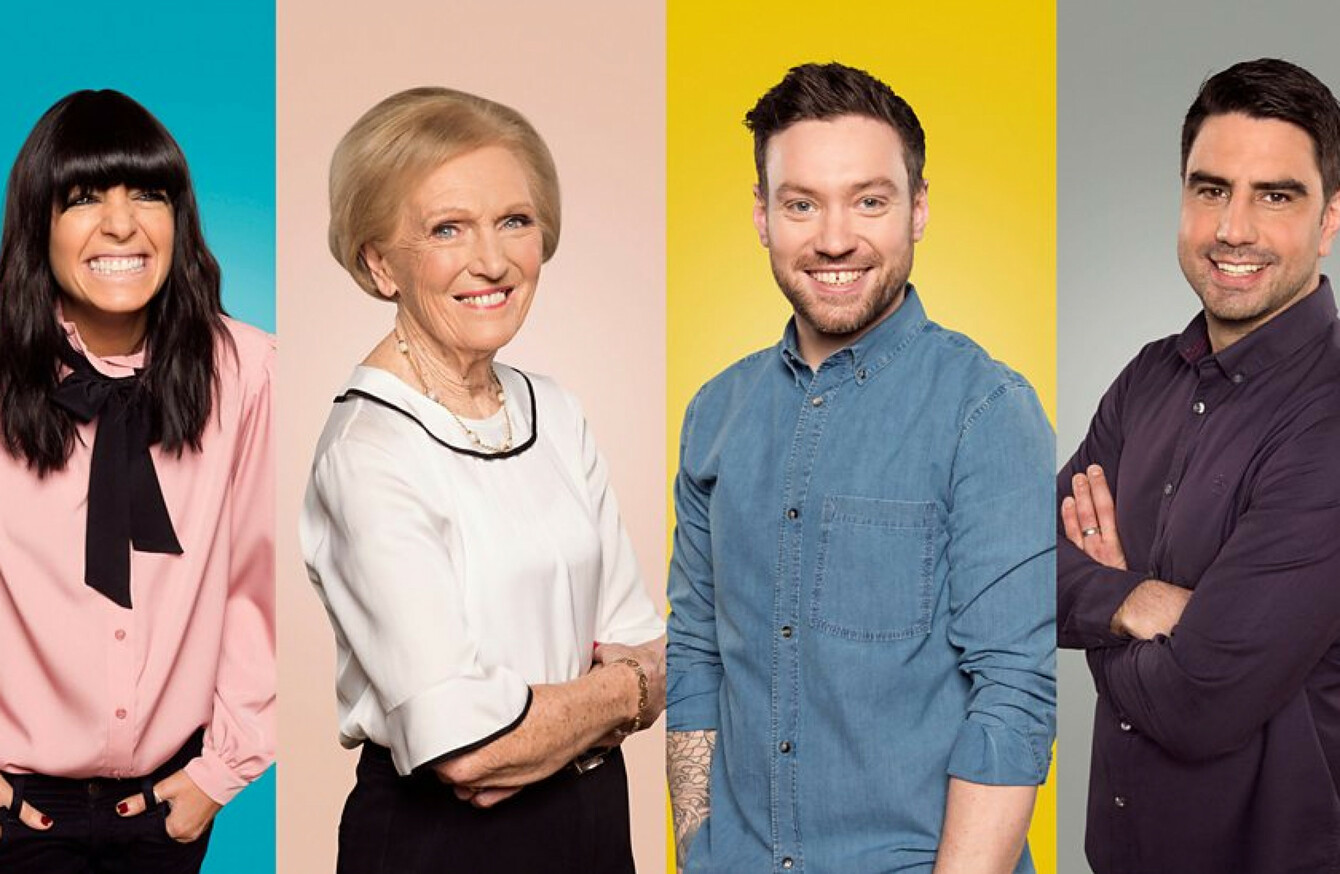 Image: BBC
Image: BBC
DailyEdge.ie rounds up the TV shows that you'll be tweeting about tonight and talking about tomorrow.
Britain's Best Home Cook (BBC One, 8pm)
Mary Berry, Dan Doherty and Chris Bavin put ten of the UK's best home cooks through their paces. Each week, there will be two challenges. Tonight, the series kicks off with a challenge in which the cooks have 90 minutes to prepare the ultimate burger, along with two sides that will showcase their individual personality.
For the second challenge, the contestants are given the choice between using either nuts or berries as the key ingredient for a sweet or savoury dish of their choice, which will be judged at the end of the show.
Catastrophe (RTÉ 2, 9pm)
Sharon Horgan and Rob Delaney's sitcom comes to a close tonight, with Sharon taking the news about Olivia pretty badly. She decides to kick him out of the house, and he turns to Dave who's in the middle of a ridiculous post-breakup bender.
The Handmaid's Tale (RTÉ 2, 9.30pm)
The second season of Margaret Atwood's award winning drama series continues tonight, with Offred continuing her pregnancy and her battle to free her future child from the horrific conditions within Gilead.
Everybody's talking about… Last night's episode of First Dates.
Last night, a veteran raver named Sarah ended up on a date with the lead singer of one of her favourite boy bands from back in the day – Ben, from Curiosity Killed The Cat.
Source: First Dates/YouTube
On one of the other dates, a guy also told his date to shut up after she attempted to pay for her half of the dinner. Standard. There was also another guy, who demonstrated for his date how he drinks pints from his prosthetic leg.
Or flick over for…
Paul O'Grady: For the Love of Indian Dogs (TV3, 7.30pm) Paul O'Grady takes his show to India for the latest series, and meets some of the people who spend their lives helping the 400,000 abandoned dogs on the streets of Delhi.
World's Most Extraordinary Homes (BBC Two, 8pm) Piers Taylor and Caroline Quentin travel to the USA to look at high-end design and architecture.
Ireland's Paramedics (TV3, 9pm) Documentary series following the HSE's National Ambulance Service as they do their jobs across the country.
Super Garden (RTÉ One, 8.30pm) Tzvetanka McFadden transforms a garden in Harold's Cross.
Homeland (RTÉ 2, 10.40pm) The finale of the espionage drama starring Claire Danes, Mandy Patinkin and Elizabeth Marvel.
DIY SOS: The Big Build (Be3, 8pm) DIY SOS help out a Birmingham family in need after their twins were born prematurely with a developmental issue.
True Horror (Channel 4, 10pm) Dramatised documentary series featuring true horror stories. Two teenagers camp out beside a haunted wood rumoured to be the site of a mass grave.
DailyEdge is on Instagram!