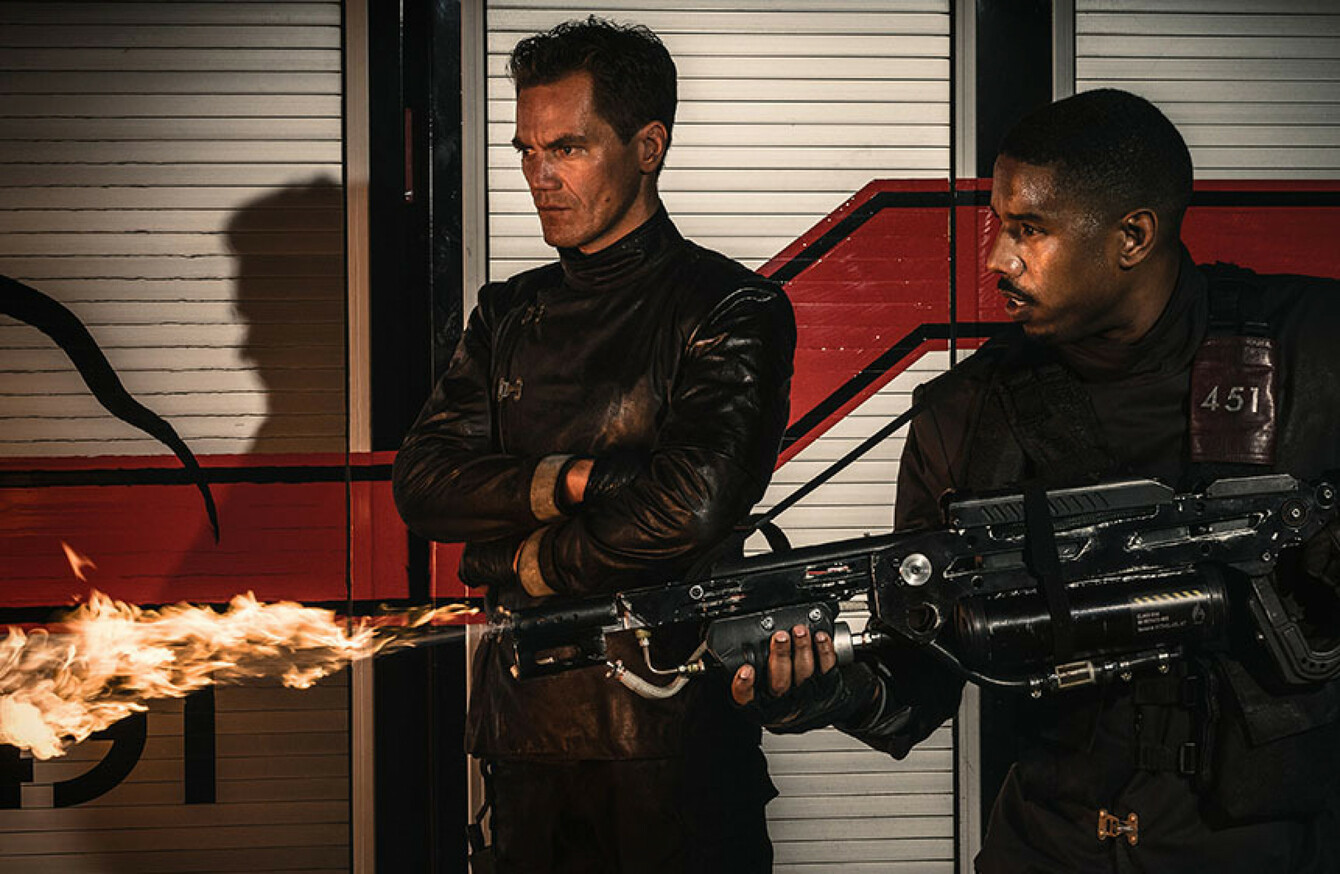 DailyEdge.ie rounds up the TV shows that you'll be tweeting about tonight and talking about tomorrow.
Fahrenheit 451 (Sky Atlantic, 10.10pm)
Michael B. Jordan and Michael Shannon star in the premiere of HBO's new adaptation of the very well-known Ray Bradbury dystopian novel. Set in a terrifying future, a young man named Guy Montag is a 'fireman' whose job requires him to burn all books. He meets a young girl who makes him question his actions, and inspires him to rebel against society.
A Very English Scandal (BBC One, 9pm)
Hugh Grant stars in this brand new fact-based drama about Jeremy Thorpe, the leader of England's Liberal Party in the 1960s and 1970s. Thorpe has been having an affair with a stable hand named Norman Scott, which, before the decriminalisation of homosexuality, was not a great idea for a politician. As his political career takes off, Jeremy is adamant that his former lover has to remain silent, despite the fact that Norman grows increasingly resentful.
RHS Chelsea Flower Show 2018 (BBC One, 6pm)
Joe Swift and Sophie Raworth present a preview of the Royal Horticultural Society's 2018 event, along with a guide to the gardens that are on display at this year's Flower Show. There's gardens that have been created to raise awareness on current issues, and exhibits celebrating Britain's past.
Everybody's talking about… Welsh singer Gruffydd Wyn on Britain's Got Talent last night.
Source: Britain's Got Talent/YouTube
Simon stopped this guy halfway through his first attempt and said his performance was "cold and mechanical", before instructing him to go get a glass of water. When Gruffydd came back for a second attempt, he managed to get Amanda Holden's Golden Buzzer. Not only that, but he got a standing ovation and left all of his mates in tears.
 Or flick over for…
Harry and Meghan: The Royal Wedding Highlights (Be3, 4.55pm) It's almost over. You just have to deal with the wedding small-talk in work tomorrow and once that's out of the way we can all forget about it forever.
Say Yes to The Dress Ireland (RTÉ 2, 8.30pm) Peter Kelly helps more brides-to-be to find their dream dress.
The Sunday Game: Live (RTÉ2, 1.30pm) Coverage of Limerick v Tipperary (which throws in at 2pm) and Cork v Clare (which has a 4pm throw-in).
Can't Cope, Won't Cope (RTÉ One, 10.35pm) Catch up with last weeks episode.
At Your Service (RTÉ One, 8.30pm) Francis and John Brennan help two friends revamping their bar/restaurant who are short on cash and experience.
DailyEdge is on Instagram!