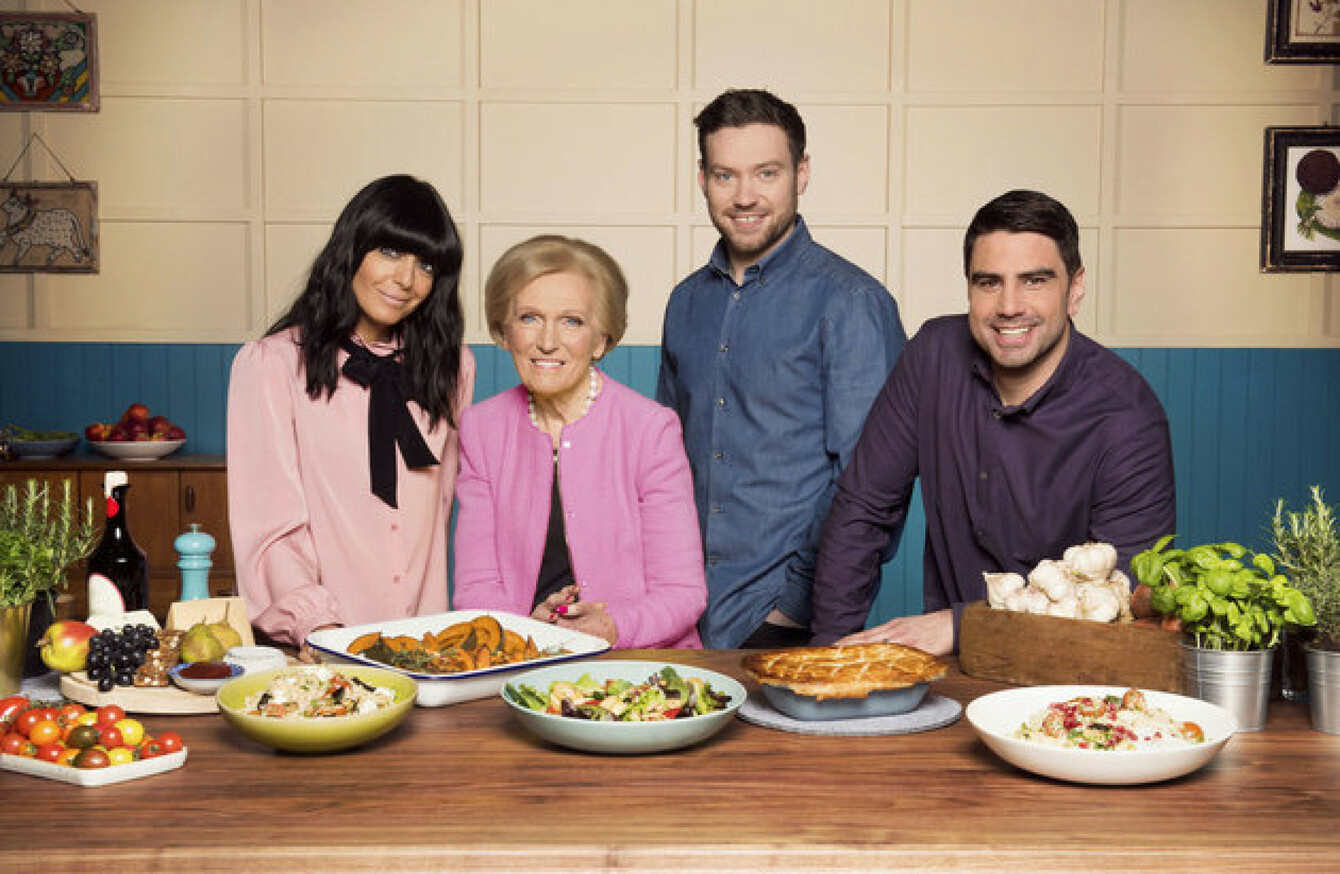 Image: BBC/KEO
Image: BBC/KEO
DailyEdge.ie rounds up the TV shows that you'll be tweeting about tonight and talking about tomorrow.
Britain's Best Home Cook: The Semi-Final (BBC One, 8pm)
Dan Doherty, Chris Bavin, and of course, Mary Berry will return to judge the last four home cooks. The semi-finalists have been given two and a half hours to prepare their ultimate drinks party with a selection of canapes which should showcase their personality and inventiveness. In the second half of the show, the cooks will face another competition which asks them to perfectly recreate a classic Italian dish. One cook will be sent home, and the other three will survive until the final.
FIFA World Cup 2018 Preview (BBC One, 10.45pm)
Gary Lineker, Alan Shearer and Jermaine Jenas will be chatting about this year's World Cup and assessing the main contenders in this year's competition. They'll share their thoughts on Germany and Brazil's chance of victory, and voice their hopes on the chance that England could win.
Golden: Our 50 Years of Marriage (RTÉ One, 9.35pm)
Remember those lovely elderly couples on the Valentine's Day special of The Late Late Show earlier this year? Well, some of them are back to share even more cute stories from their lengthy marriages. They'll share their journeys to their golden anniversaries, looking at the social, political and technological changes that took place along the way.
Everybody's talking about… Love Island (as usual)
Rosie really didn't hold back last night when she tore into Adam, and we're all glad he finally got his comeuppance. Here's a recap of the night's events.
Or flick over for…
How to Start an Airline (Channel 4, 10.30pm) Just in case you were looking for a new hobby.
Can Science Make Me Perfect? (BBC Four, 9pm) Alice Roberts embarks on a quest to answer this question and rebuild her body to be the best she can be.
Big Beasts: Last of the Giants (Sky One, 9pm) Patrick Aryee investigates the world's largest animals and looks at how important they are to their habitats.
Love Island (3e, 9pm) The drama continues.
Dragon's Den (RTÉ 2, 8pm) The Dragons decide if they like the sound of 'Heating Hero', 'Pow Cow' 'Wash and Learn' and 'Moran's Mega Jams'.
DailyEdge is on Instagram!