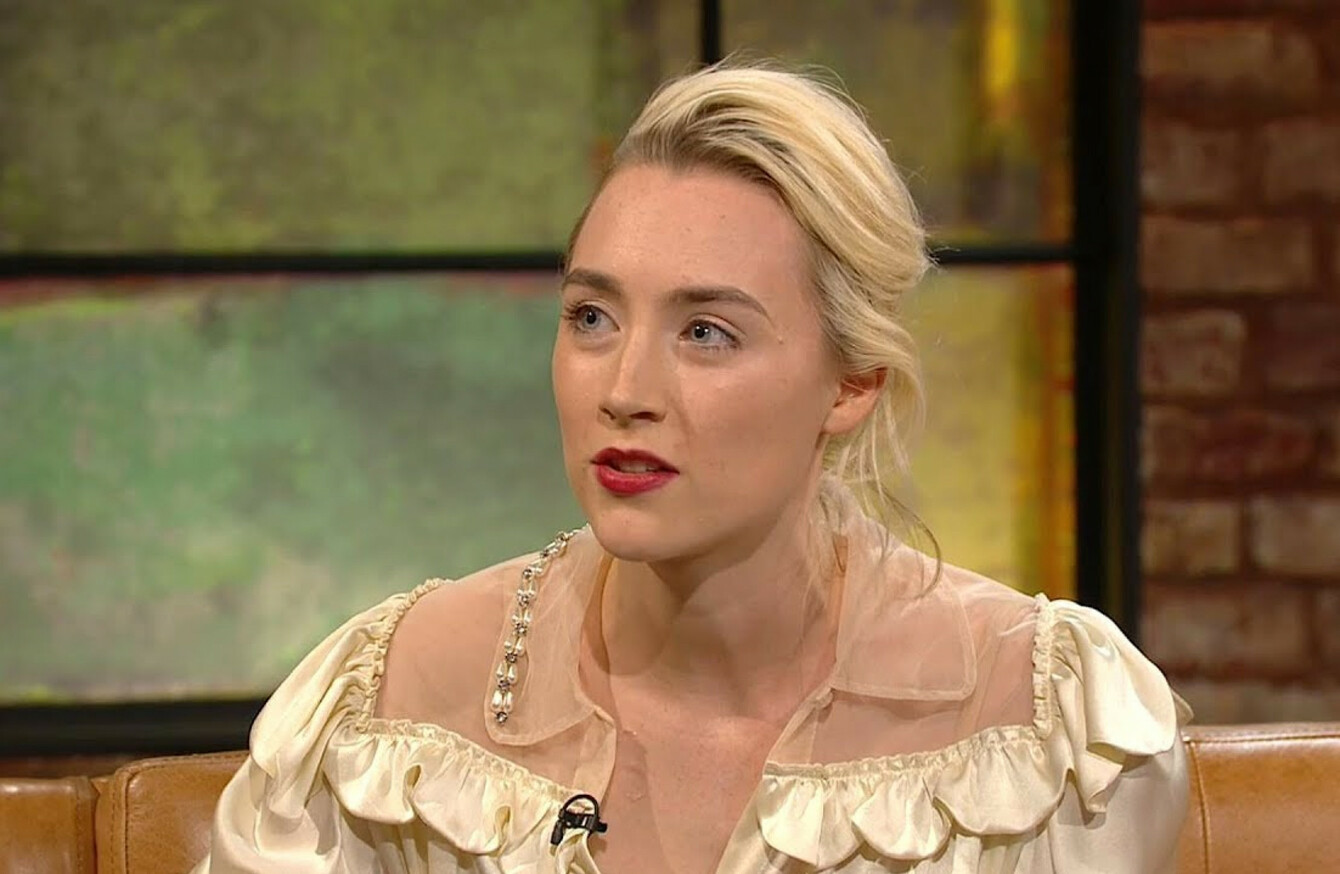 Saoirse Ronan's last Late Late Show appearance.
Image: RTÉ
Saoirse Ronan's last Late Late Show appearance.
Image: RTÉ
DailyEdge.ie rounds up the TV shows that you'll be tweeting about tonight and talking about tomorrow.
The Late Late Show (RTÉ One, 9.35pm)
Tonight's Late Late Show lineup is as good as it gets: Saoirse Ronan will be on the show to discuss her illustrious career and her new movie Mary Queen of Scots, while Steve Coogan and John C. Reilly will also be in the studio to chat about Stan and Ollie. Padraig Harrington is talking about the 2020 Ryder Cup, too. On top of all of that, four young Irish people (actor Barry Keoghan, Olympic boxer Michael Conlan, journalist Ellen Coyne and blogger Rosie Connolly) will be talking about life in your twenties in Ireland today. They're really going all out tonight!
Phone Swap (BBC One, 11.50pm) 
Dating show in which people offer their lives up for scrutiny by swapping phones with each other. In this episode, Shaquille, the musical-loving Christian who prides himself on keeping his phone clean, is shocked to discover x-rated material, non-mutual politic preferences and a shared love of musicals on his date's phone. On the other hand, fellow singleton Dani's phone reveals that she is a yoga teacher with a very flexible attitude to almost everything… Except veganism. 
The Graham Norton Show (BBC One, 10.35pm) 
If there's one celebrity who consistently has us in knots with her chat show appearances, it's Sarah Paulson. And luckily, she's on Graham's sofa this evening, alongside James McAvoy, Richard E Grant, Steve Coogan and John C Reilly. (Yes, The Graham Norton Show is prerecorded, just in case you're wondering how Steve and John are going to make it from Donnybrook to London in an hour. On top of all of that, Westlife will be performing their latest single at the end of the show. Not a bad evening for telly at all! 
Everybody's talking about… Sex Education on Netflix 
It's finally out today! If you haven't heard about this show, there's so much hype surrounding it, since the trailer was released at the start of the month. 
Source: Netflix/YouTube
Some people pulled all nighters to watch it when it was released last night and the reviews are in. So far, it's all pretty positive, with Digital Spy describing the show as "Hilarious, heartfelt and important." 
Or flick over for… 
Jamie and Jimmy's Friday Night Feast (Channel 4, 8pm) Cookery series presented by Jamie Oliver and Jimmy Doherty from their cafe at Southend.
The Sixties: A Long March to Freedom (Sky Arts, 7pm) Documentary series analysing how the 1960s shaped America. 
Celebrity Mastermind (BBC One, 8.30pm) Classical singer Camilla Kerslake, ex England cricketer Monty Panesar, Coronation Street actor Sean Wilson and comedian Terry Alderton put their reputations on the line for charity. 
The Fugitive (RTÉ 2, 9.45pm) Blockbuster adventure movie based on the TV series about a doctor on the run after being wrongly convicted of killing his wife. 
Great Continental Railway Journeys (RTÉ 2, 7.25pm) Michael Portillo follows a 1913 railway guide, taking the train from the former political capital of Italy (Turin) to Casanova's capital of romance, Venice.
Shane (TG4, 9.05pm) Classic frontier drama about a bitter feud between homesteaders and cattlemen.
DailyEdge is on Instagram!