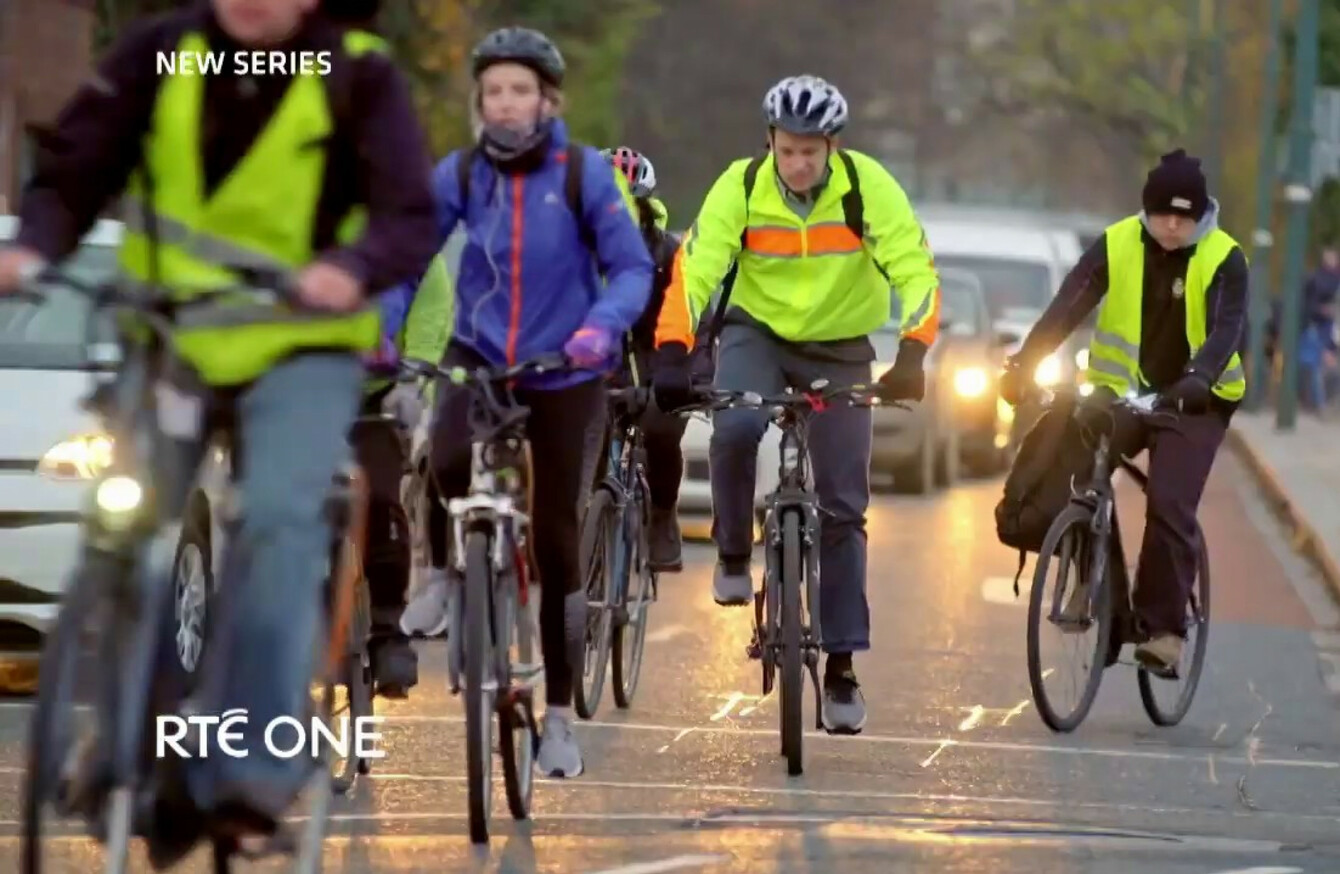 Image: RTÉ
Image: RTÉ
DailyEdge.ie rounds up the TV shows that you'll be tweeting about tonight and talking about tomorrow.
Now You See Me (RTÉ One, 7.30pm)
Everybody has an opinion about cyclists. In this new series, Simon Delaney and Bláthnaid Treacy aim to dispel some of the myths surrounding those who opt to cycle instead of driving or taking public transport, while examining the main causes of frustration and tension between motorists and cyclists. In the opening episode, Simon joins a Donegal family swapping cars for bikes for a week of school runs, commuting and shopping trips, while Bláthnaid heads to Copenhagen to see why cycling works so well in Northern Europe and what we should be trying to learn from those on the continent. 
Growing Up Gifted (BBC Two, 9pm)
Three gifted kids are now in Year 10 and a step closer to their final GCSE exams. Aspiring doctor Liam gets a tantalising glimpse of Cambridge University, but at home in Newcastle, faces personal struggles that threaten his progress. London boy Jamarley faces pressure on the streets, but he is determined to convince his mother that music is his route out of poverty. In Hartlepool, Kian aims to dispel people's assumptions about him by applying for the role of Head Boy. 
The Irish Revolution (RTÉ One, 9.35pm)
The major documentary on the centenary of the Irish War of Independence continues tonight, with the story of how a small group of rebels armed with little more than idealism, blind faith and courage, against all odds, forced Britain to withdraw after centuries of conquest and misrule. By late 1920, Ireland was in the full throes of war and hundreds of republicans had been arrested. Despite their tens of thousands of troops present, the British find much of the countryside becoming ungovernable as armed attacks escalate and cabinet begins to seek a political solution to the 'Irish Question'. 
Everybody's talking about… Irish WWE fighter Becky Lynch. 
Currently one of the biggest female sports stars in the world, Lynch has a larger following outside of Ireland than she does in her home country. Aged 32, and a former Aer Lingus fight attendant, she's now one of the most well known Irish athletes on the planet. 
If you haven't heard of her yet, she was named CBS Wrestler of the Year in 2018, Sports Illustrated's Women's Wrestler of the Year, WWE's Female Superstar of the Year and Pro Wrestling Illustrated's Woman of the Year. Over the weekend, she had a chat with The42.ie about her journey so far and where she hopes to be in the future. 
Despite being on crutches during WWE's Elimnation Chamber last night, she took down both Ronda Rousey and Charlotte Flair, and it looks like the three women will face off in a triple threat match at WrestleMania in April. 
Or flick over for… 
Say Yes to The Dress Ireland (RTÉ One, 8.30pm) Tonight Franc meets three very different brides. 
10 Things to Know (RTÉ 2, 7pm) Aoibhinn, Jonathan and Kathriona check out the latest developments in Irish research.
Famous and Fighting Crime (Channel 4, 9pm) Reality series following five famous faces who joins the ranks of volunteer police. Featuring Katie Piper. 
Grenfell: Did the Fire Brigade Fail?: Channel 4 Dispatches (Channel 4, 8pm) An investigation into the response of the London Fire Brigade to the Grenfell fire, which killed 72 people, asking whether the fire brigade's decision to tell residents to stay put contributed to the high death toll. 
Against the Head (RTÉ 2, 8pm) Rugby magazine programme with a mix of interviews, highlights and reviews. A look ahead to the weekend's Six Nations action, including the Women's and the U20′s championships. 
Crazy, Stupid, Love (RTÉ 2, 9.30pm) Ryan Gosling stars in this rom com, following a man going through a divorce and struggling with his newly-single status, who meets a young womaniser who helps him jump back into the dating game. 
The Social Network (TG4, 9.30pm) Drama chronicling the creation of Facebook in 2003 and the subsequent fallout between the key players involved. 
DailyEdge is on Instagram!