DailyEdge.ie rounds up the TV shows that you'll be tweeting about tonight and talking about tomorrow.
100 Vaginas (Channel 4, 10pm)
Documentary artist Laura Dodsworth photographs and interviews 18 women, from ages 19 to 77, about how their vaginas have shaped their lives. The women share their individual experiences of starting periods and pubic hair grooming, and in other cases, they discuss the trauma of rape and female genital mutilation. 
Home of the Year (RTÉ One, 8.30pm) 
Series five begins tonight, with judges Hugh Wallace, Deirdre Whelan and Peter Crowley examining 21 of the properties competing for this year's title of Home of the Year. From a self-built home in Down, a horse shoe-shaped converted stable in Dublin to an 1800s cottage with extension in Galway will all be viewed in this evening's opening episode. 
Abused by My Girlfriend (BBC One, 11.10pm)
This important observational documentary tells the remarkable story of Alex Skeel, a 23-year-old man from Bedford who survived an abusive relationship with his girlfriend Jordan Worth. The film provides a raw and uninhibited window into a teenage romance that descended into terrible violence. Alongside Alex's shocking and thought-provoking testimony, his family and friends also share their stories of seeing him slowly slip away, powerless to stop it, and unaware of how bad things could get. By sharing his story, Alex hopes to challenge assumptions about violence and masculinity in relationships, and to empower victims of domestic violence to come forward. 

Everybody's talking about… The cancellation of Netflix's Jessica Jones, and The Punisher.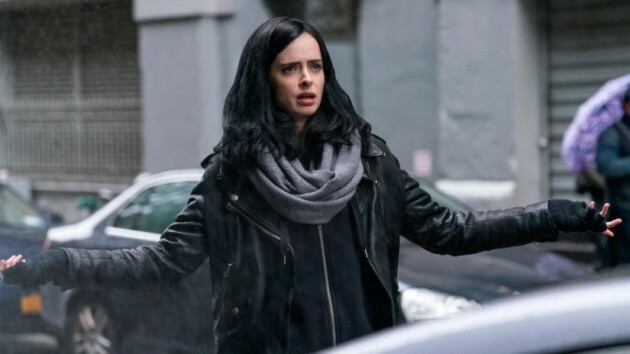 Netflix Netflix
Last night it was announced that Netflix were axing The Punisher and Jessica Jones, two only two Marvel series left on Netflix. The third and final series of Jessica Jones will be shown on Netflix later this year, with the creator promising it'll go out "with a bang". Creator Melissa Rosenberg took to Twitter to thank fans as well as star Krysten Ritter and the rest of the crew for their support over the years. 
The announcement comes as Netflix announce the end of their relationship with Marvel, ahead of the launch of Disney's new streaming service, which will be partnering with Marvel. 
Or flick over for…
Live UEFA Champions League (RTÉ 2, 7pm) Liverpool v Bayern Munich (kick-off at 8pm). 
Black Nurses: The Women Who Saved the NHS (BBC Four, 9pm) Documentary which tells the story of the thousands of Carribbean and African women who answered the call 70 years ago to come to the UK to save the then ailing health service. A tale of struggle to overcome racism, their fight for career progression and their battle for national recognition. 
The Drawings of Yves Saint Laurent (Sky Arts, 9pm) Documentary taking a look through the French designer's sketches, from his haute-couture collections to his irreverent work for stage and TV productions.
British History's Biggest Fibs with Lucy Worsley (BBC Four, 8pm) Lucy Worlsey explores how British history is a concoction of fibs and stories manipulated by whoever was in power at the time. Tonight's episode debunks the 'Glorious Revolution' led by William of Orange. 
My Million Pound Menu (BBC Two, 8pm) Three new restaurant ideas battle it out for life-changing investments. From a Welsh concept seeking £750k to a zero-waste food stall looking for £530k. 
How the Other Kids Live (Channel 4, 8pm) Series in which families with children from the same neighbourhood, but across different ethnic, cultural and economic divides, open their doors for a playdate for the very first time. 
DailyEdge is on Instagram!