1. First off, what's your favourite RuPaul song?


2. The best drag queens have what, in your opinion?
Talent (singing/dancing/acting etc)


3. Choose a move to help you win your lip sync.
YouTube
Jump off the stage into a split
Pulling off your wig to ru-veal another wig
Slowly removing most of your costume


4. Who's your favourite runner up?


5. What would the judges drag you for?
Hot-gluing your dress together instead of sewing it.
Wearing the same wig two weeks in a row.
Not showing enough vulnerability.


6. Pick an iconic Drag Race quote.
"This is not RuPaul's Best Friends Race."
"C'mon Season 6, let's get sickeniiiiiiiiiing!"
"Go back to Party City where you belong!"


7. What challenge would you ace?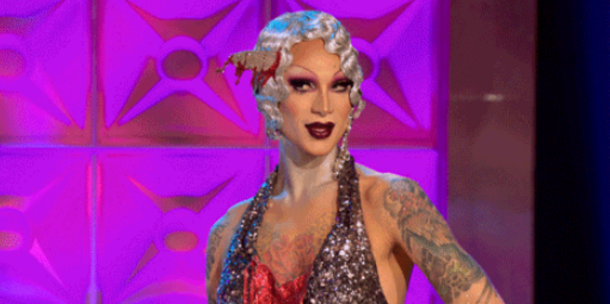 Tumblr Answer all the questions to see your result!
You scored out of !
Bebe Zahara Benet
The first RPDR winner, and sometimes overlooked by the flashier queens of later seasons. But we will think of her every time someone cries "CAMEROOOOON!"
You scored out of !
Tyra Sanchez
OK, so Tyra isn't one of the most popular winners... But who can deny her gorgeousness? Not us.
You scored out of !
Raja
Queen of the Heathers! And blessed with the ability to pull off just about any look. Iconic.
You scored out of !
Sharon Needles
Halloween is not just a holiday. It is a lifestyle. And nobody embodies that better than our Sharrdin.
You scored out of !
Jinkx Monsoon
The world's first narcoleptic drag queen! And a stunning one at that.
You scored out of !
Bianca Del Rio
No one is spared from Bianca's biting wit, and that is why we love her. That, and she brought "NOT TODAY, SATAN" into the vernacular.
You scored out of !
Violet Chachki
High fashion drag. And that 18-inch waist? She's dedicated.
You scored out of !
Bob the Drag Queen
Possessor of one of the best drag names in the biz. Walk into the room PURSE FIRST.
You scored out of !
Chad Michaels
"I spread La Mer on my toast in the morning. I'm Cher, bitch!" And with that, she cemented her place in RPDR history.
You scored out of !
Alaska Thunderf**k
Your makeup is terrible. But she loves you anyway.