BECAUSE OF MASSIVE developments in technology over the last two decades, there's been a couple of occasions when things have gotten a bit too Black Mirror IRL. 
One such example would be the growing trend of 'deepfake' porn, which social media sites like Twitter and Reddit were trying to tackle throughout 2018. Deepfake porn is a type of porn made with the use of artificial intelligence, which superimposes existing images and videos onto source images and videos. Basically, it's porn that features one individual's face copied and pasted onto another individual's body. 
Numerous celebrities have been used in deepfake videos, which became increasingly popular online in autumn and winter 2017 when a Reddit user uploaded pornographic videos featuring the superimposed faces of actresses like Daisy Ridley, Gal Gadot, Emma Watson and Scarlett Johansson. 
Pornhub and Twitter decided to take a stand against deepfake porn in July 2018, with Pornhub telling Motherboard that they forbid any "non-consensual content" and will be treating deepfake porn the same way that they treat revenge porn. Twitter also released a statement to Motherboard: 
We will suspend any account we identify as the original poster of intimate media that has been produced or distributed without the subject's consent. We will also suspend any account dedicated to posting this type of content.
Soon after this, Reddit piped up and said that they were shutting down and banning subreddits made for sharing these videos. However, despite all of that it's impossible to eliminate all porn produced by artificial intelligence. 
And that's why Scarlett Johansson has been speaking out about the issue.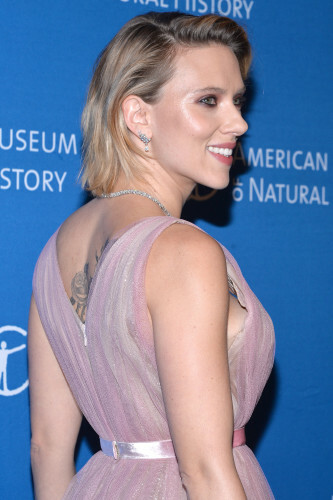 SIPA USA / PA Images SIPA USA / PA Images / PA Images
The 34-year-old actress said she has accepted that nothing can be done for high profile individuals, like herself.
I think it's a useless pursuit, legally, mostly because the internet is a vast wormhole of darkness. 
Long before she was a victim of deepfake porn, Johansson's privacy was violated in a similar way when her nudes were leaked in 2010, by a hacker who stole intimate photos from her and other celebrities like Mila Kunis and Christina Aguilera. Johansson said that seeing herself in deepfake porn isn't as upsetting as having her photos leaked, but it's still extremely demeaning. 
You want to tear everything off the internet. But you know you can't. 
On New Year's Eve, The Washington Post published a statement from the actress, in which she addressed being grafted into graphic sex scenes online, some of which have garnered over 1.5 million views. 
Clearly this doesn't affect me as much as people assume it's not actually me in a porno, however demeaning it is. 
There are far more disturbing things on the dark web than this, sadly. I think it's up to an individual to fight for their own right to their image, claim damages, etc. I mean, this is coming from someone who has a guy from Hong Kong get famous from making an AI with my exact face on it that wasn't 'technically' me. (A reference to

this life-sized robot

unveiled in 2016). It's a fruitless pursuit for me but a different situation than someone who loses a job over their image being used like that. 
Scarlett also pointed out that it's different depending on what country the victim is from. 
While you may be able to take down sites in the U.S. that are using your face, the same rules might not apply in Germany. Even if you copyright pictures with your image that belong to you, the same copyright laws don't apply overseas. I have sadly been down this road many, many times. 
The fact is that trying to protect yourself from the internet and its depravity is basically a lost cause, for the most part. 
Towards the end of her statement, Johansson said, "The internet is just another place where sex sells and vulnerable people are preyed upon. And any low level hacker can steal a password and steal an identity. It's just a matter of time before any one person is targeted." 
People think that they are protected by their internet passwords and that only public figures or people of interest are hacked. But the truth is, there is no difference between someone hacking my account or someone hacking the person standing behind me on line at the grocery store's account. It just depends on whether or not someone has the desire to target you. 
Nothing can stop someone from cutting and pasting my image or anyone else's onto a different body and making it look as eerily realistic as desired. There are basically no rules on the internet because it is an abyss that remains virtually lawless, withstanding U.S. policies which, again, only apply here. 
It's not really any surprise that she sounds so exhausted. 
DailyEdge is on Instagram!