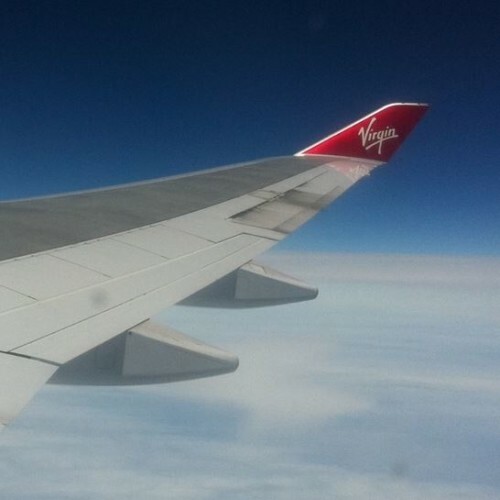 Flickr Flickr
ANYONE WHO HAS ever travelled on a plane with a baby will know that it's a stressful experience.
The glares from strangers, the fear that your little one will start bawling, the knowledge that everyone kind of hates you — it's not pleasant.
Last week, a mother named Rebekka Garvison was travelling with her daughter, Rylee, on a plane for the first time.
At first, she was seated beside a young couple who weren't delighted by the prospect of sitting next to a wailing baby on a plane.
I decided to ask the other flight attendant if I could move up 2 rows where there were 2 empty seats next to each other and I'd have more room to do stuff.
And then she found herself next to a woman the internet is now calling the "baby whisperer".
…next thing I know I was sitting next to this amazing woman! I'm not sure if she could tell how stressed and upset I looked or what, but she turned our day completely around. Rylee wouldn't stop crying no matter what I would try and do….so she had asked if I didn't mind if she tried and of course I let her. As soon as she had her, Rylee was looking out the window and stopped crying.
When we got in the air she fell right asleep and slept in her lap the whole flight until we got to our gate. She kept saying it wasn't a problem at all and it was actually a comforting feeling for her. She even carried her off the plane and held her so I could get the stroller and carseat put back together so I wasn't struggling to try and do it all alone.
Rebekka Garvison / Facebook Rebekka Garvison / Facebook / Facebook
After the flight, Garvison took to Facebook to thank the woman in question, Nyfesha Miller, for her small act of kindness/amazing baby whisperer abilities.
Nyfesha Miller, you will never understand how happy this act of kindness has made my family. You could've just rolled your eyes and been irritated like everyone else, but you took her and held her the entire flight and let me get some rest and peace of mind. It brought tears to my eyes while I sat there and watched you and Rylee sleeping next to me. I just couldn't believe how that ended up working out and how caring you were to us. Thank you SO much!!
The status has since been shared a whopping 100,000 times on Facebook.
For her part, Nyfesha Miller has described the whole thing as "unbelievable"
I never thought it would become a big deal, to simply help someone in need.
<3