1. For €900 in Tallaght, you can get this flat with a pretty grim view.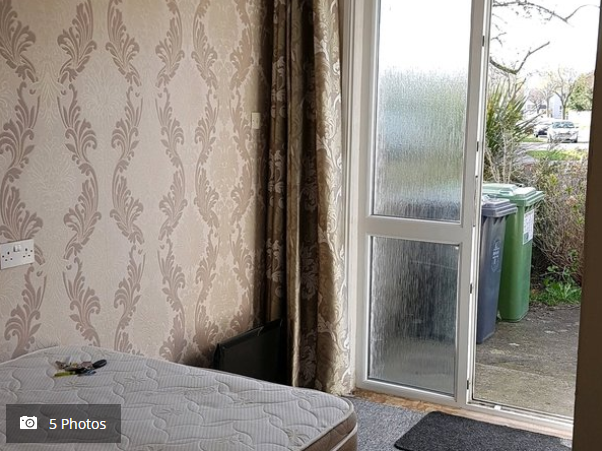 Daft Daft
Yes, the bed is overlooking two wheelie bins. The bedroom itself is pretty bare, but then again, it's probably better than it being jammed full of useless mismatched furniture that looks as though it has been freshly fished out of a skip.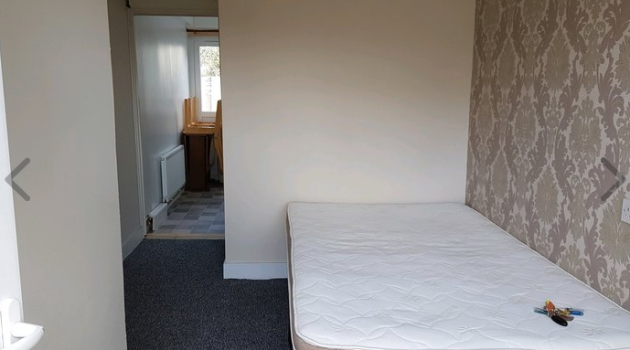 Daft Daft
Beyond the bedroom, there's a very bathroom and a very basic kitchen.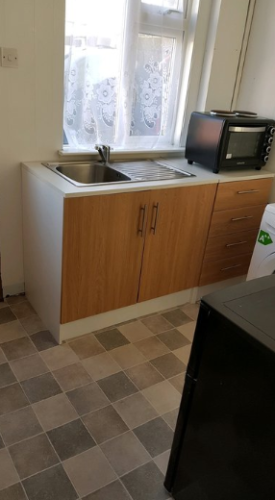 Daft Daft
It's definitely not the worst property that we've ever seen, but it's also definitely not something that anybody would be excited about paying €900 a month for. The price isn't even justifiable by its proximity to the Dublin city, because it's all the way out in Tallaght.
2. This flat in Rathmines is going for €62 more, at €962 per month.
Daft Daft
The best part of €1,000 per month to have a sofa this far away from your tiny television. From every other angle, it looks equally as strange. The first thing that the property description stipulates is that this flat is "SUITABLE 1 PERSON ONLY". If that's the case, why are there four place-mats at the table?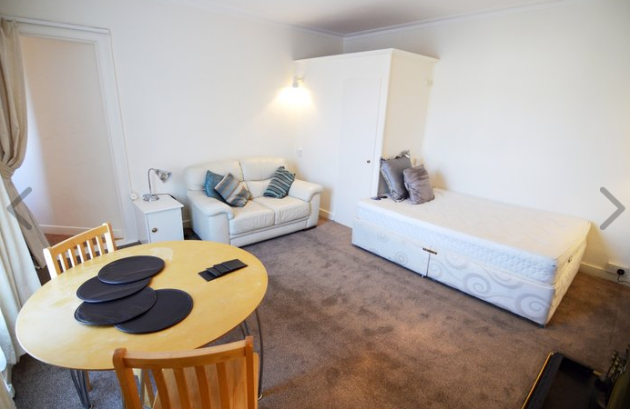 Daft Daft
Does this landlord think that someone's going to be like, yeah I'll just invite my three friends over for dinner at my table that only has two chairs? Another interesting rule in the house is that there are no bicycles allowed inside the property. So, you're spending €1,000 per month on rent and you've got to either fork out for a car and parking, or leave your bike outside and take a gamble with it getting robbed. That seems perfectly fair. 
3. Over in Rathgar, this property is advertised at exactly €1,000 per month. 
At the end of the bed, there's a strange piece of furniture that looks like someone went to a dump and tried to find two butt ugly sofas that they could fuse together.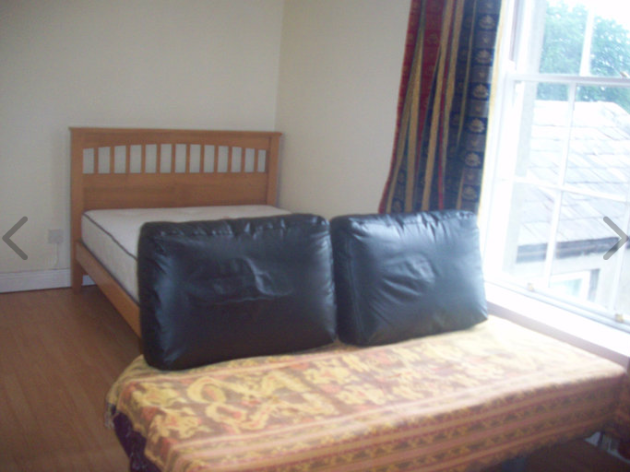 Daft Daft
However, when you get a glimpse of the back of the sofa, it appears that it may even be THREE butt ugly sofas, because it's clear that the frame on which these garish cushions lay is actually from a futon. Are we to assume that this property is supposed to sleep more than one person? Because that sofa's certainly not put there so that the tenant can stare at the plug sockets all day. 
Daft Daft
The property description claims that this flat has been newly decorated. It's hard to believe that when you take a quick look at the bathroom.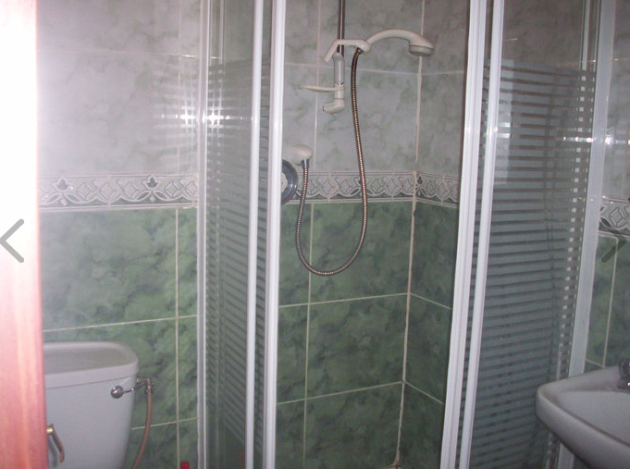 Daft Daft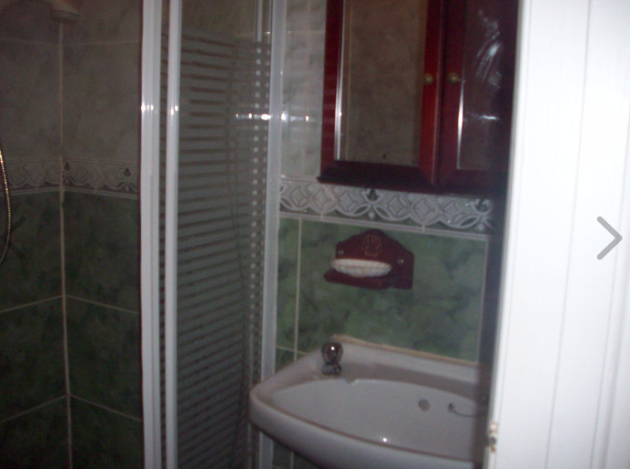 Daft Daft
4. Out in Stepaside, this granny flat costs €1,000 per month. 
Daft Daft
Although it is suitable for just one person, the living room is taken over by a sofa for two people. Access to the sink and fridge is really impeded by this piece of furniture which should probably be replaced by a good armchair.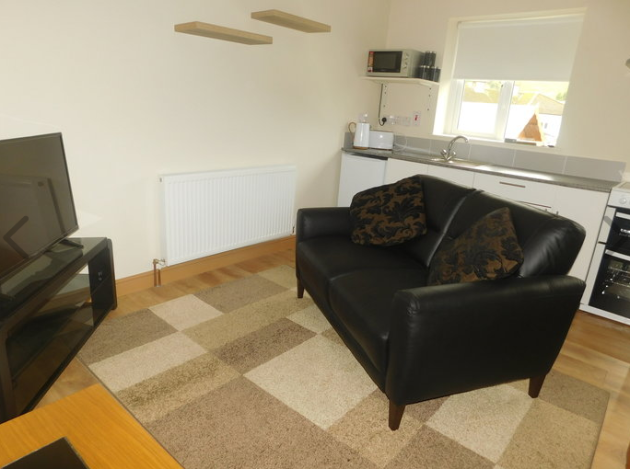 Daft Daft
We don't really know what the furniture situation is on the other side of the room, but judging from this photo of the door, it's probably just as crowded over that side of the room.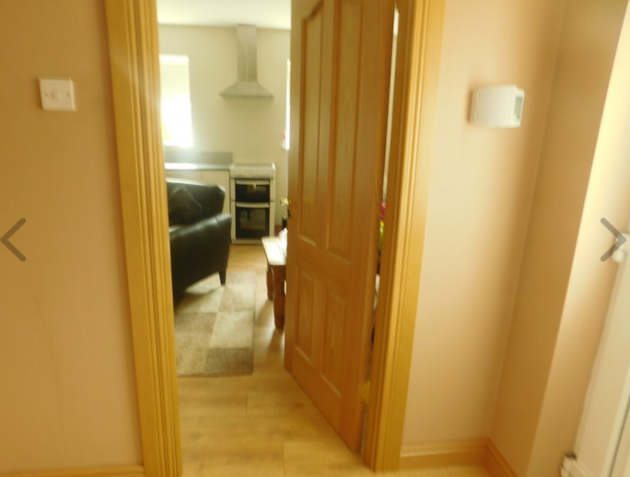 Daft Daft
The saddest part is that we've all seen a lot worse than this way further outside of the city centre than Stepaside for more than €1,000.
5. As always, Synge Street has some pretty miserable offerings for €940 per month. 
Here we have a bed.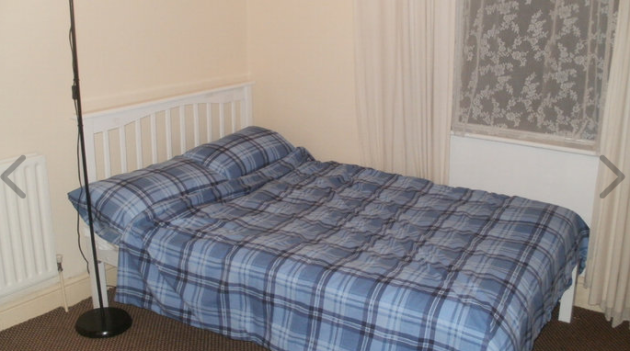 Daft Daft
At the foot of the bed, we have a wardrobe and a kitchen.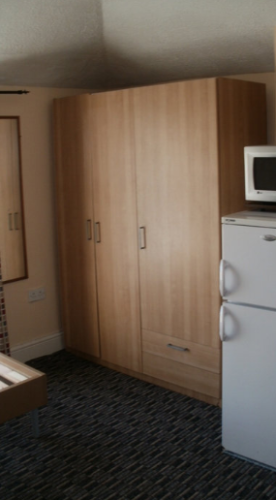 Daft Daft
Sure, what else would you expect to have in a bedroom?
Daft Daft
There's even a secret oven squeezed into the corner.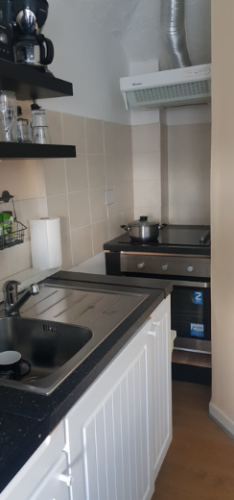 Daft Daft
6. In Phibsborough, this €1,025 apartment looks pretty promising at first glance. 
There's a big, spacious kitchen and dining area with plenty of windows so it's nice and bright.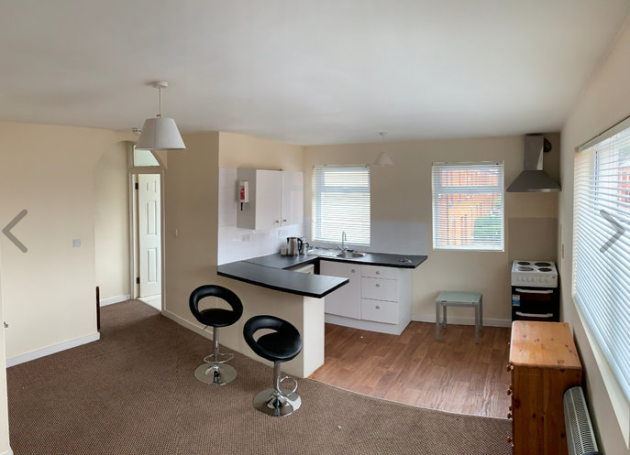 Daft Daft
Then the bathroom is decent enough. Another big window to lighten the place up a bit.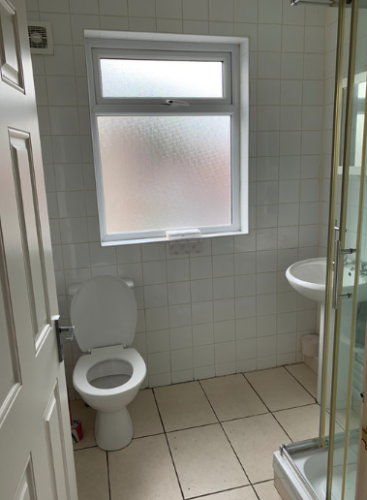 Daft Daft
Pretty clean by an Irish landlord's standards.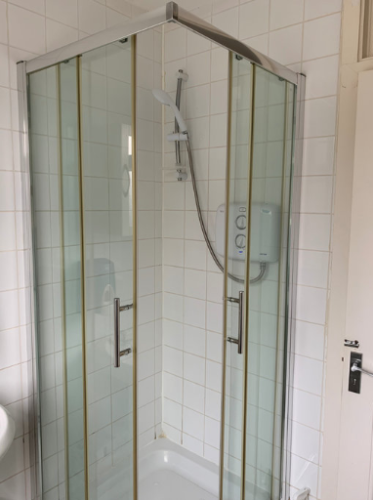 Daft Daft
And the bedroom? Oh, they actually forgot to mention until the last photo that it's actually in the kitchen btw. We knew it was too good to be true. 
Daft Daft
Apparently a separate bedroom is a bit too much to expect for €1,025 per month in Phibsborough. 
7. In Ranelagh, this property for €1,166 per month seems too good to be true.
Unsurprisingly, it turns out that it actually is too good to be true. We've got this nice little bedroom here: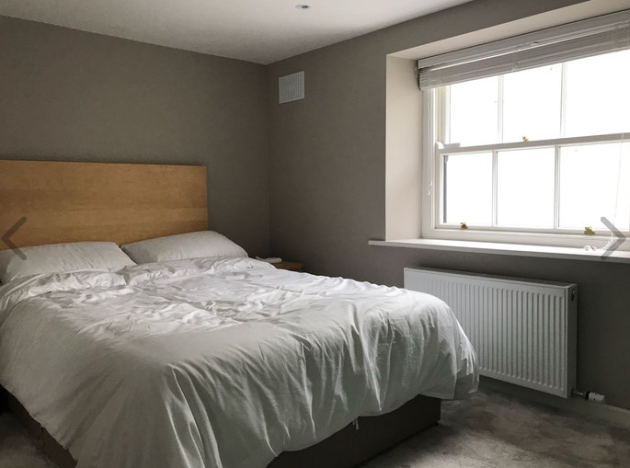 Daft Daft
This time, the bedroom is actually separate from the kitchen. Yes, there's more than one room included in the rent. Here's a photo of the other side of the room to prove it: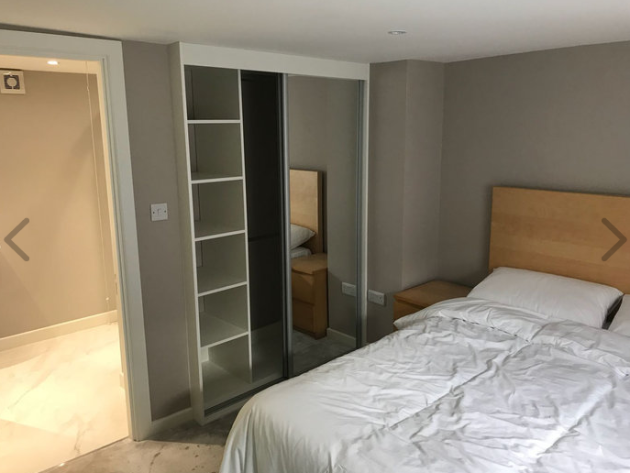 Daft Daft
There's also nothing immediately off-putting about the kitchen, either.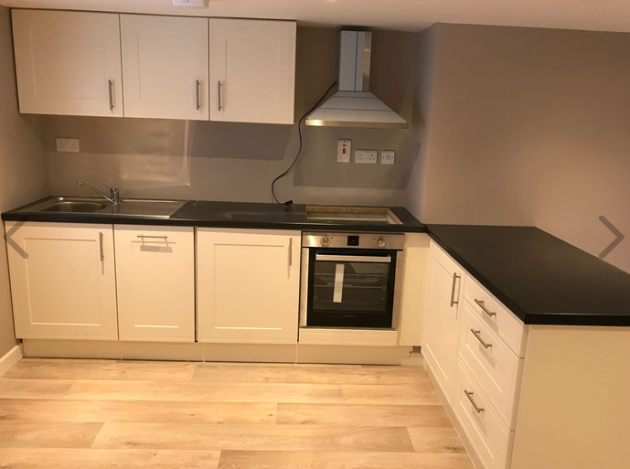 Daft Daft
So… What's the catch? I immediately scrolled straight down to the property description anticipating a warning that there's some kind of Hill House situation going on here, and that this Ranelagh studio apartment is haunted by a family of intrusive ghosts, but what I found was actually worse. 
It's another one of those poxy Monday to Friday properties. 

Daft Daft
What the hell goes on in these properties over the weekend when the tenants aren't allowed there? Do we even want to know? The first few things that spring to mind are a little seedy, but we'll give landlords the benefit of the doubt and guess that they just turn these properties into Airbnbs at the weekends when it's the most profitable time to rent an apartment out to tourists. Who knows? Maybe the weekend is when the Hill House ghosts get home. 
Either way, we're looking at 4 weekends per month that the tenant doesn't get to stay in their apartment. As it stands, rent for this property works out as €38 per day in a 30-day-long month. When you take those 8 days off, it turns out it's actually €53 per day. If this property was available all month long at that price, it'd work out at €1590 per month which is pretty extortionate for an apartment of that size. 
8. €1,200 will get you very little in Harold's Cross.
Once again, we have encountered one of my biggest pet peeves. A landlord has decided to go ahead and rent out this tiny property, with basically no storage space (or room to add storage space yourself) whatsoever. Then they knowingly provide the tenant with a divan bed, which limits them even further. If it was a regular bed frame, they could at least leave stuff under the bed. But no. It's the ultimate display of inconsideration.  
Daft Daft
So yeah, that's the view of the bedroom and sitting room from the kitchen. If you have space to turn around, you'll see the tiny kitchen that has a chair placed in the most inconvenient location imaginable.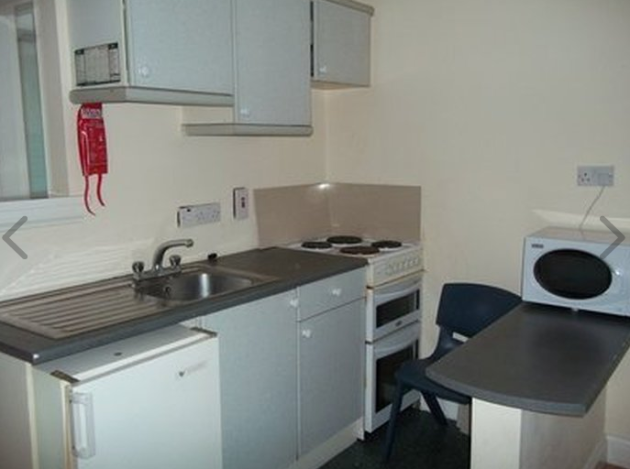 Daft Daft
9. For €1,250 a month, you can sleep in a single bed in Ranelagh. 
Here's the only glimpse of the bedroom that we are offered.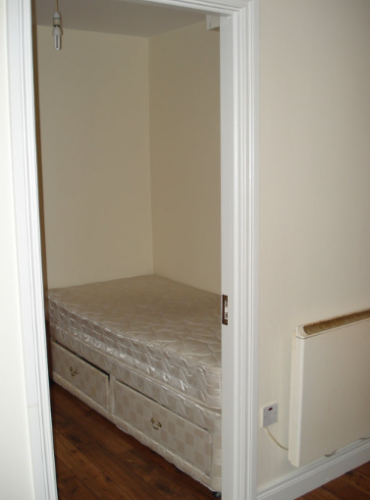 Daft Daft
And you can also avail of this tiny sitting room with two mismatched sofas squeezed in. 
Daft Daft
Right behind that little leather armchair, there's a kitchen squished in there somewhere. 
10. In Clonsilla, this apartment is going for €1,300 per month.
While it's quite a trek outside of the city centre, it's actually pretty spacious.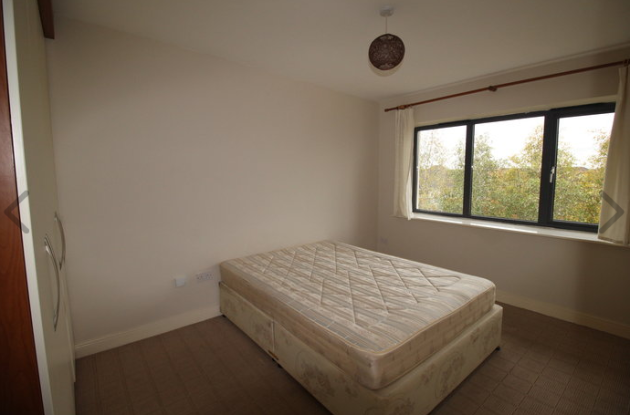 Daft Daft
The only problem is that the kitchen is painted in some pretty violent colours.
Daft Daft
Remind you of anything?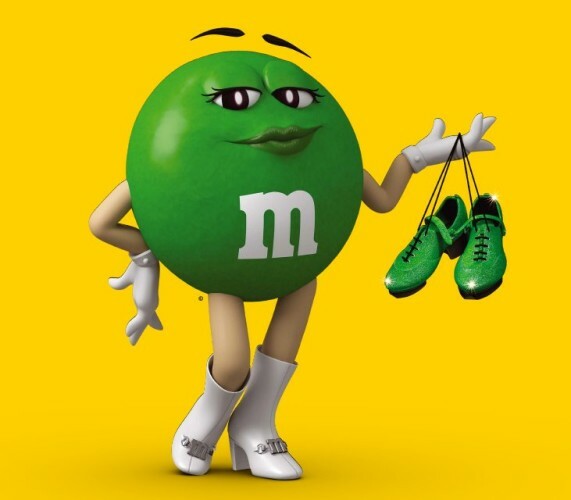 Nestle Nestle
11. Alternatively, if you're a single person with a budget of €1,300 per month and want to live closer to the city centre, you could consider this property on the North Strand.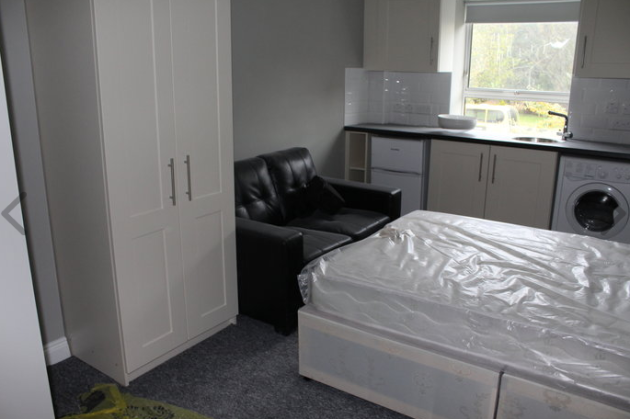 Daft Daft
Don't be fooled into thinking there's any more space at the other end of the bed. It's just a wall.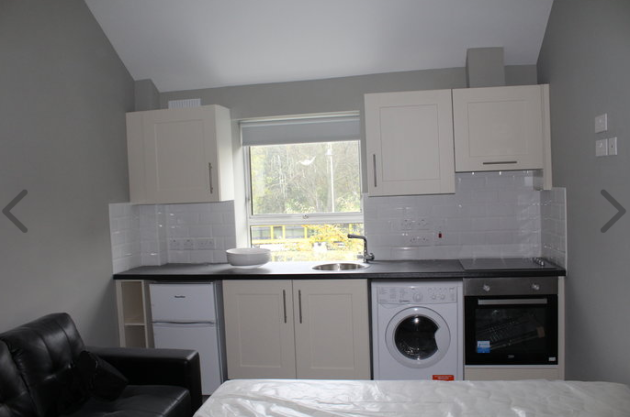 Daft Daft
This might be the worst value property we have seen yet. 
12. Just in time for Armistice Day, we've got this €1,400 per month flat in Ranelagh which is decked out in poppies.
Daft Daft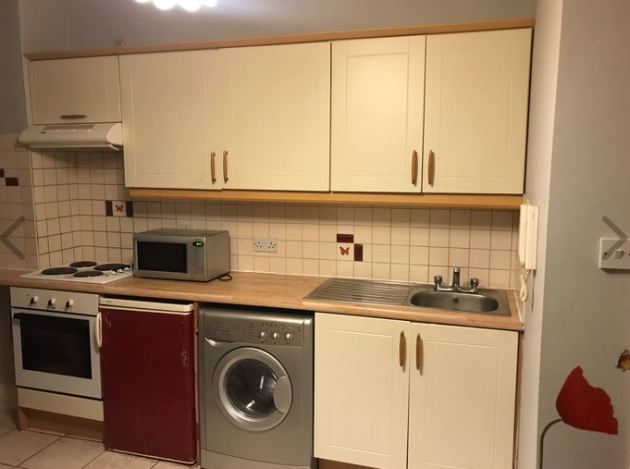 Daft Daft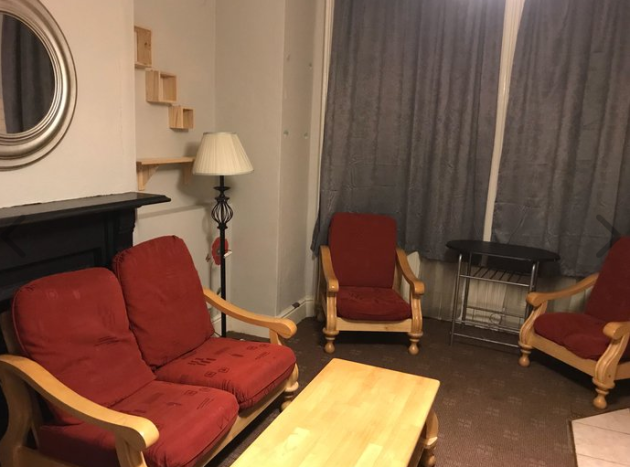 Daft Daft
If you're not into supporting all former armed British forces personnel, you could wait until July and host a Sylvia Plath themed party every year. Also, why's there a tiny children's school-chair in the corner of the room in the first photo? Because this flat costs €1,400, you're treated to the luxury of a bed in a separate room to the living-room/kitchen.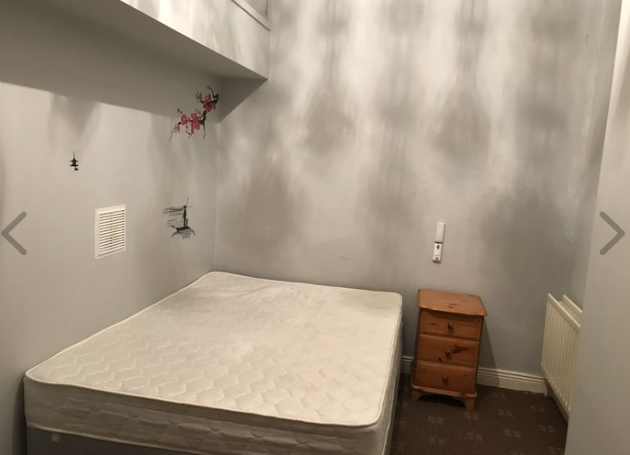 Daft Daft
Yeah. That's still not really worth €1,400 per month, is it? Think of what you could have gotten for that price a few years ago. Probably a penthouse in Dublin 2 with a jacuzzi and a pet tiger.  But hey, this place is a palace compared to the next one for the same price.
13. This is what €1,400 gets you in Rathmines.
A kitchen with an oven area that looks like it hasn't been updated since 1958…
Daft Daft
And a mismatched unit that has fewer cooking facilities than your standard self-catering aparthotel room in Salou…
Daft Daft
And a bedroom that looks like a 2* hotel room that would cost £20 per night in Blackpool.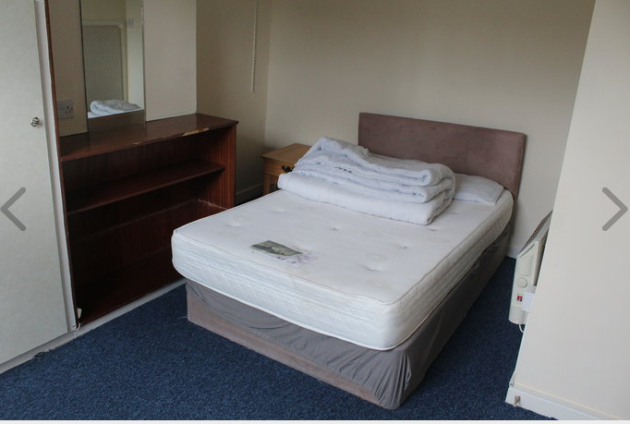 Daft Daft
The property description is very, very generous. 
Excellent one bed flat to let in a very popular area of Rathmines. This property is very modern and is located at 1st floor level. Accommodation is laid out as follows, one room is the kitchen and dining area and the second room is the bedroom. There is a separate modern bathroom. 
Modern by whose standards? Someone who still has dial up internet and calls their friends on their house phone?
14. And this Ranelagh studio also costs €1,400!
The property description advertises this studio apartment as both 'bright and airy' and 'warm and cosy'. It's hard to comprehend how such a small room could be all of those things at once, and the photos don't do much to illustrate either of those claims.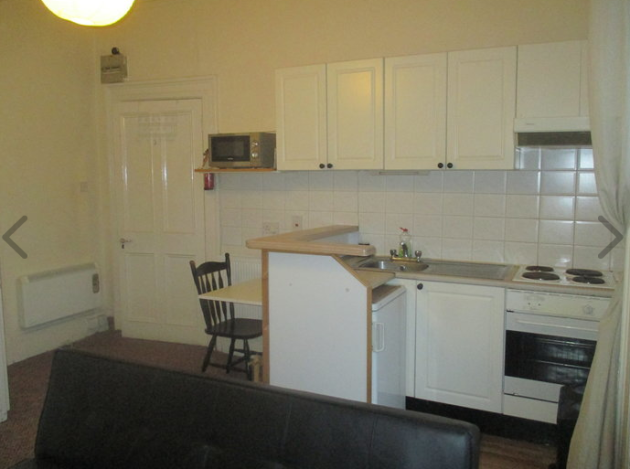 Daft Daft
See that leather sofa peeping out at the bottom of the picture? That's the bed.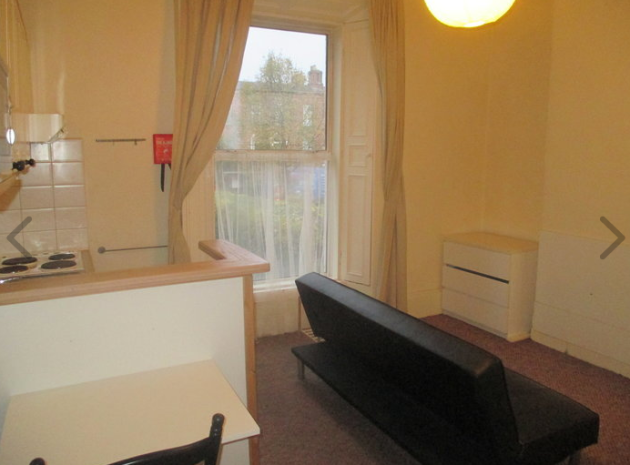 Daft Daft
€1,400 to sleep on a leather sofa every night. The very best part of this advertisement is the final sentence in the property description:

Daft Daft
A couch to sleep on for €1,400 per month, or €16,800 per year. What more could you ever possibly dream of? 
And a bonus property…
This one was brought to our attention towards the end of last month, so it's actually a property from October, but it was so awful that we decided to include it in this month's roundup! 
For a brief amount of time, someone was advertising one half of a bed for €280 per month on Daft. It wasn't long until the ad was withdrawn, but we managed to save some of the photos and the property description, which read:
Hi there, 4 girls living in this house. 1 girl has own room and 3 of us are sharing a room. You will live with Spanish and Korean and Japanese. SHARE A DOUBLE BED with Japanese girl. We are all friendly. House is tidy and warm. 
That €280 didn't even include bills/utilities. There was an extra charge of €35-45 every 2 months to cover the bills, and a fee for bed sheets.
Bed set: 20 euro (Blanket and pillow and the cover and sheet. You need to buy weather or not you need.) (sic)
And here's the bed: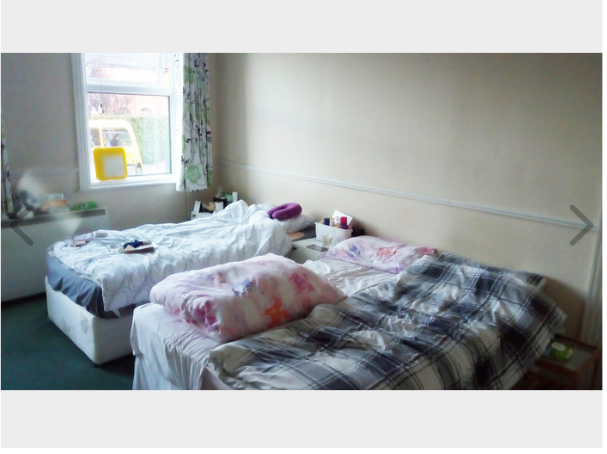 Daft Daft
Well, at least you have a separate duvet. And the rest of the property? Yeah, it wasn't exactly a palace.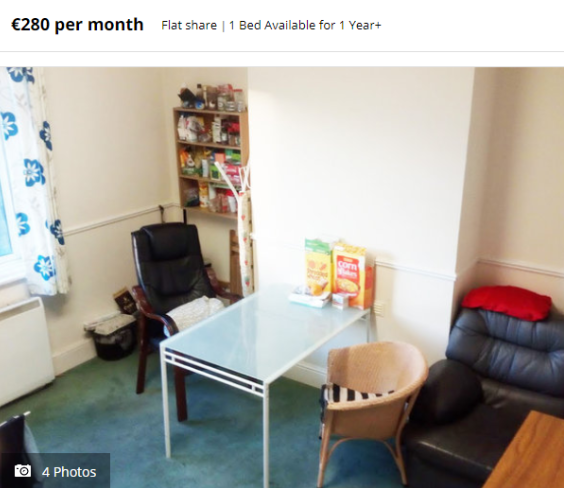 Daft Daft
DailyEdge is on Instagram!