WITH THE NEW Year in our sights, we're taking a look back at what has been an incredibly eventful year. 
From sporting highs to lows that shocked the country, we're revisiting the headlines that captured the nation's attention over the last 12 months – headlines we're sure to still be talking about in the years and decades to come. 
To rejig your memory, here are just some of the biggest stories of the year that are sure to be mentioned in 2018′s Reeling In The Years episode. 
1. 'Cranberries singer Dolores O'Riordan dies aged 46'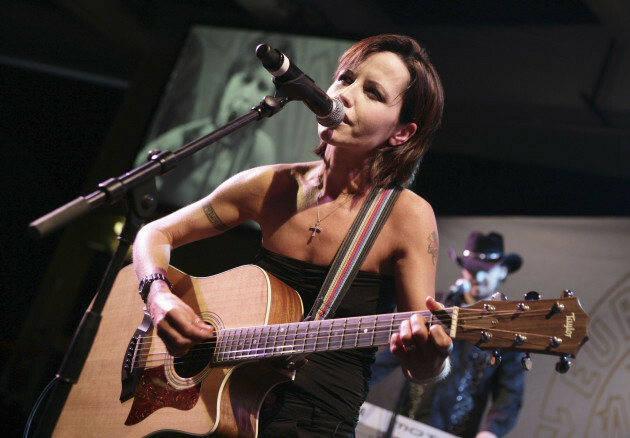 AP Photo / Bruno Bebert, File AP Photo / Bruno Bebert, File / Bruno Bebert, File
On January 15, the announcement that The Cranberries singer Dolores O'Riordan had passed away left the country shocked and in mourning.
The devastation caused by her death was echoed by President Michael D Higgins among other political and celebrity names.
The inquest into her death heard that the Cranberries singer drowned due to alcohol intoxication. 
2. The Beast from the East batters the country
Rafii Haji Rafii Haji
At the end of February, the country prepared itself for yet another bout of bad weather with what was eventually called 'The Beast from the East'.
On March 1, people were told to not leave their homes after 4pm in a bid to avoid the worst of the weather conditions.
A nationwide bread shortage both frustrated and humoured the public, with loaves of bread being sold at a premium on sites like Done Deal.
3. Irish rugby team continue winning streak with Grand Slam victory over England
Ireland fought their way to their third Six Nations title in just five years back in March.
However, it was the high emotion of their final challenge against England that had the nation gripped.
Fighting it out for the Grand Slam against England on St Patrick's Day in Twickenham, the showdown saw the Irish side reign supreme.
4. 'All four defendants in Belfast rape trial found not guilty on all charges'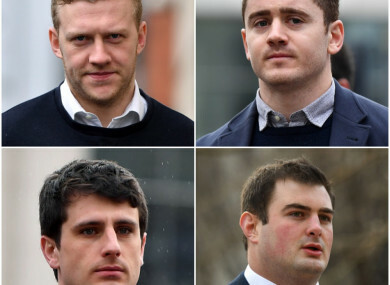 Getty Images Getty Images
After a marathon nine-week trial, a jury found Paddy Jackson, Stuart Olding, Blane McIlroy and Rory Harrison not guilty on all charges.
Jackson and Olding were found not guilty of raping a 19-year-old student in June 2016 after less than four hours of deliberation by a jury of eight men and three women.
The verdict resulted in nationwide marches with thousands taking to the streets under banners that read, "We stand with her".
5. Vicky Phelan wins her case against the HSE amid CervicalCheck controversy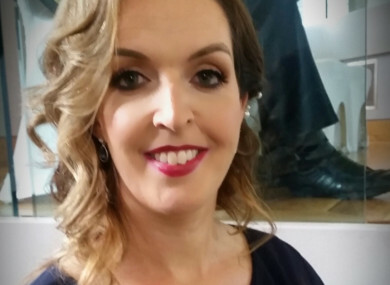 Vicky Phelan via GoFundMe Vicky Phelan via GoFundMe
In April, Vicky Phelan won her High Court case against the HSE after she was given incorrect smear test results.
She was awarded €2.5million because of the error after being told she was cancer-free in 2011. The case led to a major audit of the National Cervical Screening programme.
It revealed that 12 of the 206 women whose cases were pinpointed in a review have died, while around half of this number could have potentially have benefitted from earlier treatment and were not told about this diagnostic delay.
6. 'It's Yes: Ireland has voted to repeal the Eighth Amendment'
On 26 May, Ireland voted to repeal the Eight Amendment of the Constitution by a 66.4% majority.
Over two million votes were cast on May 25 in the referendum – a 64.5% turnout and one of the highest ever recorded for a referendum in this country.
Thirty nine of Ireland's 40 constituencies voted 'Yes' on the day, with only Donegal voting 'No' by a margin of just 51.87% to 48.13%.
The results were widely celebrated with large crowds gathering in Dublin Castle to mark the historic vote.
7. Limerick crowned All-Ireland Hurling Champions 2018
Tommy Dickson / INPHO Tommy Dickson / INPHO / INPHO
Limerick took on Galway for a chance to win their first All-Ireland in over 40 years in August.
The Munster side were victorious, winning 3-16 to 2-18 and taking the Liam MacCarthy Cup home to 'The Treaty County' for the first time since 1973.
8. 'Met Eireann confirm summer 2018 as one of hottest and driest in decades'
One of the least surprising headlines of the year came after Met Éireann confirmed that this summer was one of the hottest and driest on record.
After nearly two months of unusually high temperatures and 'drought conditions', the findings were confirmation that summer 2018 was one for the history books.
The highest temperature of the summer was recorded in Shannon Airport on June 28 when the mercury hit 32 degrees – the hottest temperature in Ireland since 1976 and the highest in that area since 1946.
9. Irish women's hockey team make history at World Cup
This summer, the country had more sporting success to celebrate, tuning into the Women's Hockey World Cup as the Irish side made it all the way to the final. 
While they lost out to the Netherlands in the end, the women in green took home silver medals and made their families, friends and the country proud.
10. Pope Francis' makes two-day visit to Ireland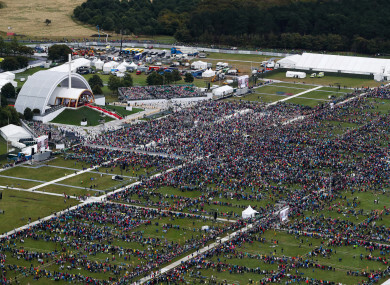 Maxwells Dublin Maxwells Dublin
Half a million people signed up to see the Pope during his two-day visit to Ireland back in August.
The Papal visit came as part of the World Meeting of Families and marked the first visit of a pope to Ireland since Pope John Paul II visited in 1979.
While huge numbers were expected to turn out at the Phoenix Park for the occasion, final tallies paled in comparison with just 130,000 attending the Papal Mass.
The visit from the leader of the Catholic church was met with much criticism from victims of clerical abuse who called his refusal to apologise 'shameful'.
The names of the 796 babies who are known to have died at the Tuam Mother and Baby Home were also written on white sheets and sewn to a fence at the grave site while the Pope was in Ireland.
11. 'Cervical Check campaigner Emma Mhic Mhathúna dies aged 37'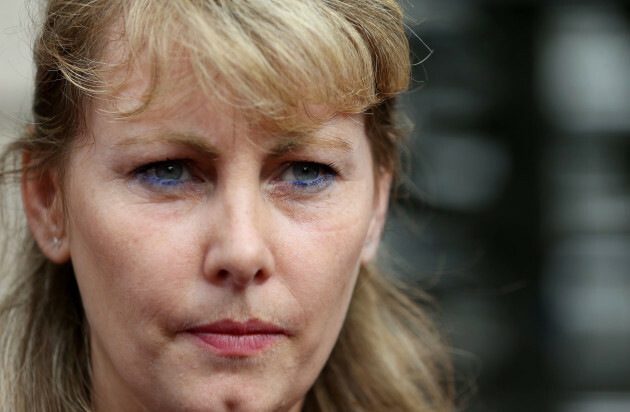 PA Wire / PA Images PA Wire / PA Images / PA Images
Emma Mhic Mhathúna, one of the women at the centre of the Cervical Check scandal, tragically passed away at the age of just 37 in October.
Emma was diagnosed with cervical cancer in 2016, three years after a smear test result incorrectly came back as normal.
The mother-of-five died with her family around her.
Earlier this year, she settled a €7.5million settlement with the HSE over her incorrect test results. While €1.1 million was granted immediately to Mhic Mhathúna to buy a family home in Kerry and to go on a family holiday, the rest was to be put aside in a fund for her children.
Her funeral later that week drew huge crowds of people who wanted to share their condolences with the family after she had "inspired them with her fight for justice, transparency and improved services".
12. 'Schoolboy and family granted permission to stay in Ireland following campaign'
In October, the story of 14-year-old Nonso Muojeke and his classmates warmed the hearts of many after Nonso and his family were granted leave to remain in Ireland.
Nonso, his mother and older brother had been given a deportation order earlier in the year after moving here from Nigeria in 2007, however, the teachers and students of Tullamore College campaigned to have him remain in the country and were successful.
A petition to stop the family from being deported also received over 21,000 signatures.
The Irish Naturalisation and Immigration Service indicated that this position was arrived at following a detailed re-consideration of the family's immigration case in light of court proceedings and the receipt of updated submissions from the family in September.
13. Abortion legislation signed into law by President Michael D Higgins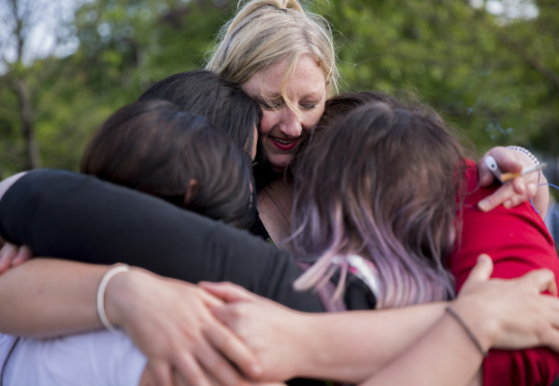 UPI / PA Images UPI / PA Images / PA Images
Seven months after the Eighth Amendment was repealed, abortion legislation was passed by the Senate and signed into law by President Higgins.
Thirty-five years after we formally restricted a pregnant person's right to choose, Ireland now has given that power of choice back.