THE GOOD FOLKS at Nate D. Sanders do a fine business in autographs and memorabilia, having sold the likes of Darth Vader's helmet, the trophy from Citizen Kane and Kate Winslet's coat from Titanic.
We have to wonder though, if they shouted loudly enough about a recently auctioned item.
What are we talking about?  Jennifer Lawrence's sweaty sports bra of course (size 36C, we know you were wondering).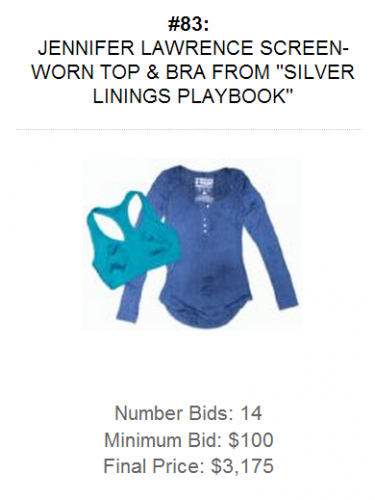 www.natedsanders.com
Bidding closed yesterday, after 14 bidders battled it out, finishing up at $3,175.  We can't help but think they might have been able to get a better price for it.  She is luminous after all.
One way or the other, we're keeping our eyes peeled for next month's auction.  Who knows, they might have a pair of George Clooney's jocks up for grabs!