THE PROBLEM WITH being a terrible customer is that if you are, you'll probably read this and get annoyed because you can never be wrong. Please try and learn something from this list.
1. You would knock something off it's hanger and not fix it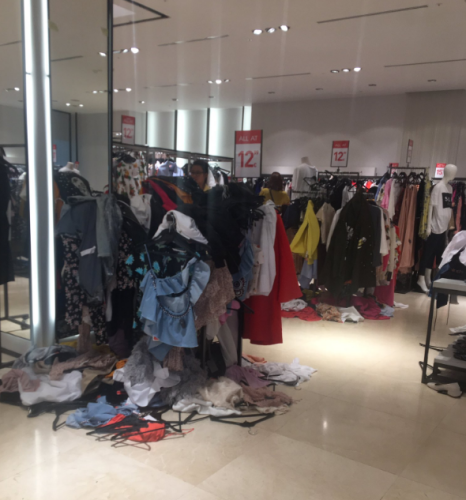 DailyEdge.ie DailyEdge.ie
This picture is from a shop in Dublin which is pretty regularly left in this condition by customers. It takes one second for you to hang something back up. It could potentially take hours for sales assistants to tidy this up.
2. You have consciously made a mess and didn't fix it because "it's somebody's job to tidy it up"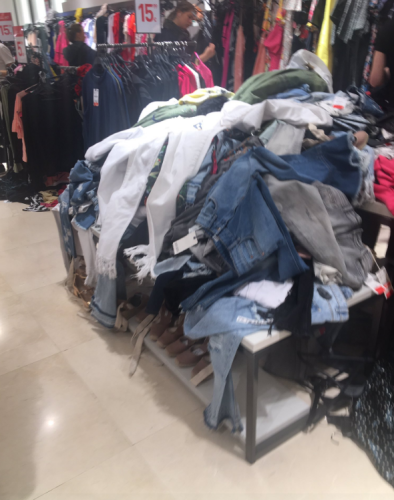 DailyEdge.ie DailyEdge.ie
Would you spend an hour sorting out multiple tables of these jeans, folding every single pair and organising them in order of size (waist length and then various leg lengths just to add more confusion) for €9.15?
The answer is most likely no, you'd rather not spend that much time tidying this nightmare for a measly €9, but that is the every day reality for minimum wage workers. Sure it's someone's job, but you're just making it a lot more difficult than it already is.
3. You go into shops to try clothes on or buy some groceries five minutes before the shop is due to close.
PA Wire / PA Images PA Wire / PA Images / PA Images
The staff usually have to keep their tills open until the last customer leaves the shop. So if a shop closes at 7pm, and they're supposed to finish at 7pm, they have to wait until you leave before they can even begin to cash up their till at the end of the day.
Have some consideration for these poor members of staff who have probably been standing in the same spot for eight hours and are dying to go home.
4. You ask staff (in a shop that very clearly doesn't do discounts) if the shop does discounts.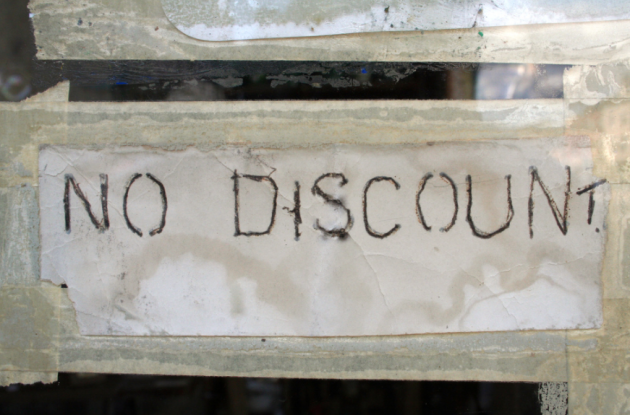 Hugh Sanders / Flickr Hugh Sanders / Flickr / Flickr
Not even student discounts. Just general discounts. Does anywhere even do that? Then you become irate at the fact that there is no discount.
5. You try and haggle in a high street shop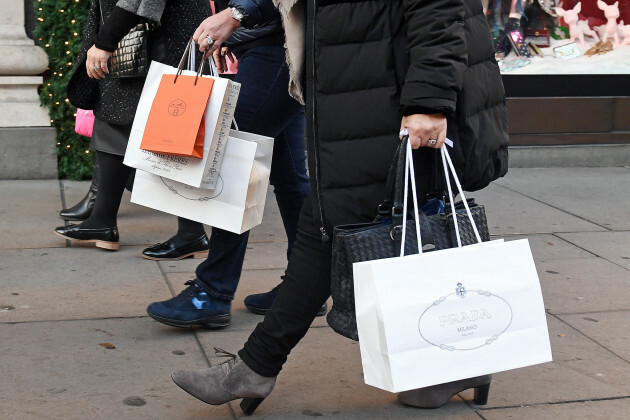 Victoria Jones Victoria Jones
Sounds ridiculous, but it happens way too often. Instead of of asking for a discount, customers ask for a certain amount of money off.
Customers think that prices printed on tags are decided by the 19-year-old girl standing behind the till in a shop that has over 100 branches worldwide.
6. When you're paying you ignore the outstretched hand waiting for your money and place the money on the counter
auntjojo / Flickr auntjojo / Flickr / Flickr
If an employee does this to you, there's an 80% chance you did something rude.
7. You totally ignore announcements that the shop will be closing in a few minutes
Tim Goode Tim Goode
What employees hear: "Attention customers, this store will be closing in five minutes time. Please kindly complete your purchase at one of our now closing checkouts.
What customers hear: "You haven't gotten enough shopping yet. Maybe you need to upgrade to a trolley from a basket."
8. You think that the laws about purchasing alcohol after 10pm don't apply to you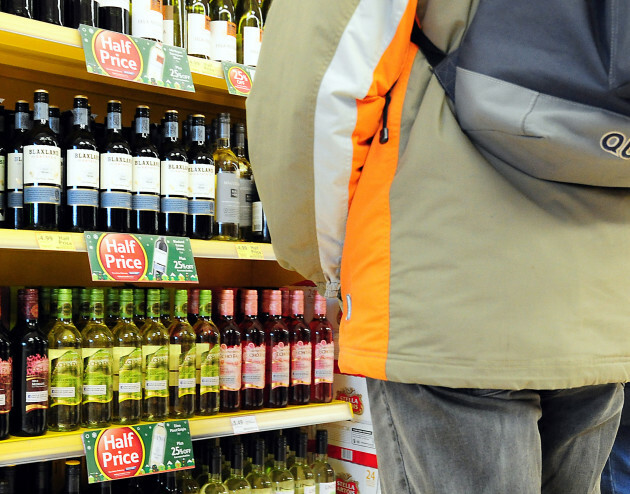 Rui Vieira Rui Vieira
Listen Barbara, checkout workers don't have some conspiracy to stop you getting a bottle of wine at 10.34pm. It just won't go through the till after 10pm. Don't take it personally.
9. You put your litter on the shelf behind stock to try and 'hide' it instead of waiting until you find a bin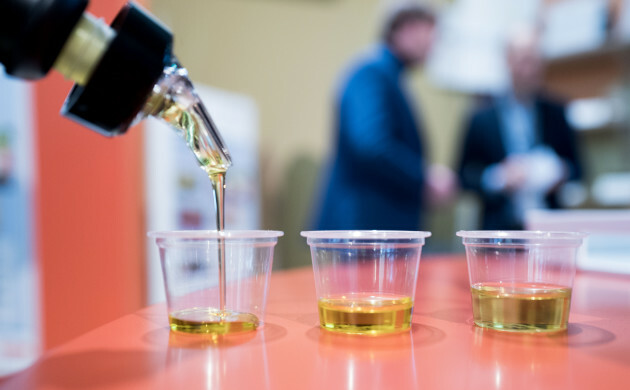 DPA / PA Images DPA / PA Images / PA Images
Cups or containers from free samples, the end of your €4 latte from Starbucks, empty crisp packets from your children snacking or if you're a real delight, a dirty nappy. None of these things should be put anywhere except in a bin, but laziness always prevails.
That melted slush puppy your child didn't finish is most likely going to end up getting knocked over by a staff member tidying the shelf and not only make a huge mess for them to clean up, but will also destroy any stock in cardboard boxes.
Sometimes this happens in aisles with low turnovers that rarely need attention and it goes unnoticed for a while. This causes disgusting bug infestations, which is not only revolting for an employee to try and clean, it's also really gross for any customers who have to see it.
10. You use self service checkouts when you don't know how and make the staff do the work for you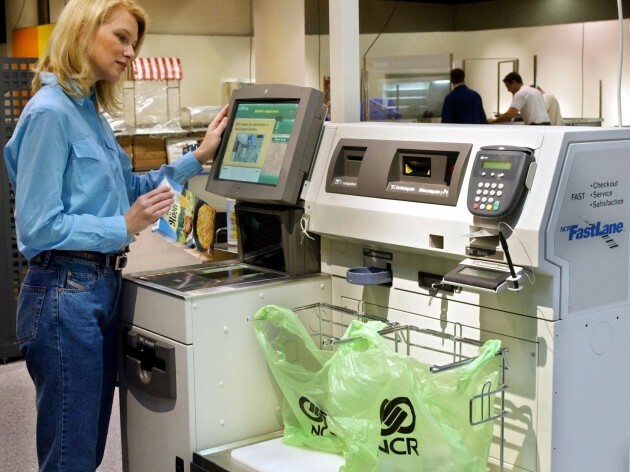 DPA / PA Images DPA / PA Images / PA Images
There's no shame in being a bit hesitant or nervous before you use a self service till for the first time. Not everyone has access to a computer or is exposed to technology, so it's fair that some people might need a hand learning how to use it.
However, there are countless people who feign an interest in learning how to use the self service facilities and call employees over just to force them to scan every single product and do all of the work for them.
Why? Just because they wanted to get into the shorter queue. They have no consideration for the fact that the employee has to supervise and be ready to help around six customers at a time.
11. You shop during sale season, despite the fact that there's virtually nothing worth buying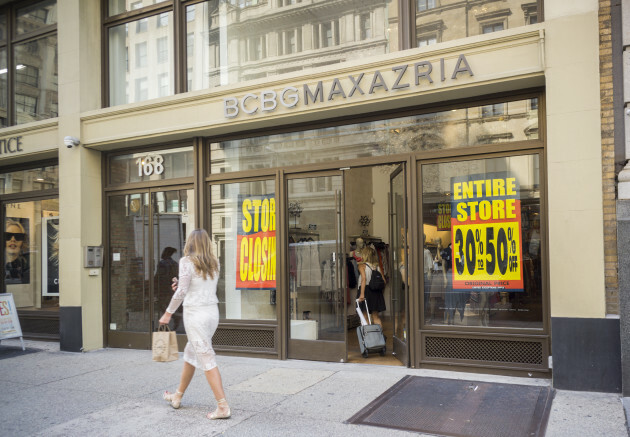 SIPA USA / PA Images SIPA USA / PA Images / PA Images
When you're a child, Christmas holidays seem to last for weeks. Not even counting the entire school holidays, but from Christmas Eve to Stephen's Day felt like a whole week despite only lasting three days.
For retail workers, Christmas holidays seem to last five minutes. They're in until all hours on Christmas eve preparing the shop for Stephen's Day sales. Every year sales get more extreme, people queue for hours before shops open.
All in the hopes of getting up to 80% off a product that you would have had 100% off if you just stayed at home and enjoyed spending some time with your family, like the staff serving you wish they could.
What the "up to 80% off" always means is 15% off a top that's only all right looking that you probably wouldn't have bothered with on a regular day. It's only a matter of time until department stores start opening on Christmas day because of people who shop during sales.
DailyEdge is on Snapchat! Tap the button below to add!