EVERY WEEKDAY MORNING, DailyEdge.ie rounds up the best of the day's celebrity dirt – from the top to the very bottom.
#PERRIE NICE: Zayn Malik is engaged!  SCREAM!!! (Mirror)
According to reports, he proposed to Perrie Edwards of Little Mix over the weekend, in a 'perfect and romantic' proposal.
SCREAM!
Perrie got tongues wagging when she turned up on the red carpet at last night's premiere of the One Direction film in London wearing a giant sparkler.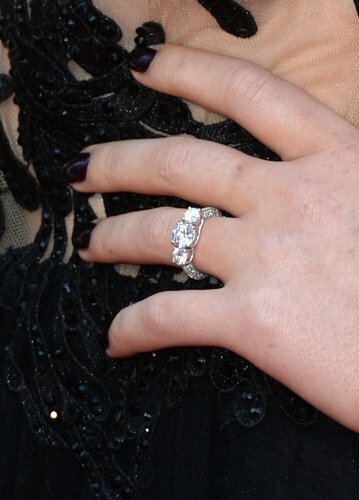 Doug Peters/Doug Peters/EMPICS Entertainment
They're both only 20 so it seems a little young to be getting engaged, but apparently they've been working hard to maintain their relationship while touring the world with their respective bands, and are excited to tie the knot.
To be honest, it's probably a good thing given the fact that he has her face tattooed on her arm.
Good luck to them. Especially Perrie.  We wouldn't want to feel the jealousy of a million One Direction fans!
#RE-SYNCHED: In case you missed it yesterday, N*Sync are reuniting for a performance at the MTV VMAs next Sunday in LA. (Mirror)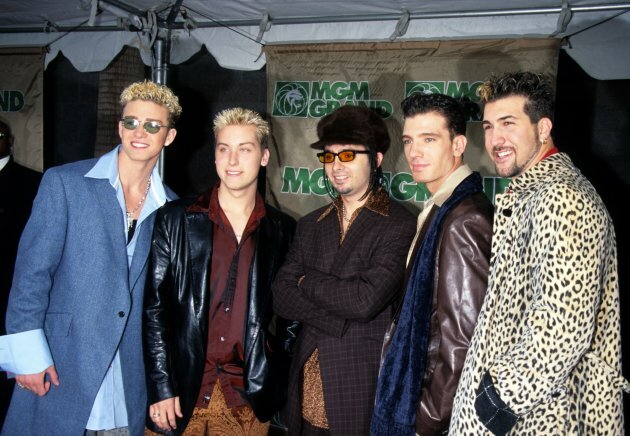 Stephen Trupp/Starmax/EMPICS Entertainment
The band will perform as part of Justin Timberlake's acceptance of the Michael Jackson Video Vanguard Award.
[SIDEBAR: Vanguard?  What?  It turns out it's the leading part of a military formation.  There you go, don't say we never teach you anything.]
No further details have been released, but one can only hope they'll arrive on the stage on strings like puppets.
At the very least, Justin could grow out his curls and bleach them blonde for the occasion.
#THAT'S MY JAM: Taylor Swift has made Ed Sheeran some jam. (Instagram)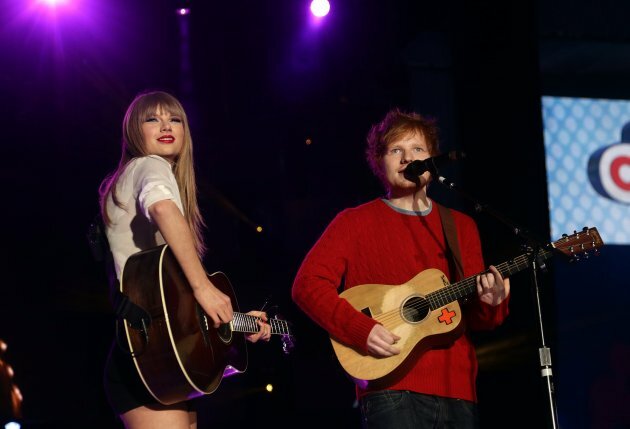 In a move believed to be a slap in the face of those who claim her antique loving ways are boring, she made and labelled it herself before giving it to her favourite Englishman.
In fairness to her, she did attach an amusing label to it, referencing the fabled Kanye incident of 2009.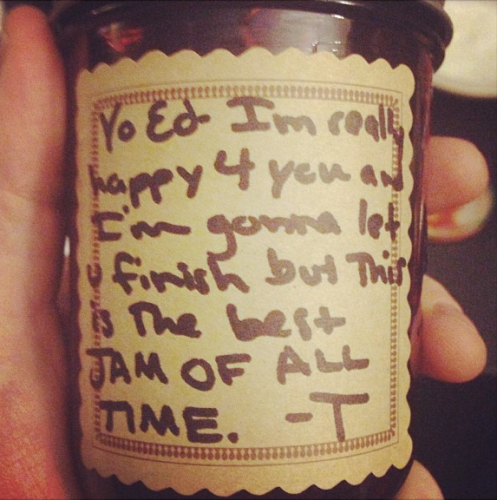 What's next?  A crocheted blanket depicting the incident?  We can only hope.
#ROCK N ROLL:  Avril Lavigne's new video for Rock n Roll is simply marvellous.
It features Winnie Cooper from The Wonder Years, Billy Zane, a bearshark and the most wonderful acknowledgement of product placement we've ever seen in a music video.
YouTube/AvrilLavigneVEVO
The only real issue is that it's a pop song called Rock n Roll, but sure we'll let that go.
You go, Avril Lavigne.
P.S.  If someone could find out what skincare regime Winnie from The Wonder Years is using to keep her 38 year old face looking 15 that would be great.
And the rest of the day's celebrity dirt…
Kate Moss's dog is suffering from separation anxiety. (Mirror)
Chris O'Dowd brings cakes to work just like us! (Buzzfeed)
Of course Brian Cranston was in his school chemistry club. (Buzzfeed)