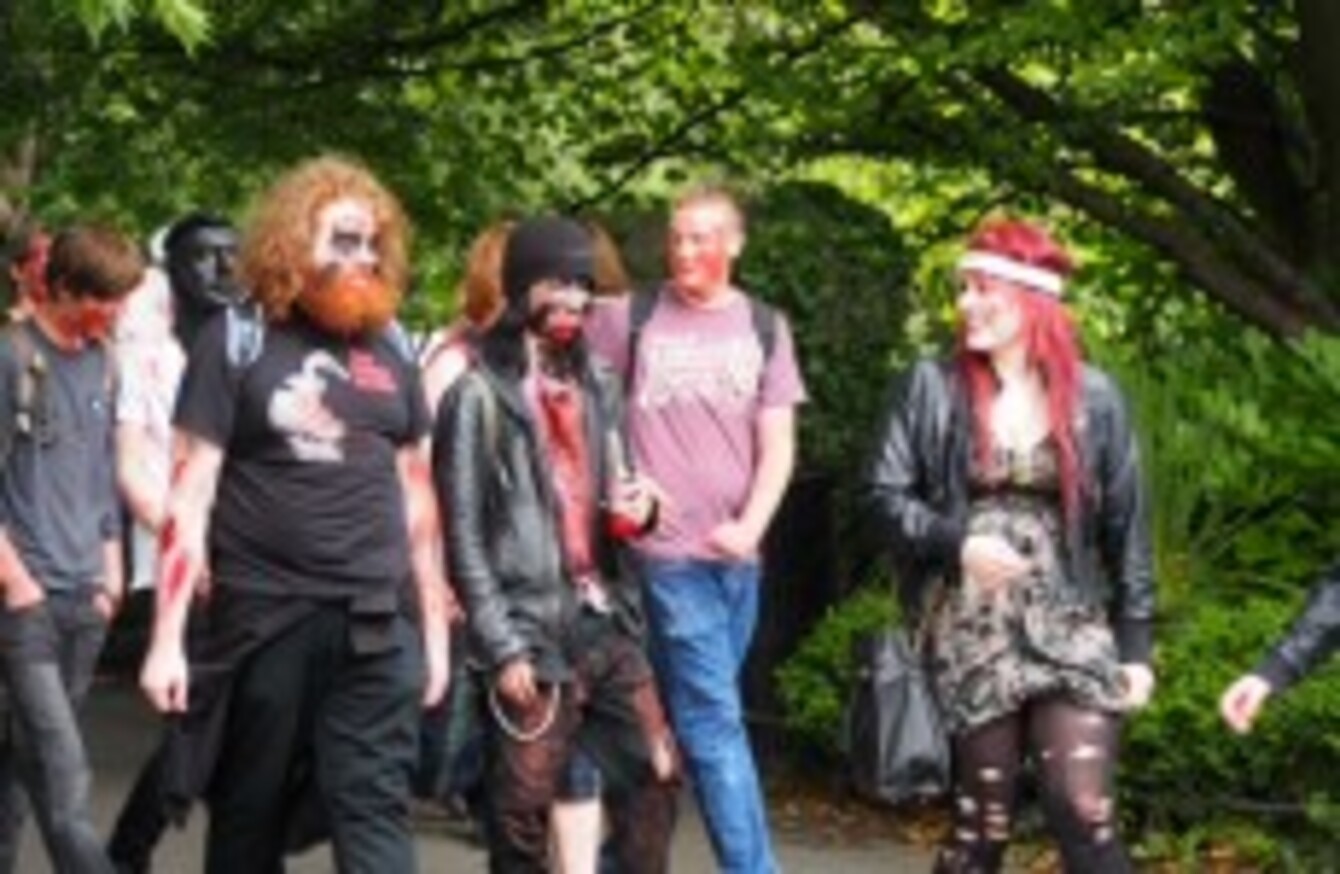 Image: Declan Clancy
Image: Declan Clancy
IT HAS ALL the makings of a Hollywood film: 10,000 zombies (and a few zombie hunters) prowl the streets of Dublin on a sunny Saturday afternoon.
But this time, they're accompanied by a DJ, photographers, and even a team to tidy up after them.
That's because these undead people were taking part in the annual Dublin Zombie Walk, a fundraising initiative that's become a hugely popular event in the capital.
Walk
Dressed in their finest blood-soaked outfits, they walked from Stephen's Green to Temple Bar in an effort to raise money for Barnardos and the Irish Cancer Society.
One of the organisers, who called herself Kelly Zombie, told TheJournal.ie that there were 10 people on the volunteer team charged with organising the huge walk.
"It went brilliantly – it was the best one yet," she enthused.
We had at least 10,000 people. You hope and you plan for those kind of numbers but you never know,  especially with the weather and bank holiday weekend. But everyone turned out in great form, and the sunshine came out for us in the end.
They started the event to help get younger people fundraising, but have attracted zombies of all ages, including parents and their children (not to mention many pets).
Creativity
There is also another side to the event:
Ireland has a very talented bank of people and there are not that many outlets like that so they can let that creativity out.
It's a chance for creative people to dress up and go wild.  But not too wild, as there was even a professional clean-up crew to make sure that everything was left the way the zombies found it.
When asked 'why zombie?', Kelly has only one answer: "Why not zombie? Some people do it for the charity outlet, some people do it for the love of horror movies."
Last year they raised over €5000, and with fundraising open for another 28 days, the organisers hope to exceed that amount this year.