NEW YORK PROSECUTORS look set to drop rape charges against Dominique Strauss-Kahn but the jury is still out on whether his career will be permanently affected.
Here, we take a look at seven other political careers that certainly didn't survive a sex scandal…
1. The one that got Obama elected? -
Back in 2004 there was a young, charismatic politician hoping to become the next President of the United States of America. This guy, however, was a Republican. In a race for the Senate, Jack Ryan was runaway favourite until his ex-wife, actress Jeri Ryan, revealed that the Illinois candidate had pressured her into attending sex clubs and asked her to perform certain lewd acts in public.
The "swingers" clubs in New York, New Orleans and Paris were described by the ex-Mrs Ryan as "bizarre…with cages, whips and other apparatus hanging from the ceiling".
Following the revelations, Ryan withdrew from the 2004 US Senate election and his replacement, Alan Keyes, lost out to…yes, Barack Obama.
2. The social media affair –
He may not have been a household name but New York congressman Anthony Weiner shot to notoriety earlier this year when he accidentally posted images of his genitals to his Twitter account.
The images were meant for a college student in Seattle who Weiner was carrying on an explicit online conversation with.
Although he initially denied his involvement, Weiner eventually admitted to his online philandering. He said he had exchanged graphic photographs with at least six women online over the past three years.
To add fuel to the tabloid fire, Weiner's wife is none other than Hillary Clinton's right-hand woman in the US State Department.
Here's Weiner's (late) apology…and tears:
3. The alleged gay affair –
Homosexual relationships were still illegal in Britain in the early 1960s so when it was alleged that the leader of the Liberal Party was engaged in an affair with another man, the scandal rocked Westminster to its core.
Jeremy Thorpe's political career was consistently dogged by rumours about his sexuality so when model Norman Scott claimed to have had a homosexual relationship with the MP an inquiry within the Liberal Party was started.
Despite being exonerated by his party, the scandal did not end there. Thorpe was later arrested and charged for plotting to kill the male model. He was acquitted of all charges in 1979 but had already lost his seat in the general election.
Here he is in 1979 entering a London court house for the second day of his trial.
4. And again… another one that might have gotten Obama elected -
Barack Obama and his wife Michelle are known for their squeaky-clean image, making comparisons even tougher for the US President's murkier counterparts.
Back in 2008, fellow Democrat John Edwards had a slim chance of winning his party's nomination for the presidential election but in January, the Senator suspended his campaign and eventually went on to endorse Obama. He gave no reason for pulling out so prematurely but rumours of an extramarital affair soon started to surface.
Later that year it emerged that Edwards had not only had an extramarital affair but also fathered a child with former campaigner Rielle Hunter. His wife, Elizabeth, was ill at the time of the revelations. She died from cancer at the end of 2010.
Earlier this year, Edwards was indicted for using up to $1m in political donations to hide the affair back in 2008.
Here is Edwards with David Letterman ribbing Barack Obama for his lack of maturity just eight days before pulling out of the presidential race. Incidentally, both men were involved in adulterous affairs at the time of the taping.
5. Sex, lies and a Russian spy -
In terms of sex scandals, the Profumo Affair had it all.
Back in 1963, 22-year-old party girl Christine Keeler all but brought down the Macmillan government in Britain in the most spectacular fashion.
At the height of the Cold War, it was known that the young and beautiful model had dated (and slept with) Soviet naval attache, Eugene Ivanov.
At the time of the controversy, John Profumo was Britain's Secretary of State for War so when rumours of his extramarital affair with Keeler emerged, he lied to the House of Commons. When the truth of their brief but passionate dalliance was eventually unveiled, Profumo was forced to resign.
The Government dealt with the scandal in a haphazard manner – finding scapegoats and placing blame every which way. Keeler herself was tried and imprisoned on related charges.
Our image show Keeler being driven away from her London apartment by two Scotland Yard detectives.
6. Arnold's love child –
Bodybuilder turned Hollywood superhero turned politician, Arnold Schwarnegger, has had some career in the public eye but revelations that he fathered a child outside of his marriage terminated (sorry) any further political desires.
Married to Maria Shriver for more than 25 years, reports that Arnie has a 14-year-old love child shocked those in California, where Schwarznegger had been Governor since 2003.
The mother of the young boy is Mildred Baena, who worked in the Schwarznegger-Shriver household since 1991. There are just five days between the birthday of Baena's son and that of Shriver and Schwarnegger's youngest child Christopher.
Last week, the former first lady of California filed for divorce and says she definitely won't be back!
Here they are in happier times after Schwarznegger, who is a native of Austria, received his US citizenship papers in 1983.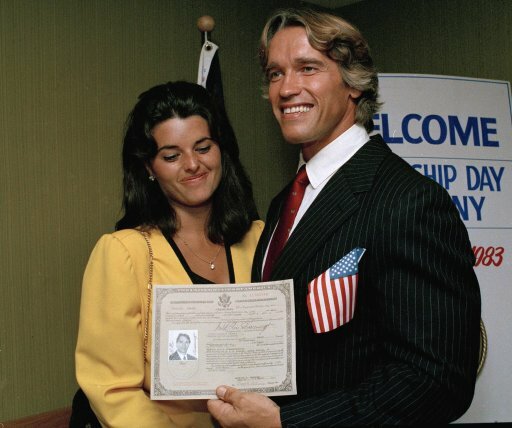 7. And then, of course, there was Mrs. Robinson -
The surname and the age gap brought about obvious comparisons to the character in the 1967 movie The Graduate but Iris Robinson's affair with a 19-year-old man also involved allegations of dirty money.
In 2009, it emerged she had been carrying on an affair with Kirk McCambley, a local entrepreneur. During their relationship, Robinson allegedly encouraged friends of hers to provide financial assistance to the teenager so he could establish his business.
Earlier this year, however, Robinson was exonerated of any dodgy dealings relating to her toyboy lover's cafe, The Lock Keeper's Inn.
One part of Northern Ireland's power couple, Iris was an MP and wife of First Minister Peter Robinson. She made her first public appearance since the scandal during the Queen's visit to Ireland in May: