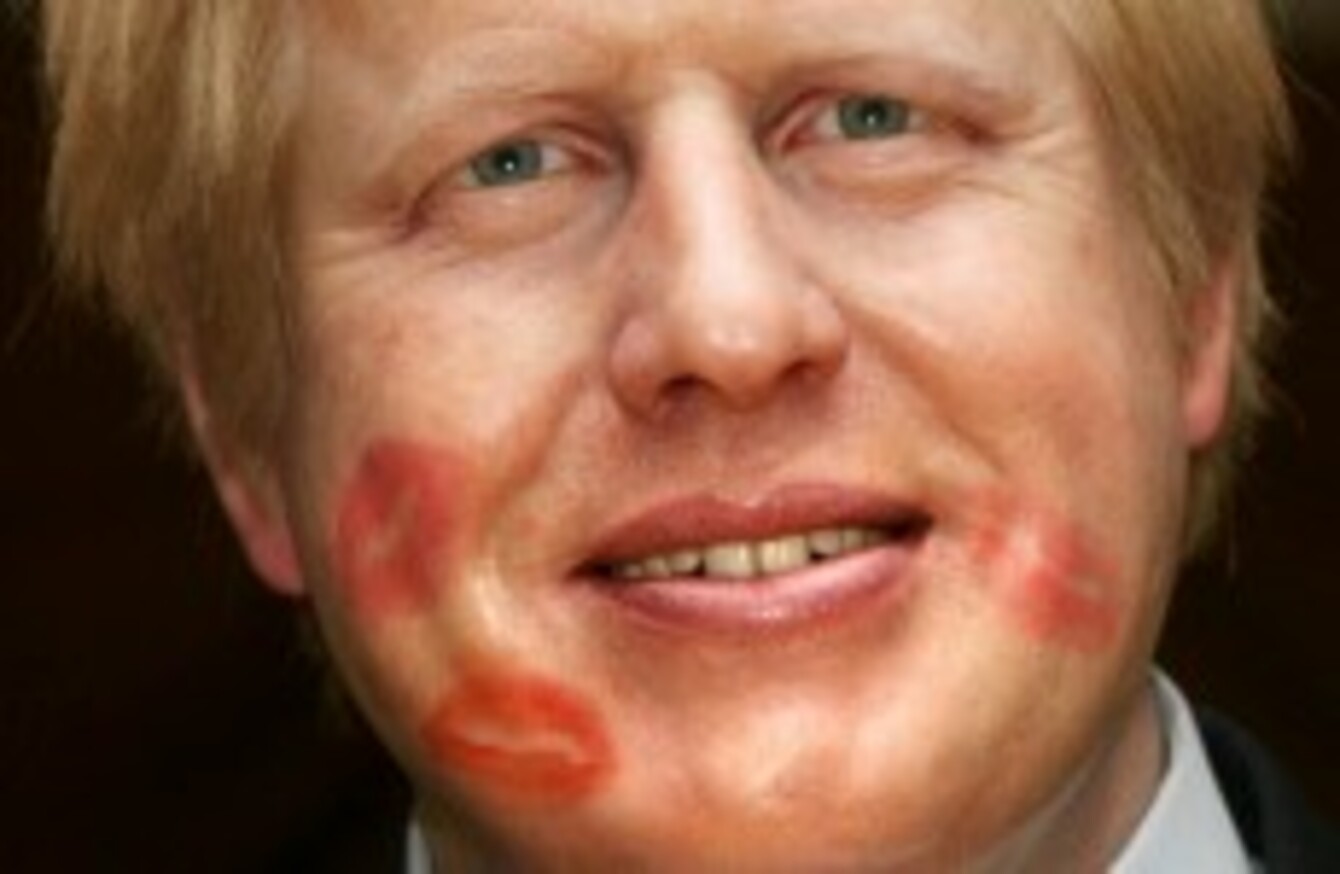 Boris Johnson waxwork at Madame Tussauds.
Image: (Lewis Whyld/PA Images)
Boris Johnson waxwork at Madame Tussauds.
Image: (Lewis Whyld/PA Images)
BORIS JOHNSON IS known for putting his foot in his mouth over the Irish and being accused for being sexist towards female politicians – but he seems to have some success in over his female voters.
The Guardian reports that he seduced voters during a Mumsnet web chat where he brandished himself a 'feminist'. One questioner stating that she thought he was "gorgeous" while another asked "Boris, will you marry me?"
It is not just the women who seem to admire the London mayor candidate. Lewis Jolly paid £180 to have the Tory's face tattooed on his thigh. He said he chose Boris because he is "such a good bloke".
Since the last election there have been reports of alleged affairs and even a love child – these have neither been denied nor confirmed.
It got us to thinking about a few other likely political playboys (and some who seemed unlikely – but it turned out to be so…)
John F Kennedy – The ultimate ladies' man, the former US president is thought to have had quite a few affairs while he was in office. The most infamous affair is reported to be with actress Marilyn Monroe. Rumours were rife after she sang 'Happy Birthday' to the president.
(AP Photo)
(Via YouTube/MMCollector)
Bill Clinton – Another American president who had a way with one lady in particular. After trying to deny any wrongdoing he was almost forced to step down as president over his affair with former White House intern Monica Lewinsky.
(AP Images)
(Via YouTube/stylite24)
Silvio Berlusconi – He is the ultimate 'Italian charmer', if you are to believe Silvio, and the ultimate party animal if you are to believe what went on during his notorious 'bunga bunga' parties. He may be a fan of women more than they are of him but he doesn't seem to hold his 'female friends' in very high regard however – last week he said "girls … women are by nature exhibitionists". German chancellor Angela Merkel probably isn't one of his female admirers after his comments on her attractiveness.
(AP Image)
(Via YouTube/EUXTV)
Jacques Chirac – The former French president admitted in a book "there have been women I have loved a lot, as discreetly as possible". He did not however confirm where he was the night of Princess Diana's death and needed to make a comment on the tragedy. The then president was nowhere to be found and there were rumours that he was 'otherwise engaged' with a woman. His wife Bernadette, who he married in 1956, seems to have been quite aware of his flirtations and even scolded him in public for it.
(Via YouTube/PraticienEFT)
John Hemming - An unlikely philanderer, this British MP has got a reputation for two things – for outing the affair of footballer Ryan Giggs in parliament and for admitting he has a wife and a mistress. But the story gets better – his wife, Christine, was not best pleased with the affair and decided to steal John's girlfriend's cat. She was later found guilty of the offence in court. He has a child with his mistress, three with his wife and in February it was revealed that his mistress Emily is expecting another baby. When The Telegraph asked whether he considered himself a sex god he said "Well, if my wife says I'm a sex god, perhaps she may be right."
(Jeff Moore/PA Images)
John Major – Who can forget one of Britain's biggest love affairs  – John Major and Edwina Currie. Following the release of John Major's autobiography and seeing that her name didn't figure in the book Edwina Currie decided to go public about the four-year affair she had had with the former prime minister. Disclosed in her diaries the BBC reported that the affair began in 1984 and ended in 1988. She obviously doesn't look back on it fondly as she has admitted, "It is the one event in my life of which I am most ashamed".
(Lewis Whyld/PA Archive/PAImages)
Mark Sanford – The state governor of South Carolina got well and truly busted after he lied about his whereabouts when he was off having an affair on his wife. He fancied himself a bit of an adventurer and travelled to Buenos Aires to visit his mistress. The problem was he told everyone he was going to be walking the Appalachian Trail, a popular hiking route in eastern US. Which would be fine but he was spotted in Argentina. In an embarrassing public confession he admitted that he had hurt a lot of people.
(Via YouTube/AssociatedPress)