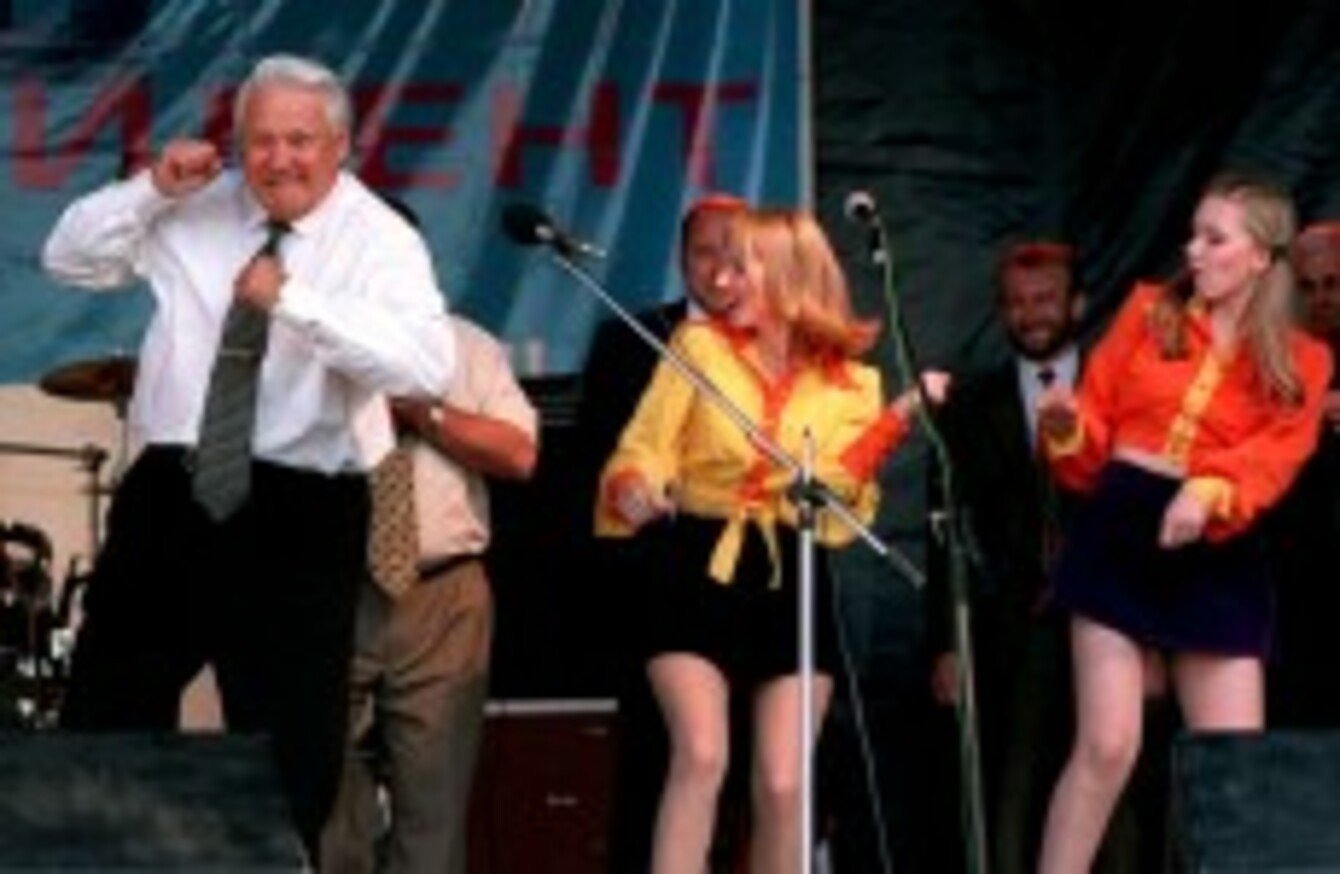 Boris Yeltsin dances at a rock concert in 1996
Image: (Alexander Zemlianichenko/PA Images)
Boris Yeltsin dances at a rock concert in 1996
Image: (Alexander Zemlianichenko/PA Images)
HILLARY CLINTON HAS been criticised this week for slugging back on a beer during her visit to Cartagena in Colombia.
The foreign policy blunder seems to be because she is drinking in a Cuban themed bar and not the fact that she has been snapped out on the sauce.
So should politicians always be straight laced or is it no harm to see them letting down their hair once in a while?
Here are a just a few political power players whose motto is 'work hard, play hard'.
Brian Cowen – While Cowen denied being drunk and/or hungover on an early morning interview on RTE's Morning Ireland, he was widely criticised in the media for his performance and was even the butt of jokes on The Jay Leno Show in the US.

Via YouTube/Scabby99)
Nicolas Sarkozy – Before heading out to meet the press at the G8 summit, the President of France said he was with Putin. What they were drinking we don't know but he apologised for his late arrival. He then seemed unaware of what was going to take place asking the press if he should answer their questions. Sarkozy later said that he was not drunk but merely breathless, having run over to the press conference.

(Via YouTube/Buttpt02)
Barack Obama – The US president and his wife showed they could party just like the Irish when they stopped over for a quick visit to Ireland last year. They seemed to enjoy their pint of the black stuff at Hayes Bar in Obama's ancestral home in Moneygall, Co Offaly.
(Mark Cuthbert/PA Images)
Bertie Ahern and Bill Clinton – Back in the good times Ahern was known to like a few in his local in Drumcondra. In 2000, he decided took Clinton and his daughter Chelsea along for a few pints.
(Image via Photocall Ireland)
Minister Michel Daerden- This Belgian politician shocked his fellow ministers in 2010 when he turned up to conduct the order of business in an intoxicated state. Daerden seems to find the whole experience very amusing but others were quite offended with some calling for his resignation.

(Via YouTube/daddycool9)
George Bush – No one could ever accuse him of taking himself too seriously. Here is the former US president having fun dancing in 2008. This is not the first time that he failed to contain the rhythm – he entertained reporters with his tap dancing skills while waiting on Senator McCain to arrive.

(Via YouTube/itn)
Enda Kenny – While he was over rubbing shoulders with the US president this St Patrick's Day he decided to learn from Cowen's mistakes and stick to the H20. We're sure he had a ball anyway without the sore head in the morning.
(Susan Walsh/PA Images)
Boris Yeltsin – Probably the best known party animal politician. The former Russian president truly knew how to let his hair down. On repeated occasions he sang, danced and enjoyed the odd drink or two. He even managed to reduce Bill Clinton to tears with his humour – now that was good Russian/US relations.

(Via YouTube/ptadich)
(Via YouTube/AMDERBO1)