GREAT ODIN'S RAVEN!
We have to wait until 2013 at least for Anchorman 2, but writer/director Adam McKay has let slip a few nuggets of information about the next chapter in the tale of Ron Burgundy, Veronica Corningstone and co.
It got us wishing, hoping, thinking and praying about how the sequel could and should be one of the greatest things ever…
1. It's going to feature a musical extravaganza
Writer/director Adam McKay has told IndieWire that a big musical number is on the way, and has hinted that there may even be more than one musical interlude in the film.
Of course, the cast has form in this sort of thing. They've already done live singing for the first movie:
And they've even made a music video:
YouTube/JRolson85
2. Wake Up Ron Burgundy: The Lost Movie
There were so many great bits that the makers of Anchorman couldn't fit into the first film, that a second movie was created using leftover footage:
YouTube/Kangarilla9323
Surely this can only mean that there are great things yet to come?
3. All of the gang are back
Will Ferrell, Steve Carrell, Paul Rudd, David Koechner, Christina Applegate, Vince Vaughn and Luke Wilson are all on board for the sequel.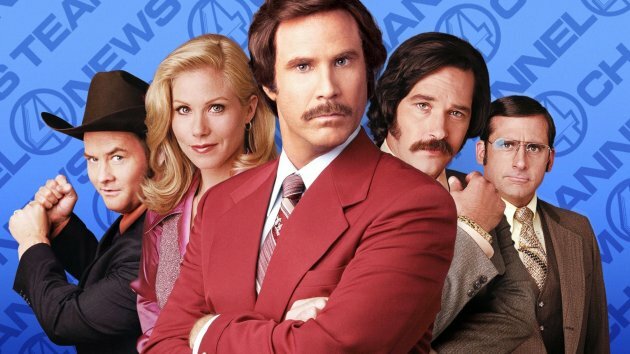 4. It could be set in the eighties?
The first Anchorman movie was set in the seventies, gloriously so.
Imagine an Anchorman where neon, Wham!, legwarmers, flux capacitors, McGyver and Huey Lewis and the News reign supreme. It could be amazing.
YouTube/EMIMusic
5. The trailer:
The teaser trailer for Anchorman 2 promises "sub machine guns and boobies" and that it's "gonna get stinky":
YouTube/ENTV