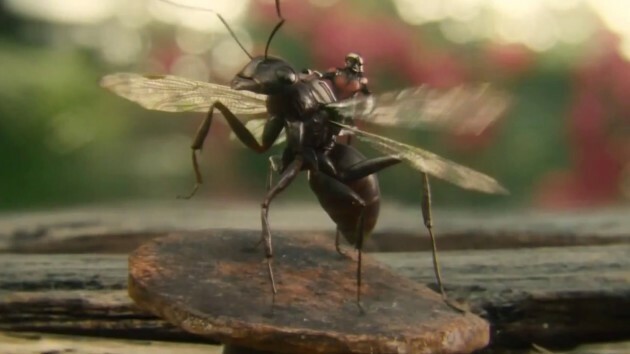 Marvel Studios Marvel Studios
FORGET MAGIC MIKE XXL, forget gender quotas, is Ant Man the sexist story of the summer?
"But, but, it's about ants" we hear you stutter.
ANTS HAVE FEELINGS AND ARE PEOPLE TOO YOU KNOW?! (Okay, they're ants, but go with us).
Certain details in the box office-smashing film have angered some viewers. Details like this:
Now, consider this (via Skunk Bear, NPR's science Tumblr):
The main character ant (called Antony) in Ant-Man is

male

. 

But most ants we see are sterile females.
Male ants aren't usually good for much besides mating with the queen and then dying.
Ant-Man's special effects supervisor Jake Morrison told NPR that he spent two years researching ants and he wanted them to be "scientifically spot on".
However, as pointed out by scientist Seán Brady, rather than the ants in the film being the 'good guys', they really should be the 'good girls'.
Ants really are only girls, mostly.
Morrison concedes:
So it should have been Antoinette really, then. It's certainly not a deliberate bit of ant sexism. Absolutely not. It was not planned that way at all. Duly noted.
The gender of the ants isn't the only thing getting the finger of sexism pointed at Ant-Man.
The omission of the female character Wasp has raised many eyebrows with mic.com claiming "this missing character isn't just a fun sidekick: She's the key to the history of the Avengers franchise".
And then there's the general omission of strong female characters in general:
Marvel studios president Kevin Feige has responded to questions about female characters in Marvels films (in the context of Evangeline Lilly's Ant-Man character Hope Van Dyne being sidelined), pointing to 2018′s Captain Marvel title role of Carol Danvers.
Feige says that the likes of the Danvers movie has nothing to do with the backlash in the media and from fans about the dearth of strong female characters, saying
 It would paralyze you if you were trying to develop a story or character that is going to please everyone on the Internet," he said. "You would curl up into a ball and never do anything.