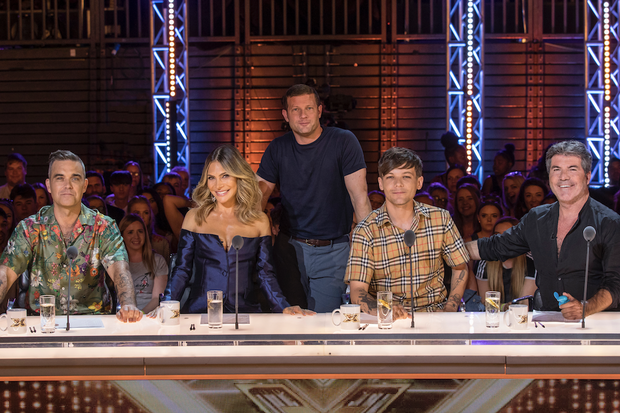 ITV ITV
YEARS HAVE PASSED since the glory days of The X Factor. 
There was once a time when many Irish people would clear out their Saturday night schedule and spend all week considering what takeaway they'd treat themselves to as they watched the likes of Mary Byrne, One Direction and Cher Lloyd battle it out each Saturday evening. Things were different back then. Every Monday morning in schools across the country, kids would gather round and trade analysis on the weekend's events. Some people would even pay actual money to text in and vote for their favourite performers. 
Those days are gone. There's no doubt in anybody's mind that the X Factor has passed its peak. This year they relied on gimmicks like bringing back 90s pop-stars like Janice Robinson and phoning people up to ask them to audition for this series (as the Winner of The Voice of Ireland revealed on The Ray D'Arcy Show earlier this year). They let Robbie Williams bring his wife Ayda onto the show as a judge, for Christ's sake. For all we know, this could be the last series of X Factor – it certainly looks as though things are going that way. 
The talent is still there, of course. It seems as though The X Factor has just lost its own x factor. This year, former Big Brother host Davina McCall was one of the first celebrities to publicly say that Big Brother's termination was much-needed. McCall said that Big Brother needs to be "mucked about with" a bit before it's brought back to television. Referencing shows like The Circle and Love Island, McCall said "Maybe they will take tips from other shows like that and bring it back revamped."
There was definitely a point in the past in which Simon Cowell and the rest of the gang behind The X Factor should have taken a step back and looked at the changing cultural landscape in which the show was set, and we're probably too far beyond that point for anybody to successfully save the show.
When The X Factor first began in 2004, social media as we now know it simply did not exist. Nobody was using Bebo, never mind Twitter or Facebook. A few years later, when The X Factor peaked in 2010, Twitter had 54 million monthly users. Today there are 326 million monthly users.
With the quiet demise of Big Brother this year and the impending death of The X Factor on the horizon, anybody would think that the current generation of 15-34 year-old TV viewers were suffering serious reality TV fatigue. Sure, what do we need reality TV for when we've got Netflix and an aversion to paying our TV licences?
It's really quite the opposite though. We still love reality TV as much as ever. I will always maintain that Celebrity Big Brother 2016 was the best iteration of the series and one of the best reality TV series of my lifetime. Seriously - I mean it.
What made it different from every other series of Celebrity Big Brother?
Well chiefly, what made CBB 2016 special was the impact that outside interference had on the show. Big Brother were always quite inflexible with their rules about contact with the outside world. That was made clear this year with the whole Roxanne Pallett scandal, which resulted in a public campaign from viewers urging Big Brother to show Ryan Thomas and the rest of the housemates the footage of Roxanne and Ryan's interaction. Big Brother refused to show the footage to the housemates. 
From the top of my head, the only instances I can think of in which Big Brother allowed the outside world to interfere with the lives of the Big Brother housemates would be in a situation when someone had died. Remember in 2009 when they told housemates that Michael Jackson had passed away? 
BigBrotherUK / YouTube
David Bowie's death in 2016 could have gone by completely unmarked in the Big Brother house, if it wasn't for the fact that Angie Bowie was a contestant on the show at the time. It was pure chance that Angie Bowie (the ex-wife of David Bowie), of all the D-list celebrities in the world, had signed up for Big Brother that year. It was also pure chance that David Gest was a housemate in Big Brother that year, considering the fact that he was noticeably ill during his stint on the show, and had to leave early as a result.
All of these circumstances made for one of the most chaotic moments in TV history, when Angie Bowie disclosed the news of David Bowie's death to Tiffany Pollard (star of Flava of Love and I Love New York). It was hilariously unfortunate how quickly things got out of hand in this scene. Viewers who saw it unfolding on TV took to Twitter to immediately say, "WTF just happened on Big Brother? Did everybody else see that?"
Those who missed this scene when it aired on telly managed to see it on Facebook, Twitter and Youtube in the following days when it was shared widely. 
Big Brother UK / YouTube
The type of outside interference that was rarely seen on Big Brother was far more common in Love Island. 
We don't need to spend too long telling you about how successful Love Island was this year. Almost half of all women aged 15-34 were watching Love Island on television this summer. The voting system for Love Island was drastically different to that of The X Factor or Big Brother. You didn't need phone credit or money to vote on the show. Instead, all you needed was wifi or 3G. Voting wasn't just limited to eliminations on Love Island either.
With a more interactive and accessible voting system, viewers were allowed to make a range of decisions for the Islanders almost every night that the show was on TV, all without paying a single penny. Outside interference was a staple on Love Island. The hair colour of contestants would be changing from day to day, as there were hairdressers and makeup artists onsite. More noticeably, the producers of Love Island would show the contestants tweets from viewers, offering an outside perspective on what was going on in the villa. 
Love Island / YouTube
Love Island's producers approached this show with one plan for the contestants in the house and a whole other plan for viewers at home on social media. This is where Big Brother and The X Factor failed, because these shows initially gained popularity before viewers watched TV while simultaneously scrolling through Twitter and Instagram. As a result, they took the type of social media usage which now occurs parallel to reality TV completely for granted.
With televised singing competitions, there's also another glaring issue…
Across the board, people are sick of shows like The X Factor, The Voice, etc. There was once something novel about seeing singers of varying levels of ability auditioning on live TV. Now it's boring. Not only do we recognise the formulas these shows rely on, but we also have the internet, so we can see this kind of shit online anytime we want to.
The thing is, people just do not need to go on TV to become famous anymore. YouTube, Instagram, Musical.ly, Soundcloud, Bandcamp and countless other platforms have totally leveled the playing field for up-and-coming singers and performers. 
To be a successful musician in 2018, all you need is to be good at singing and even better at marketing. You can reach any target audience you want on the internet, whereas on The X Factor, the demographic you're reaching is probably just 50-year-old women who can't find the remote because they're on their third glass of red.
DailyEdge is on Instagram!