ON MAY 25TH 2018 the world watched as Ireland historically voted to repeal the Eighth Amendment.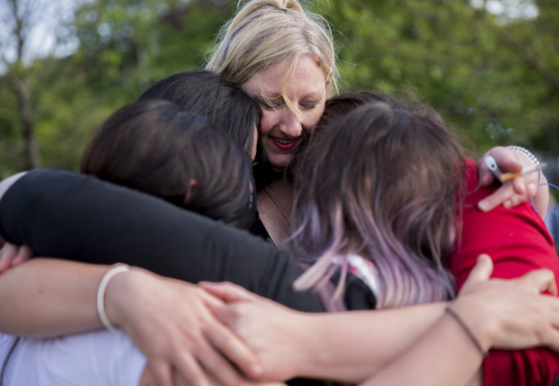 UPI / Pa Images UPI / Pa Images / Pa Images
Yesterday on Thursday 13th December, six months after the vote, abortion legislation was passed by the Senate, meaning that the Bill now only has to be signed into law by President Michael D. Higgins. Thirty-five years after we formally restricted a pregnant person's right to choose, Ireland now has given that power of choice back.
Here are how some of the key figures of the campaign responded to the historic day:
1. Ailbhe Smyth, who had campaigned in 1983 against the Amendment praised all of the key groups who contributed to the victory for pregnant people's rights.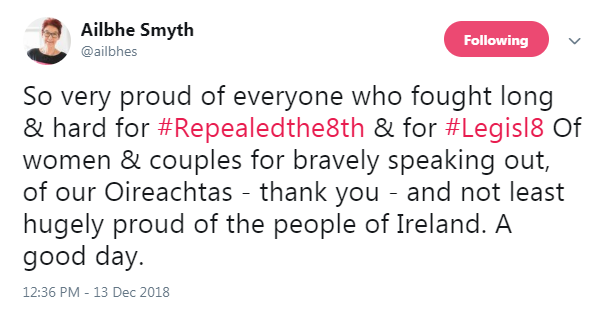 Twitter / Ailbhes Twitter / Ailbhes / Ailbhes
2. Gerry Edwards, who with his wife Gaye, frequently spoke of the painful experience of making a journey to deliver their son Joshua away from friends and family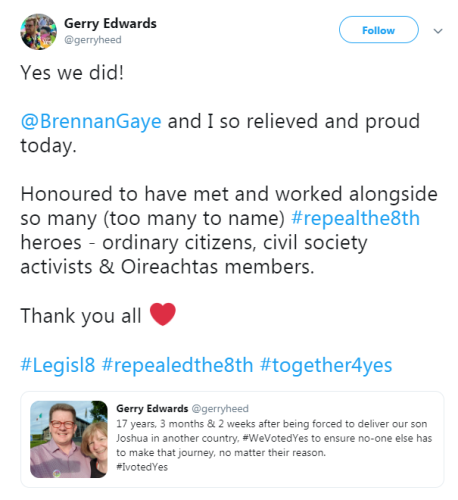 Twitter / Gerryheed Twitter / Gerryheed / Gerryheed
3. Trinity College Senator Ivana Bacik, who was one of the 27 'yes' votes in the Seanad, was hanging out with Fine Gael TD Kate O'Connell, Senator Lynn Ruane and Ailbhe Smyth.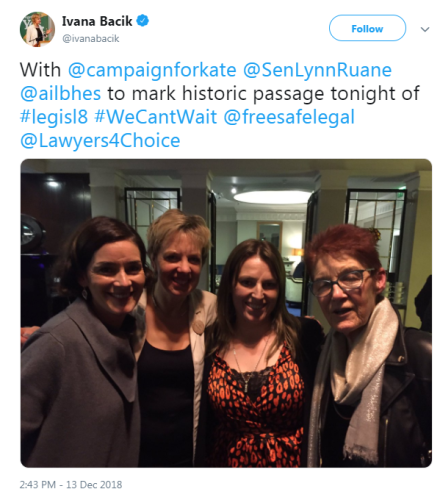 Twitter / ivanaBacik Twitter / ivanaBacik / ivanaBacik
4. Amy Walsh emphasised the point that the referendum was so that our citizens' problems would not be exported abroad
Twitter / amymarylucy Twitter / amymarylucy / amymarylucy
5. TFMR reminded us of all the little ones who weren't born on this island, but whose stories ensured that Ireland's smallest citizens would always be cared for here
twitter / TFMRIRE twitter / TFMRIRE / TFMRIRE
6. Fine Gael TD Kate O'Connell who was elected in 2016 on the campaign promise to repeal the Eighth was grateful to all of those campaigners who had come before her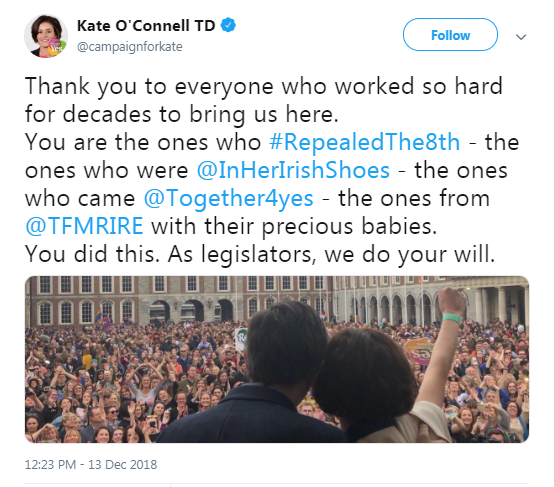 twitter / campaignforkate twitter / campaignforkate / campaignforkate
7. Ruth Coppinger, TD for Dublin West, was vocal in the years leading up to the vote and urged us to keep advocating for change.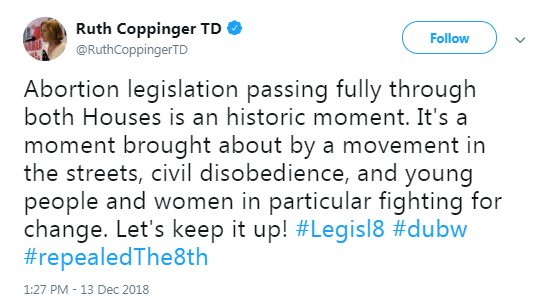 Twitter / RuthCoppingerTD Twitter / RuthCoppingerTD / RuthCoppingerTD
8. Simon Harris, whose debating performances in the last stretch of the campaign won him many fans, was happy to end the needless journeys of pregnant people.
Twitter / simonharrisTD Twitter / simonharrisTD / simonharrisTD
9. This poem says it all
Twitter / Sinead_Bolger Twitter / Sinead_Bolger / Sinead_Bolger
10. We've woke up and grown up as a country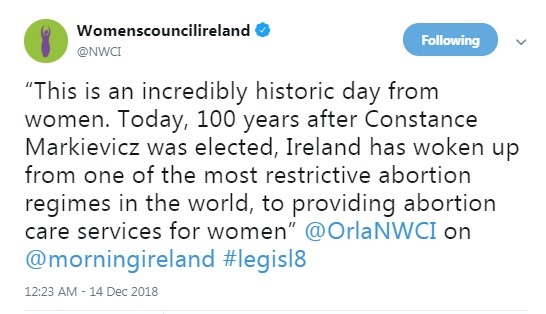 Twitter / NWCI Twitter / NWCI / NWCI
11. To end on a note that reminds of us our unfinished business, lecturer Fiona de Londras said: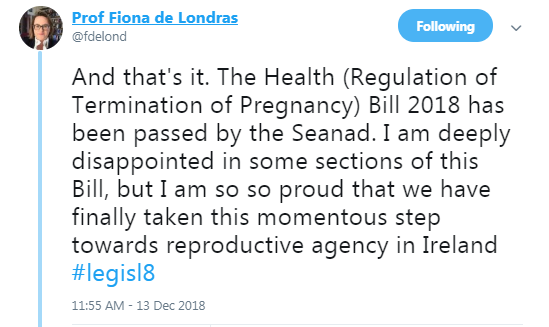 Twitter / fdelond Twitter / fdelond / fdelond
If you want to know what the disappointing sections of the Bill are, check out this guide we've created for you, which outlines the problematic sections of the new legislation.   
DailyEdge is on Instagram!