IRISH EMIGRANTS in Australia, we don't know how you do it. Heck, we don't know how anyone in Australia does it.
At any moment, you could walk out of your house and see this, draped across the side:
GAHHH. But wait, take a look at the claws, which are reportedly one and a half inches long.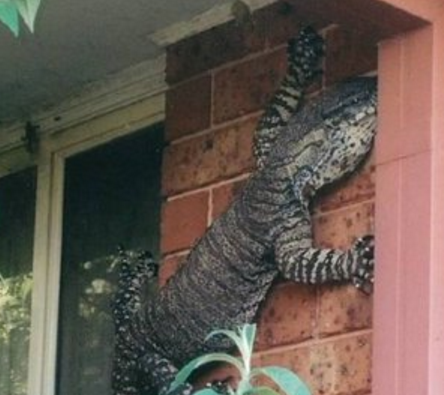 GAAHHHHHH!!
According to the Sydney Morning Herald, the reptile is a type of lizard known as a goanna, which can grow over two metres in length.
Eighty-year-old Eric Holland says he first saw it scurrying across his back garden, but then it disappeared.
He got a huge shock when he later saw it crawling all over his house, telling The Border Mail:
I sometimes get blue tongues and lizards in the backyard but never anything quite like this. I couldn't have been more shocked if a martian had landed. It blew the cobwebs out of me.
Well, we won't be sleeping tonight, anyway.