WELCOME TO Throwback Tunes, DailyEdge.ie's new series looking back at some great Irish albums and asking: Do they still hold up in 2017?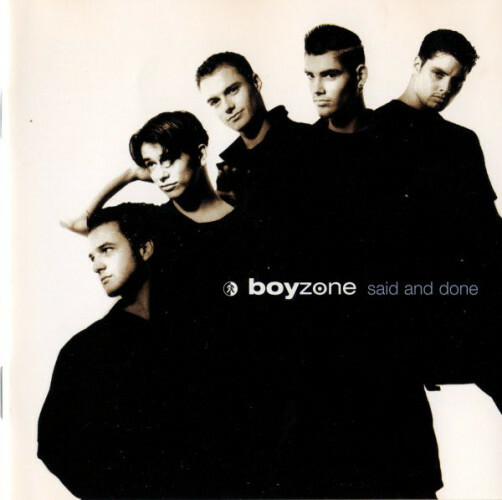 Discogs Discogs
For our inaugural #TBT, I'm listening to Said And Done, Boyzone's 1995 debut. I was four years of age when this album was released, so I can't say I remember much about it – I did however go on to become a huge Boyzone fan (well, as huge as you can be when you're a child), and their RDS gig in 1999 was my first ever concert.
I'm interested to know: Are there any hidden bangers? Any songs that were deemed to be good at the time, but absolute rubbish now? I encourage you to listen along, if you like! Or don't, save your ears.
1. Together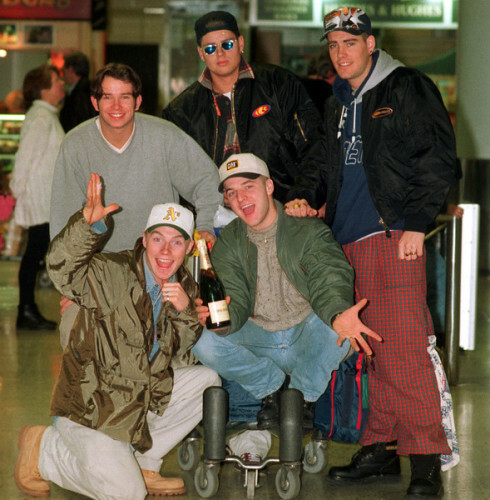 Leon Farrell / RollingNews.ie Leon Farrell / RollingNews.ie / RollingNews.ie
0:20 – Together is… kind of a house track? Curveball.
1:49 – According to Wikipedia, Ronan Keating had a hand in writing this, and I can hear no other voices on the track. It's just Ronan doing backing vocals for himself.
3:33 – I'm happy to never listen to this again.
2. Coming Home Now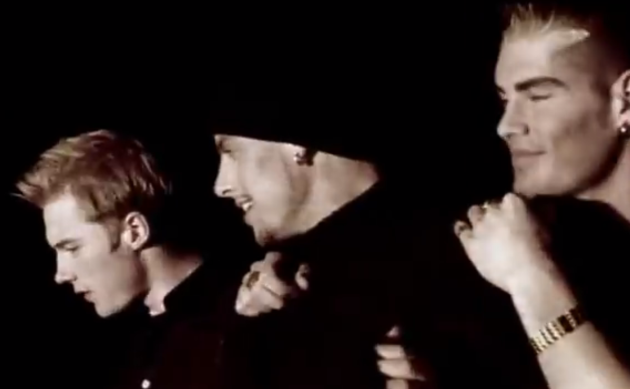 YouTube YouTube
0:02 – My only memory of this song is when Dustin covered it as 'Thumbin' Home Now', an ode to hitchhiking.
0:15 – This seems to be Boyzone's attempt at a sexy slow jam, and I am not OK with the ominous voice repeating "Weeks, days, hours, minutes – til I come home" throughout in a vaguely Dublin accent.
1:20 – Stephen Gately gets a look in this time, thank god.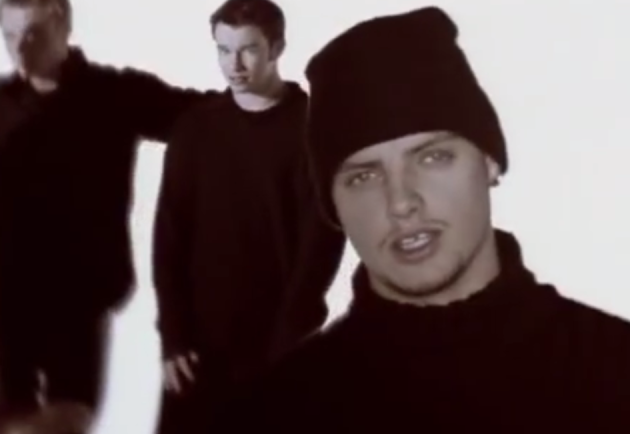 YouTube YouTube
2:59 – OH JESUS THE VOICE HAS A FULL SPEAKY BIT AT THE END. I just looked at the video, and the voice belongs to Keith. Why is this so upsetting to me?
3:46 – I'm not OK with Boyzone doing sexy slow jams with speaky bits. A part of my childhood has been tainted.
3. Love Me For A Reason
BoyzoneVEVO / YouTube
0:10 – The surge of nostalgia I got from the opening beats was so strong I almost forgot where I was. I can't do anything but love this.
0:20 – GIRL WHEN YOU HOUUUULD ME! Remember Shane's crochet top?
YouTube YouTube
1:03 – This chorus is bliss. Every bit of it. Even though the backing track sounds like Louis Walsh stole it from the karaoke bar he heard the song in.
3:15 – Love me for a reason, let the reason be love. That lyric is like an MC Escher painting or something. A snake eating its own tail.
4. Oh Carol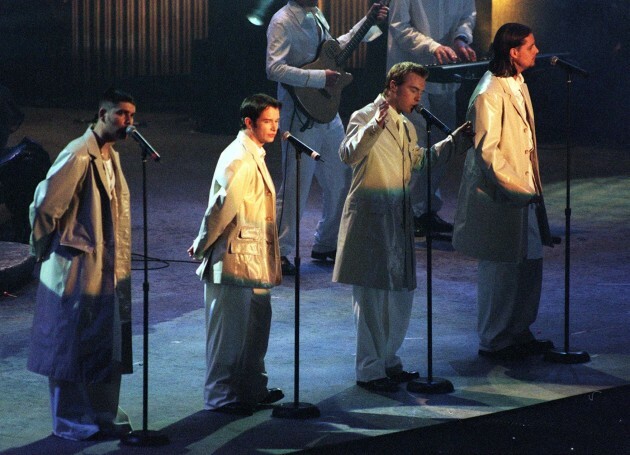 PA Archive / PA Images PA Archive / PA Images / PA Images
0:00 – Can I just say, without even pressing play, that the title of the song is giving me a bad feeling? Carol isn't a love song name. No offence to Carols.
0:31 – This is a 50s-inspired, saccharine love song, but the lyrics are deeply troubling. "I've got to tell you girl, you're in danger/No one can save you now, you're gonna be mine somehow."
0:45 – Oh god it's gotten worse. This is a song about stalking.
You didn't know me, but to me you're no stranger/ Saw you each day every week, I was too shy to speak
3:25 – Carol get out! Ring the police! The boyband in white are projecting their fantasies of a perfect woman onto you through (terrible) song!
5. When All Is Said & Done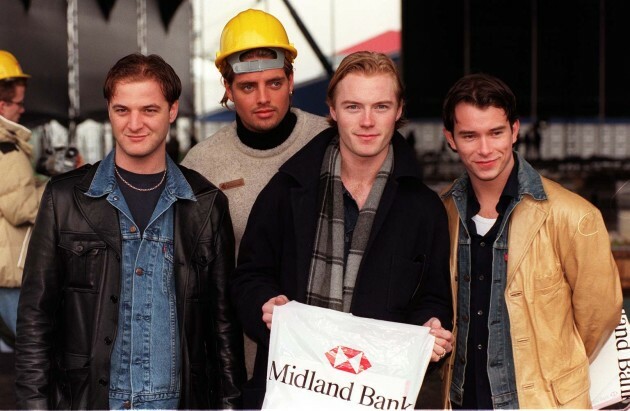 PA Archive / PA Images PA Archive / PA Images / PA Images
0:18 – Another ballad, but – y'all wanted a twist? – I just shot up in my seat in shock because I didn't recognise the voice. Who is this? Is it Mikey?
0:30 – Never mind, Ronan is back. Mikey (?) got all of ten seconds to sing solo.
0:38 – They all get a go in this. Whoever is singing right now absolutely cannot sing. This is incredible. How did this happen?
2:49 – Ronan, I would like to apologise unreservedly for all the times I've made fun of your voice. You are a very good singer.
6. So Good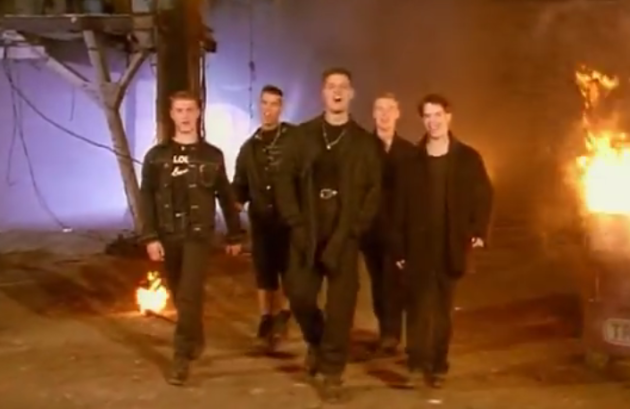 YouTube YouTube
0:05 – I remember this very well because it was on a dance mat game I had in the 2000s. We're gonna be SO GOOD! *stomp* Like only we co-hoould! *stomp stomp*
1:27 – This is highly enjoyable. Classic 90s pop, would definitely scream along to it in Coppers type thing.
2:30 – I think I recall an interview with them in which they said So Good marked the last time they tried to dance in music videos, which is disappointing cos the moves are something else.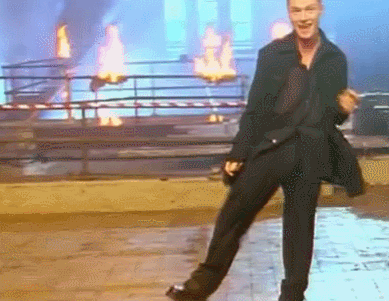 YouTube YouTube
7. Can't Stop Me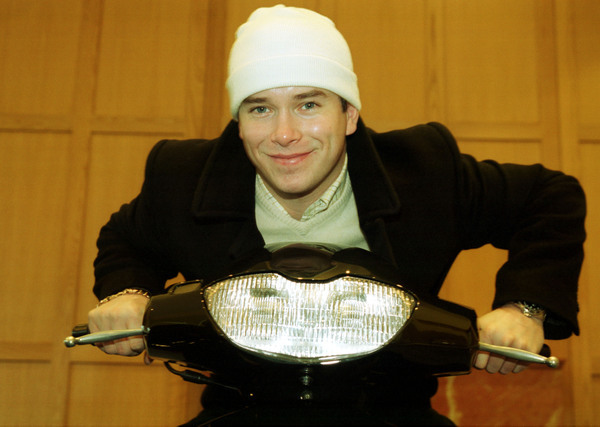 Kate Horgan / RollingNews.ie Kate Horgan / RollingNews.ie / RollingNews.ie
0:05 – Listening to this album has given me a renewed appreciation for modern production values. All of this sounds like it was made on a tiny Casio.
0:20 – I almost turned it off because there is a fake little giggle at the start of the song, AKA my number one irritant in pop records. Don't laugh! Pop is serious!
1:42 – This is a Stephen Gately vehicle and he deserved better. The bridge is actually quite nice, but builds up to a complete non-event of a chorus.
2:26 – He giggles again at the end. STEPHEN.
8. I'll Be There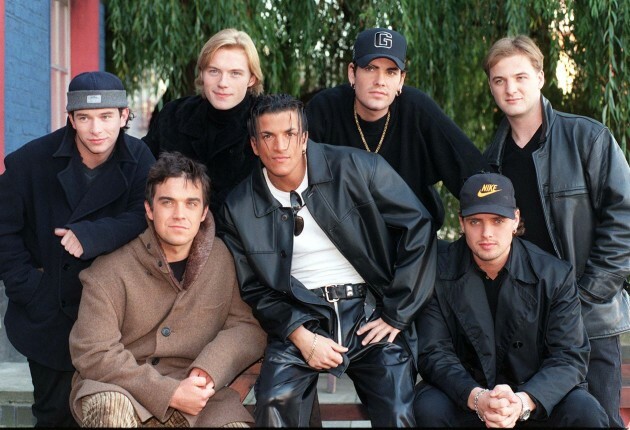 PA Archive / PA Images PA Archive / PA Images / PA Images
0:14 – I was hoping this would be a cover of the Jackson Five song, but no. I'm heading towards ballad fatigue, guys. This one needs to knock me off my feet.
1:25 – …Hah? I wasn't sleeping. I'm very much awake.
3:17 – Because this song is so relentlessly dull, I've just been thinking about how the other three lads must have felt to be constantly in the background? Was it good to be able to slack off, or really annoying, because they thought they were going to be the leads? Call in, Mikey, Keith or Shane! We're standing by.
9. Key To My Life
YouTube YouTube
0:12 – I know Boyzone did ballads. And looking at the names of the next four tracks, I believe they are also ballads. And I don't think I can do this any more.
1:21 – NO WAIT THIS IS GOOD. I remember this one, and the music video where they're all at the old-timey school with the hot teacher. I've been resurrected from near-death.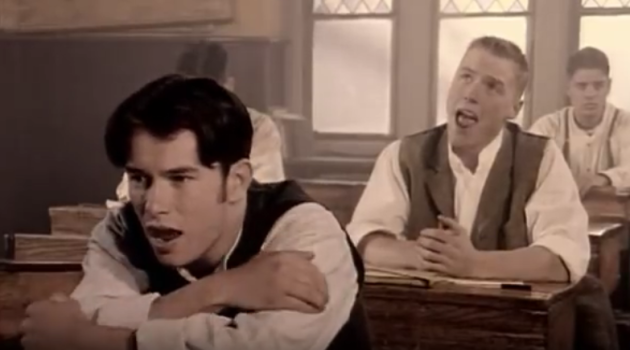 YouTube YouTube
2:32 – This is a proper arm-waver of a chorus. A good rousing middle eight, too. I feel spoiled.
3:20 – And – this is important – they actually took the time to finish off the song and not let it fade out. They haven't afforded many others the same courtesy.
10. If You Were Mine
Pinterest Pinterest
0:25 – Another creepy song! This time they're pining after a woman whose boyfriend treats her badly. This is the Nice Guy anthem. "If you were mine you'd know how good love could be." OH RLY.
1:20 – Is the other guy singing something more exciting? Because if so I'd just stay put.
4:02 – They really did Stephen so dirty with these solo songs. I will not rest until someone acknowledges that, be it Louis or Ronan or the person who cleaned the recording studio after them.
11. Arms of Mary
Eamonn Farrell / Photocall Ireland Eamonn Farrell / Photocall Ireland / Photocall Ireland
0:05 – Unless they're talking about Mary Mother of God, I do not want to know.
0:16 – Peak Ronan singing here. He turns the world 'valley' into 'varrlayyyuh'.
0:34 – Well this is definitely not about Mary Mother of God. "She took the pains of boyhood/ And turned it into feel good." This is a song about an older woman who showed them ~the way~. Shudder.
2:07 – The original song is by Sutherland Brothers and Quiver, and well, it made more sense in 1976.
12. Believe In Me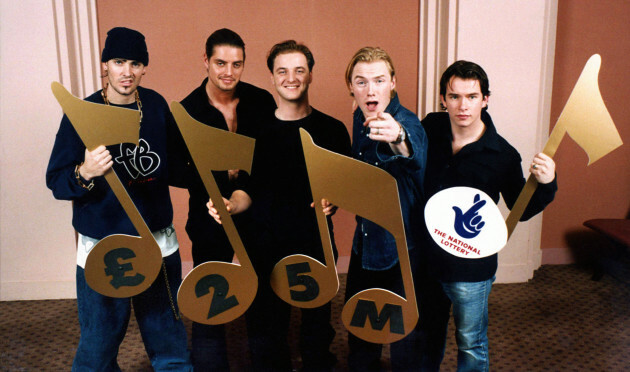 PA Photos PA Photos
0:30 – This had an upbeat intro but it's a lie because it's just a dressed up ballad. I'm sick of being lied to, Boyzone!
1:28 – It's OK, Valerie. The end is in sight. Just one more song and you can stop thinking about new ways to describe mid-tempo love songs.
2:32 – Now I am thinking about how exciting it must have been for them, five young Irish lads, recording their album with a big label and getting their first taste of fame. They didn't know it was shite! They just wanted to be stars. Or that's how I imagine it.
13. Father And Son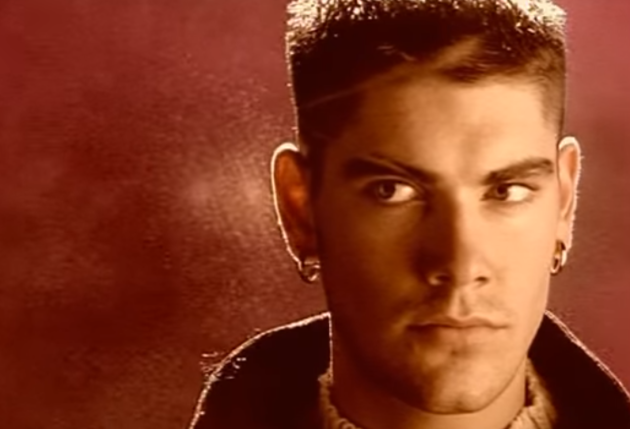 YouTube YouTube
0:03 – This is nice but that's not down to Boyzone. That's because this is a good song written by an accomplished musician.
0:34 – I love that years later Ronan was like, I'm going to get Yusuf Islam to sing this with me ON MY OWN. RONAN SOLO. Qu'est-ce que 'Boyzone'?
YouTube YouTube
1:13 – The f**king backing tracks lads. If I hear a twinkly keyboard one more time someone's getting a dig.
2:30 – Oh, and it's over. It doesn't follow the structure of a typical Boyzone song, so I am thrown. Thrown, but incredibly grateful.
Overview
PA Archive / PA Images PA Archive / PA Images / PA Images
The Boyz start off by sampling different popular genres of the 90s – house, R&B – before descending into song after song of simpering balladry. This is muck. Do not let nostalgia cloud your judgement.
HOW AND EVER: Love Me For A Reason is transcendent, and So Good is a serviceable banger. We know they go on to bigger and better things (Picture Of You) so let's not be too sad about the dullness of Said And Done. Until the next album, my friends.
DailyEdge is on Snapchat! Tap the button below to add!