IF TWITTER IS to be believed, there will be hordes of One Direction fans stalking around Dublin today looking for some glimpse of their idols.
The boys arrived in the capital last night for an appearance tonight on the Late Late Show. Our source at RTÉ tells us that it's expected that plenty of fans will show up in Donnybrook because "they tend to know more about the bands movements than the band's tour manager", adding:
Last time [One Direction were at RTÉ] was insane. They got rubbish off their bus and divided it up.
The last anyone heard from the band (well, on Twitter anyway) was in the early hours of this morning when Liam Payne simply tweeted:

More than 14,000 retweets and almost 13,000 favourites. Are we missing something?
When One Direction showed up at Dublin Airport yesterday they were reportedly whisked away straight from the runway, disappointing the fourteen (yes, fourteen) fans who had made the trip out to see them.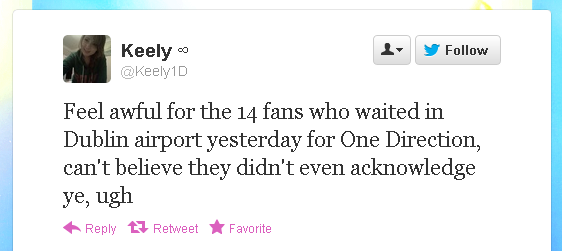 Considering what happened earlier this year, maybe it was a good idea:
Uploaded by HeyItsChelsss
Niall Horan did apologise after his exchange with the fans that time, and it seems that it was all done in good spirits.
If you spot One Direction out and about today, for the love of Harry Styles let us know! Keep your eyes peeled in Mullingar too, in case Niall Horan makes a quick dash home.
Email tips@thejournal.ie or tweet us @DailyEdge.