BRIAN MCFADDEN APPEARED on ITV's Loose Women this morning, in surprisingly good spirits. 
Energetic and cheerful, McFadden was nothing like the man on Twitter threatening to strangle a follower with a computer mouse this time two years ago. Chuffed with his progress on Dancing on Ice and discussing everything from his fondness towards Gemma Collins, to his freshly shaven face which he compared to a 'raw chicken', Brian kept the panel and audience fairly entertained. Maybe his beard was harbouring some bad juju.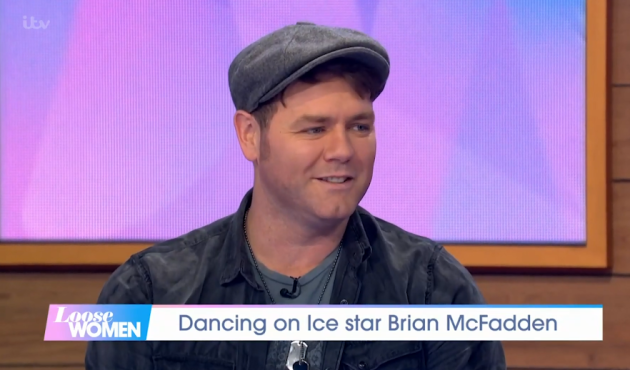 ITV ITV
Eventually, the conversation drifted towards the upcoming Westlife reunion and why Brian isn't going to be joining the rest of the boys. Kaye Adams said, "What about the music side of things? I mean, Westlife is reuniting with no Brian?" Brian explained:
Well, it was never even talked about. You have to remember – I left Westlife in 2004. That's a long time ago. The boys carried on for, I think, ten or eleven years after that. It is two different bands really. It would have been kinda weird, because when I left them boys worked so hard to keep the brand going for so long. This is like their swansong, their big comeback. For me to just turn up and go, "Can I have a bitta that, please?" That's not really fair. 
Brian then explained what the story with his tour with Boyzone is. He told Kaye, "I'm going on tour as myself, but I'm supporting Boyzone as a special guest." Brian then spoke about his upcoming solo album, Otis, which is a compilation of his covers of Otis Redding's work.
Stacey Solomon asked why it's been so long since Brian has released an album. (It's been five years). Brian told her, "I took up golf and I found Dominos pizza. So, that kind of consumed me for a while." 
Now, if you've made it this far into an article about Brian McFadden, we're not going to let you walk away empty-handed. As a little treat, we're going to bring your attention to the fact that somebody on the Loose Women panel farted during Brian's interview. We have been trying to analyse this fart (and yes, it's definitely a fart) for some time now, and we're unable to attribute it to a particular host or guest. It's up to you to figure out who's responsible for the fart, which occurs around the 1:14 mark of this video. 
Loose Women / YouTube
DailyEdge is on Instagram!