EVERY WEEKDAY MORNING, DailyEdge.ie rounds up the best of the day's celebrity dirt – from the top to the very bottom.
#WET CARPET Aha you people who are at the Cannes Film Festival, you're not so smug now are you? Look at all that rain!
It's hard not to feel just a little bit of schadenfreude when you look at the stars struggling with umbrellas and lifting their frocks out of puddles.
Despite all that they all managed to look like absolute rides, although we were disappointed that Carey Mulligan's husband Marcus Mumford didn't show up in a waistcoat with a banjo.
Leonardo DiCaprio and director Baz Luhrman have defended the negative reviews the film has received so far, with Luhrman saying "I just care that people are going out and seeing it". (Bloomberg)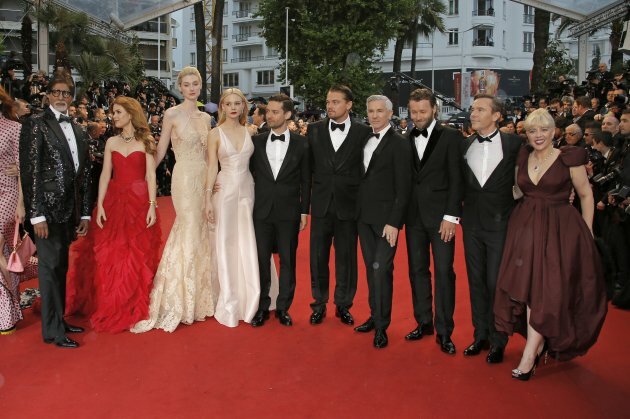 From left, actors Amitabh Bachchan, Isla Fischer, Elizabeth Debicki, Carey Mulligan, Tobey Maguire, Leonardo DiCaprio, director Baz Luhrmann, actor Joel Edgerton, screenwriter Craig Pearce and production designer Catherine Martin. Phew! (AP Photo/Lionel Cironneau)
#HIS LAD IN HIS HAND While it was lashing rain in Cannes it was lashing willies in Tallaght with Tallafornia "star" Marc (with a 'c') O'Neill posting another picture of his lad on Twitter.
Last week he tweeted a picture of his penis alongside a ruler, but it was removed shortly afterwards. He said at the time that the photo was "proof to the haters".
We are genuinely baffled. Who are the people hating on Marc's lad, aka the "manaconda"?
Zip up your mickey, like a good fella.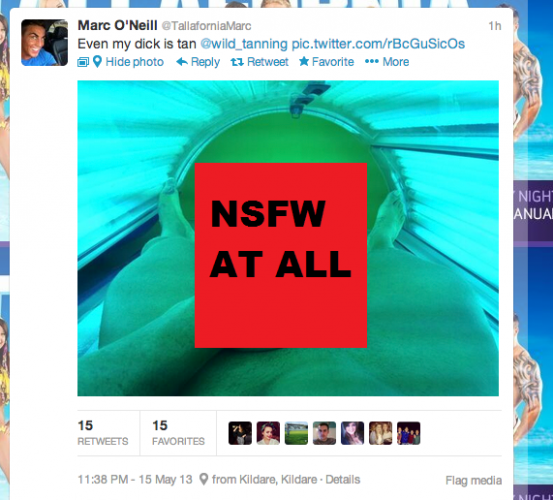 The horror. The abject horror. (Marc O'Neill/Twitter)
#BEY BEY Today we're on the "no Beyoncé deffo ISN'T" pregnant buzz, after she made it up to fans in Belgium after postponing a gig earlier in the week.
She cited dehydration and exhaustion as a reason for pulling the show in Antwerp, which only fueled rumours that she might be expecting her second child.
TMZ thinks that didn't look preggo at last night's gig though, and that's all that matters.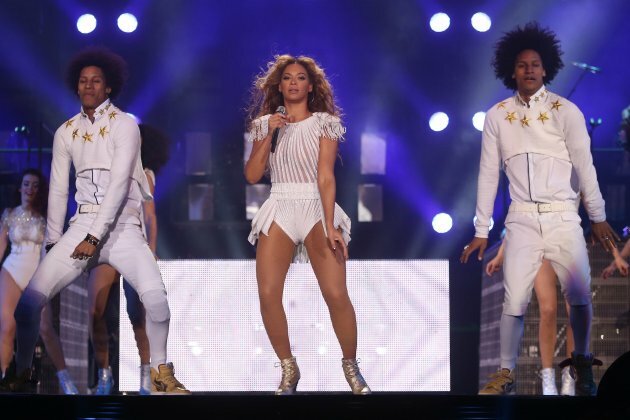 Joel Ryan/AP/Press Association Images
And the rest of the day's celebrity dirt
Renée Zellweger had to carry her own luggage at the airport. Morto (Daily Mail)
Made in Chelsea star Jamie Laing is coming to Dublin to promote his book. Yes, he has a book
Cara Delevigne got a tattoo of a lion on her finger. Rihanna was there to hold her hand (Rihanna/Instagram)
Angelina Jolie is on the cover of Time Magazine (Perez Hilton)
Kelly Rowland has admitted that she was jealous of Beyoncé. You let it out Kelly! (Us Weekly)
Did you miss yesterday's Dredge? With Jedward palling around with Tara Reid and Corey Feldman? Here you go…