EVERY WEEKDAY MORNING, DailyEdge.ie rounds up the best of the day's celebrity dirt from the top to the very bottom. 
Yesterday Cher spoke out on Twitter to voice her disapproval of Donald Trump's decision to rescind DACA (Deferred Action for Childhood Arrivals).
DACA is an immigration policy founded by the Obama administration in 2012 that allows certain immigrants who entered the country as minors to receive a renewable two-year period of deferred action from deportation and offers them eligibility for a work permit.
Cher / Twitter Cher / Twitter / Twitter
The removal of the policy will be disastrous for hundreds of thousands of people who have spent the majority of their life in America. Many people have been angered by the thoughts of someone being sent to a country that they have no recollection of ever living in.
Popstar and gay icon Cher was one of the many people enraged by the Trump administration's announcement. Referring to the people who are eligible for DACA (commonly referred to as Dreamers), Cher called on Americans to take Dreamers into their homes and protect them from deportation to countries they have no life in.

Cher / Twitter Cher / Twitter / Twitter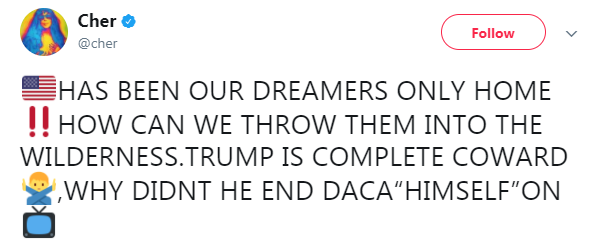 Cher / Twitter Cher / Twitter / Twitter
One of Cher's followers questioned whether Cher was just all talk. A woman named Brenda, whose account is now on private wrote "Sure you will Cher.. I'll believe it when I see it!"

Cher / Twitter Cher / Twitter / Twitter
Cher, who is a force to be reckoned with, had a simple response. "Then keep your eyes open bitch", which has no been liked over 57,000 times on Twitter. (Teen Vogue)
Kim Kardashian has participated in another nude photo shoot in the name of art. 
We all know that Kim Kardashian is very comfortable with her body. She's not afraid to pose nude, and has done many times. Well in this one, she's not completely nude (she has combat boots on).
The photos will feature in a photography book by Mert Alas and Marcus Piggott that will be released tomorrow.
Cosmopolitan reckon that the move may have been done in response to Sharon Osbourne's recent quotes, in which she labelled Kim Kardashian a 'ho'. (Cosmopolitan)
Gigi Hadid has reportedly apologised for a 'racist' video her sister shared on Instagram, but did so in a way that means very few people can access the apology. 
Gigi Hadid is to be excluded from the next Victoria's Secret Fashion Show which is scheduled to take place in Shanghai, China. Why? Well, because her sister Bella Hadid shared a video on Instagram that shows the 22-year-old model squinting her eyes as she held up a Buddha biscuit.
Hundreds of people on social media condemned the model, saying she was no longer welcome in China. Since then, Hadid disabled her Instagram comments and made an apology to fans in China through the popular social media site Weibo.
Fans are suspicious as to why she did not apologise on any social media platforms that are used by English-speakers.
In her apology, she insisted that it was not her intent to offend anyone. (Elle)
And the rest of the day's dirt…
DailyEdge is on Snapchat! Tap the button below to add!