SHAKING YOUR SHAMROCKS in public might seem like a good idea at the time but it's landed two people in some very hot water.
Police in Newark, Delaware are hoping to identify two people who were snapped allegedly having sex behind some bins on St Patrick's Day.
CBS Philly reports that the incident is said to have happened on Saturday amid St Patrick's Day celebrations.
The Huffington Post reports that several images of the pair were posted on social media, but have since been removed. However, this carefully doctored image is still doing the rounds online.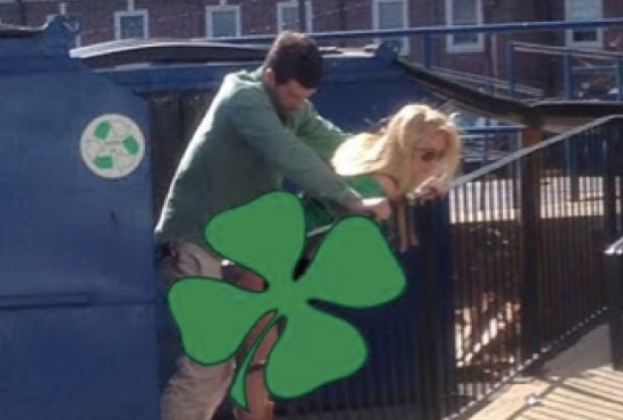 Instagram Instagram
The University of Delaware's UDaily is appealing to students to help local police identify those involved.
The first suspect is described as a  college aged white male with brown hair. He was last seen wearing a green shirt, khaki trousers and brown boots.
Suspect number two is described by police as a college aged white female with blonde hair. She was last seen wearing a green short sleeve t-shirt, jean shorts, brown cowboy boots and glasses.
They'll need more than the luck of the Irish to get out of this one.