THE PRACTICE OF Starbucks staff writing your name on your cup of coffee has produced lots of amusing errors.
Most of the time, the staff get a few letters wrong, or perhaps spell it in a crazy way, but occasionally they get it really wrong.
According to a post on Starbucks Hong Kong's Facebook page (via Kokatu), their branch recently got it really wrong, writing 'Vagina' instead of 'Virginia' on a customer's cup.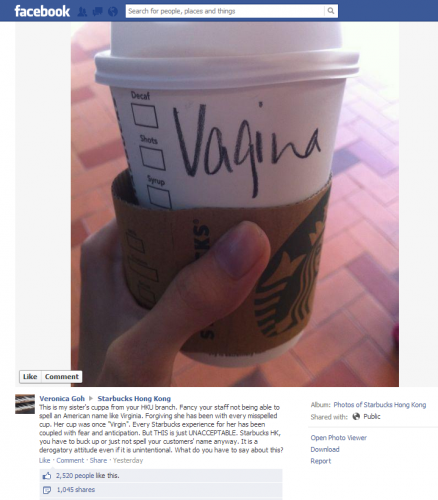 The customer's sister posted the image, saying:
This is my sister's cuppa from your HKU branch. Fancy your staff not being able to spell an American name like Virginia. Forgiving she has been with every misspelled cup. Her cup was once "Virgin". Every Starbucks experience for her has been coupled with fear and anticipation. But THIS is just UNACCEPTABLE.
To be honest, we think it's pretty funny, but then we didn't have to walk around with a coffee cup with vagina written on it, did we?