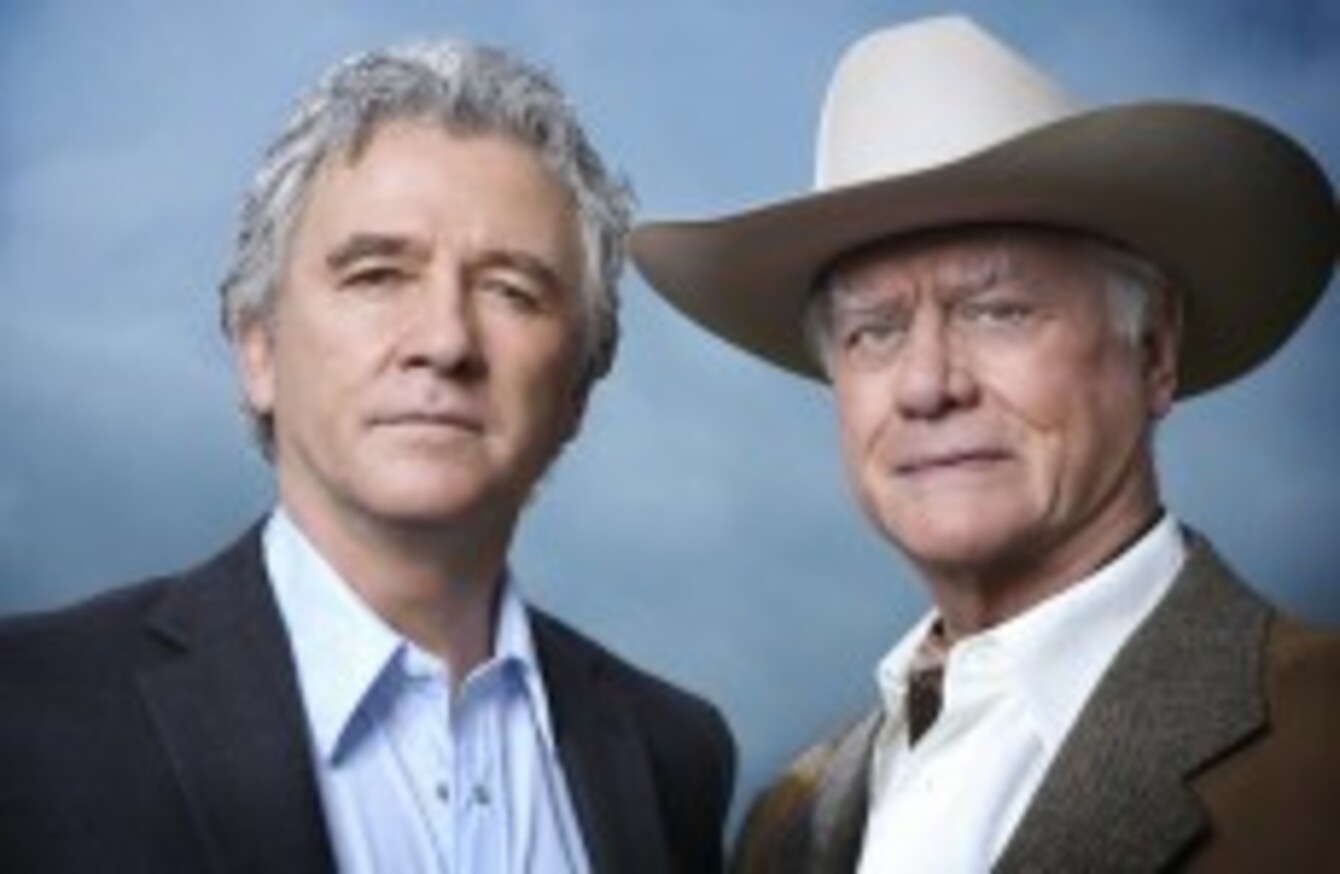 Friend or Foes? Bobby and JR
Image: (Image via TV3)
Friend or Foes? Bobby and JR
Image: (Image via TV3)
FANS WAITED OVER 20 years to hear that theme tune again and last night it played in many a living room across Ireland.
TV3 reports that 842,500 people tuned in to watch Dallas make its return onto Irish television.
The anticipation to see the feuding Ewings back on our screens had #Dallas trending on Twitter in Ireland before it even aired.
Many fans said they had nostalgic memories remembering the last time they watched the series. @deric_hartigan tweeted:

While @blondiedublin tweets:

The first episode since the 1980s had all the usual suspects – JR, Bobby, Sue Ellen and even appearances from Ray and Lucy Ewing.
For the younger viewers who might not remember the original it had plenty of eye candy with Jesse Metcalfe playing Bobby's son, Christopher Ewing and Josh Henderson playing JR's son, John Ross Ewing.
Times have changed and green energy is now something that Christopher believes is the future of sustainable energy but John Ross, like a chip off the old block, has inherited his father's greed and drills for oil on Southfork land, much to the anger of Bobby.
Bobby said he promised 'mama' (Miss Ellie) no one would ever drill on Southfork, promising John Ross the fight of his life if he continues.
However, even though JR is silent throughout most of the first episode he soon awakens from his depression once his son tells him there is a chance of making billions of dollars from his oil find.
JR still has the one liners stating:
Blood may be thicker than water, but oil is thicker than both.
So how do you think it fared in comparison to the original? Here is how it went down on Twitter:
Dallas

(Via Twitter/@lemachine) Fond memories of the previous series.

Dallas

(Via Twitter/@boscosdiary)

Dallas

(Via Twitter/@barbarascully)

Dallas

For those that are not avid Dallas fans - in previous series Bobby was killed-off but later decided he wanted to return to the show. He was brought back to life in the 'it was all a dream' shower scene. (Via Twitter/@colmtobin)

Dallas

(Via Twitter/@philipnolan1)

Dallas

(Via Twitter/@urchinette)