Updated 1.51pm
SKIP DUBLIN ON St. Patrick's Day, don't expect to drink all night, and "don't get lit in Temple Bar".
These are just some of the words of wisdom being handed out by CNN, which has posted a list entitled 'What NOT to do in Dublin' on its website. It advises tourists to avoid the Temple Bar area at night, to make friends and stock up on alcohol in an off-licence and under no circumstances to call an Irish person 'British', among other things….
BEWARE of Copper Face Jacks:
Image via Copper Face Jacks Facebook page
CNN warns that Dubliners have described the Harcourt Street hotspot as a "meatmarket" and "hell on earth". It says that those in search of the "dirty singles scene" might like to pay a visit though.
DON'T call an Irish person British: CNN advises that tourists should brush up on their Irish history and be sure to know that the Republic of Ireland is not part of the UK.
DON'T forget about Dublin's past: The article advises that Dublin has plenty of "local pre-history" to explore and recommends visiting the National Museum of Ireland to see the bog people, and taking a trip on the Viking Splash Tour, if only to roar at unsuspecting pedestrians.
DON'T go to the St. Patrick's Day parade: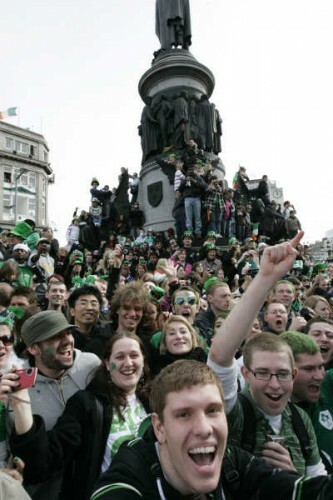 Image: Photocall Ireland
The event is described by CNN as an exercise in "vomit-lined streets, exposed genitalia and sidewalk-to-side walk crowds".
DON'T get your picture taken with Molly Malone: Instead tourists are nudged in the direction of the statues of Phil Lynott or James Joyce for photo ops.
Other recommendations include comedy at the International Bar, the Yeats exhibit on Kildare Street, and a trip out West for a "real" trad session.
What else should CNN be telling tourists to do (nor not do) in Dublin? Leave your suggestions in the comments section below.