IN DUBLIN'S FAIR city, where the girls are so pretty, love is most certainly not in the air in the run up to Valentine's Day.
Well, that's according to one supermarket anyway.
Tesco's latest research has revealed that the Dubs are pretty woeful when it comes to splashing the cash in the name of romance come February 14th.
An analysis of the number of Valentine's themed items passing through their tills revealed that seven Dublin Tesco stores can be counted among Ireland's 10 'least romantic' locations.
Customers in the Jervis Street, Merrion, Phibsboro, Clondalkin, Crumlin, Ballyfermot and Bloomfields branches just weren't that interested in the Valentine's Day goods. Shoppers in Arthur's Key (Limerick), Paul Street (Cork) and Galway weren't too pushed either.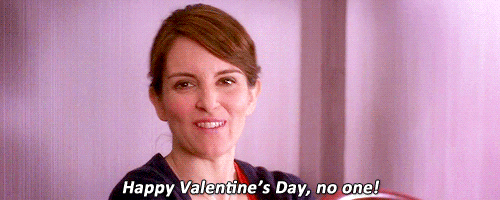 Giphy Giphy
Meanwhile, the people of Arklow revealed themselves to be Ireland's most romantic shoppers.
The town came second in the rankings last year but card , flowers and chocolate sales pushed the Wicklow folk right to the top of the pile this time around.
Kilrush, Co Clare came a close second, much to the delight of the county's traditional matchmaker, Willie Daly. He carries a 'lucky book' with him at all times, and guarantees that those who touch it will be "married and in love inside of six months".
So, when it comes to finding romance, what's his top tip?
Love is a wine of a rare vintage and is waiting for you to uncork and indulge.
Sure how could you argue with that, eh?
Ireland's Top 10 Most Romantic Locations (According to Tesco)
Arklow Square, Co. Wicklow
Kilrush, Co. Clare
Celbridge, Co. Kildare
Bailieborough, Co. Cavan
Nenagh, Co. Tipperary
Clonmel, Co. Tipperary
Naas Extra, Co. Kildare
Wexford Square, Co. Wexford
Drogheda Extra, Co. Louth
Ballbriggan Extra, Co. Dublin