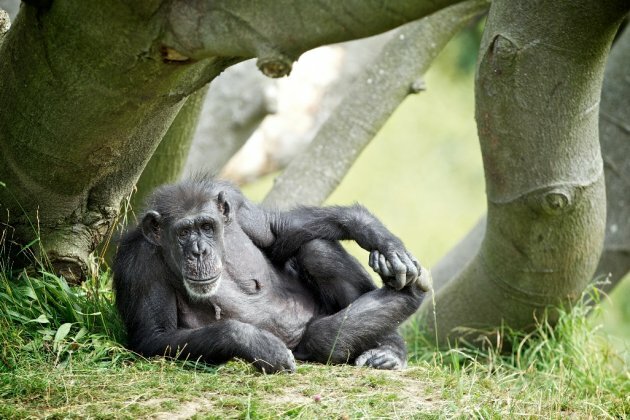 Wendy takes a well-earned rest on her 50th birthday.
IF YOU FOLLOW our Friday slideshow feature, you'll be aware that there are a few fans of baby animals among those working at TheJournal.ie HQ.
There is always a swell of excitement when Dublin Zoo sends us details of their latest arrivals and newborns. But that's not saying we don't appreciate the wisdom and magnificence of their mothers, fathers and indeed grandparents.
This week, Dublin Zoo is teaming up with Age Action Ireland to celebrate Betty and Wendy's 50th birthday.
The pair are the oldest members of the chimpanzee family at the zoo, having arrived in 1965, aged three. Growing up together, the chimps formed a very special bond and have lived in the zoo ever since.
"When Betty and Wendy first came to Dublin Zoo they took part in the chimps tea parties," recalls African Plains team leader Helen Clarke-Bennett. "While the tea parties are long over these two have developed into incredible adult chimpanzees."
They are very close companions and spend most of their days together. Being the stronger of the two, Betty looks after Wendy, according to Clarke-Bennett.
She can often be seen holding her hand and guiding her to the chimp house in the evenings.
Chimpanzees can live up to 60-years-old. Similar to humans, ageing can mean a loss of pigmentation so they turn grey. However, they can still be seen playing and having fun in their habitat.
As part of Positive Ageing Week, the zoo is offering free entry to all visitors over the age of 50 on Wednesday, 12 September. There will be a number of talks and activities arranged to reflect on the theme of the day, said organisers.
Betty eats a celebratory banana.
When Betty and Wendy arrived at Dublin Zoo from Sierra Leone in 1965, there were one million chimpanzees living in Africa. Today, the estimated numbers are between 172,000 and 301,000.
The pair were the first chimpanzees to take part in the zoo's breeding programme which began in 1974. Many of the chimps born in the capital have since moved to other zoos across Europe.
Chimpanzees are threatened by a number of factors, including the commercial bushmeat trade, deforestation and habitat destruction and displacement from human conflicts.