FIRST WE WERE told that selfies are wrecking our lives, and now they want to take Facebook away from us?
Scientists in the US have found that Facebook use may be linked with unhappiness, and it's not just because you can't handle another 36 pictures of your cousin's baby in the exact same pose.
To achieve the results 82 people in their late teens with smartphones and Facebook accounts were asked to take part in two weeks of research.
Each person was sent five text messages a day (a bit needy, no?) to see how their Facebook use was affecting their well being.
Their moment-to-moment well being as well as their life satisfaction in general was measured.
The findings showed that the more time people spent on Facebook, the less satisfied they were with their lives.
Dr Ethan Kross, who led the study at the University of Michigan, said that while Facebook is an "invaluable resource" for "social connection"…
Rather than enhancing well-being, however, these findings suggest that Facebook may undermine it.
The study, published in PLOS One, also found the results were not affected by age, sex, gender, the number of Facebook friends in a person's network or their motivation for using Facebook. The long and the short of it was: the more they used Facebook, the worse it made them feel.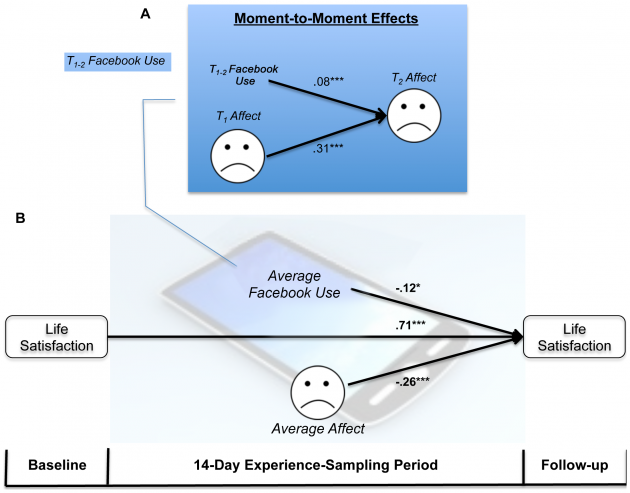 There's a lot of science here, which is explained in the full academic paper. But the sad faces are the ones that really tell the story.
Oh Facebook. We wish we knew how to quit you.
Explanations?
The scientists examined possible explanations for their results and came up with a couple of ideas:
Any sort of social interaction, including but not exclusive to Facebook, undermines well-being
People use Facebook when they feel bad
These theories were disproven by measuring well-being in relation to direct social interaction, and in relation to feelings of worry or loneliness. Neither were found to have an effect on the ultimate outcome.
Kross says that future research should focus on other demographics as well as other social networks.
via Huff Po