THE GOLDEN GLOBES has always seemed like the fun, more relaxed younger sibling to the staid, stern Oscars ceremony, and last night was no different.
The awards themselves are nice and all, but really, all we want to see are celebrities getting drunk and embarrassing themselves.
Here are the funniest, weirdest, and most emotional moments from the night.
1. Kevin Spacey wins his first Golden Globe for House of Cards
Yep, his first one – despite being nominated a grand total of EIGHT times.
His speech was suitably inspired by Frank Underwood:
TheRobotCinema / YouTube
"This is just the beginning of my revenge."
2. Giuliana Rancic forcing George and Amal Clooney to watch her take a shot
Rancic: "Can we take a celebratory shot of your tequila?"
Clooney: "How about you do one. I have to speak tonight."
Cue the Clooneys staring blankly at Giuliana as she takes a shot.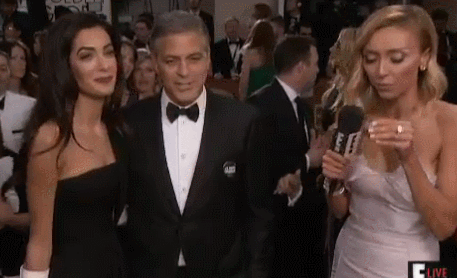 Awk. Ward.
3. Benedict Cumberbatch volunteering to present an award with Jennifer Aniston
Tina and Amy asked for a member of the audience to help out, and guess who was only delighted to do so?
Elo KbexAniston / YouTube
Benedict Cumberbatch: Always, always the most enthusiastic guy in the room.
4. Tina Fey and Amy Poehler's George Clooney burn
Because what would the Golden Globes be if they left him alone for once?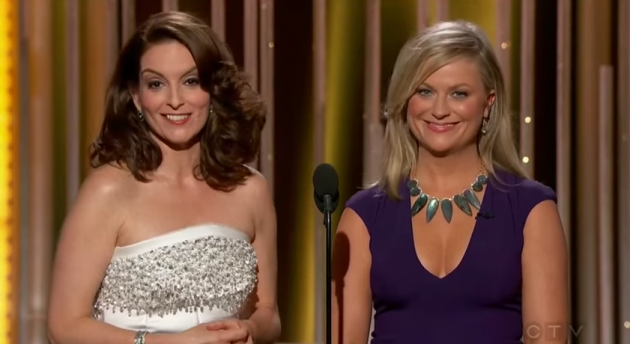 This year's was particularly cutting:
George Clooney married Amal Alamuddin this year. Amal is a human rights lawyer who worked on the Enron case, was an advisor to Kofi Annan regarding Syria and was selected for a three-person UN commission investigating rules of war violations in the Gaza strip. So tonight, her husband is getting a lifetime achievement award.
Watch their full opening bit here.
5. Kristen Wiig and Bill Hader's reliably off-the-wall award presentation
NBC / YouTube
"NOT TA-DAYYY!"
6. Allison Janney getting suuuuper excited about Prince being there
She's absolutely right.
https://vine.co/v/ODKlEWY1v0i
7. Model Chrissy Teigen's cry face
Her husband John Legend won the award for Best Original song, and Chrissy reacted by doing this.
Gawker Gawker
She's actually really emotional, OK? She tweeted later:
8. Benedict Cumberbatch pulling off yet another photobomb
So this one wasn't as gloriously spontaneous as his legendary Oscars photobomb. But you have to give him points for his bonkers subject – Meryl Streep and comedian Margaret Cho, who was dressed as a 'North Korean member of the Hollywood Foreign Press'.
9. Jared Leto's plait
Last year, every woman in the world admired his perfect ombre 'do.
This year, his artfully distressed plait made women (and men) downright jealous.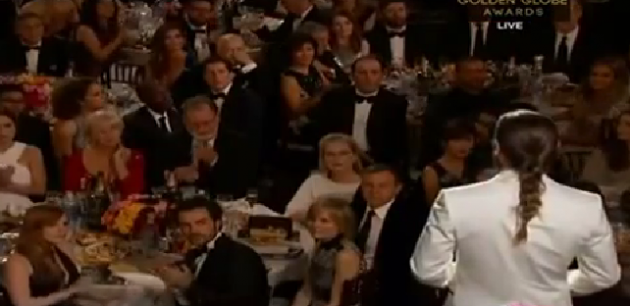 10. Gina Rodriguez's emotional speech
Delmar Brazil / YouTube
Newcomer Rodriguez won for her starring role in TV comedy Jane The Virgin (which hasn't hit screens over here yet) – in her speech, she dedicated the award to other Latinas who want to 'dream big':
This reward is so much more than myself. it represents a culture that wants to see themselves as heroes. My father used to tell me to say every morning to myself it's a great day. I can and I will. Well Dad, today's a great day. I can and I did.