AS YOU PROBABLY know, the latest edition of Grand Theft Auto was released last night around the world.
There were queues across Ireland as video game fans clambered to get their hands on the game.  But why is it such a big deal?
What makes Grand Theft Auto special?
The music
RwwpL
The music for the games is made up of in-game radio stations which play a mix of chat and music from big names.
Different radio stations feature different genres, thus artists from Kanye West to Justice to Miles David have had their songs featured.
One DailyEdge.ie team member admits to having once played the game solely to drive around listening to the radio stations.
The Hollywood voiceovers
mrkillerdeathtwenty
Not just anybody can voice a character in Grand Theft Auto.  Big name actors from Samuel L. Jackson (heard above) to Burt Reynolds and Ice T have featured.
Not to mention the stars who have featured as themselves in the games.  Juliette Lewis and Phil Collins are among the names who have voiced the animated versions of themselves.
The controversy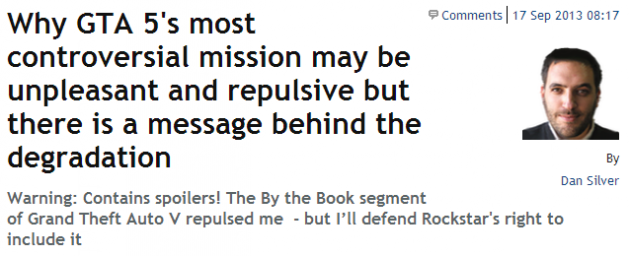 Mirror Mirror
In the game, you are a criminal fighting to rise through the ranks of the underworld and therefore you engage in criminal activity. This means violence, drugs and prostitution.
Essentially the player is encouraged to cause as much carnage as they can, frequently killing innocent people and earning points for it.
The controversy resulted in the game being banned initially in some countries, Brazil for example, which only added to its cool caché.
The detail
GTA Wiki A shopping centre featured in Grand Theft Auto. GTA Wiki
Within the GTA world, there are lots of places for the player to explore.  From strip clubs to shopping centres.
Sick of blowing up cop cars?  Stop and play tennis for a while.  Seriously, those are things the GTA V player can do.
For many, Grand Theft Auto is the closest they can come to living in a TV show or movie.
Its success

Daily Mail Daily Mail
The game has sold more than 100m copies since it launched in 1997.
Until now, Call of Duty: Black Ops was the fastest selling game in the UK, but GTA V is expected to sell twice as fast as it.
You can't argue with that.