ALL OF THE bright and beautiful young things were out and about at the MTV Movie Awards last night but one very special individual definitely stole the show.
Grumpy Cat turned up on the red carpet sporting a very familiar piece of headgear: Pharrell's iconic giant hat.
AP / Press Association Images AP / Press Association Images / Press Association Images
Tardar Sauce – that's her real name, in case you didn't know – rocked Mr Williams' look while he was busy at Coachella, and documented every moment of her night in the spotlight on Twitter.
Those in attendance most definitely approved of her attire, and couldn't wait to get a quick snap with her.
And MTV Style couldn't cope with the cuteness.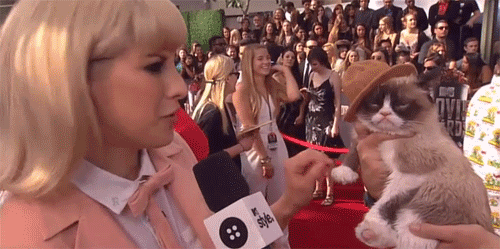 MTV Tumblr MTV Tumblr
Needless to say, the poor feline was fierce tired by the end of the evening.
That's the price you pay for being an international superstar.
See the full list of winners and the greatest moments from the big night right here.