WILL SMITH DECIDED to take a day out from his life as a Grammy award-winning rapper and Oscar-nominated actor, to don a uniform and spend an afternoon in a UK branch of Boots.
You'd barely give him a second glance if he walked past while you were picking out a box of tampons or calculating what the best value meal deal was.
Love this! #willsmith #just #boots #FreshPrinceWorksAtBoots pic.twitter.com/CkaguJExHe

— Sarah Dryburgh (@SarahDBoots) August 20, 2018
But what brought the 49-year-old actor to Boots?
Just before Boots shared the photos of Will Smith to their social media channels, the actor took to Instagram to announce that he was in London promoting a new eco-friendly line of bottled water that his son Jaden came up with a few years ago.
As you have probably guessed, Boots (along with Whole Foods UK) are one of the first companies to stock Jaden Smith's cartons of water on this side of the Atlantic.
Boots wrote on Facebook:
We're delighted that Will Smith popped into our London White City store over the weekend to spread the word that JUST Water has made its way to the UK! JUST Water is eco-friendly, made from 82% renewable sources with the aim to help reduce the amount of plastic pollution in our oceans. Pick it up with your meal deal now.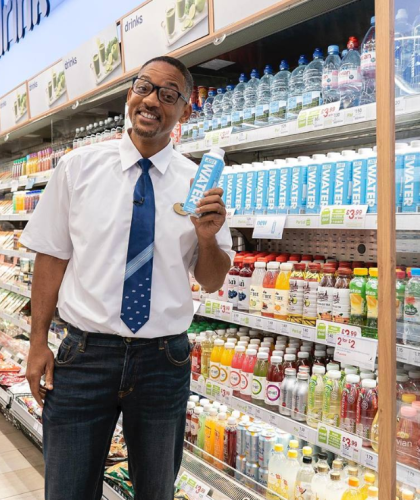 Boots UK / Facebook Boots UK / Facebook / Facebook
Plenty of jokes began to roll in, with people asking why Will didn't opt for WHSmith as a stockist, and others asking how many Advantage Points they need to save in order to bring Will Smith home.
20-year-old Jaden Smith also made a statement about the news:
Boots shares the same values as JUST through its social responsibility and dedication to sustainability and I'm excited to work with them for the UK launch.By partnering with a retailer like Boots, it's exciting that so many people across the UK can feel like they are giving back to the environment by drinking JUST.
Wow. If they think that's an exciting way to help the environment, just wait until they hear about tap water.
DailyEdge is on Instagram!