YOU DON'T REALLY have all that many options if you're thinking of having a wedding ring inscribed – usually you can choose between a romantic quote or a simple date.
But this couple went for something completely different: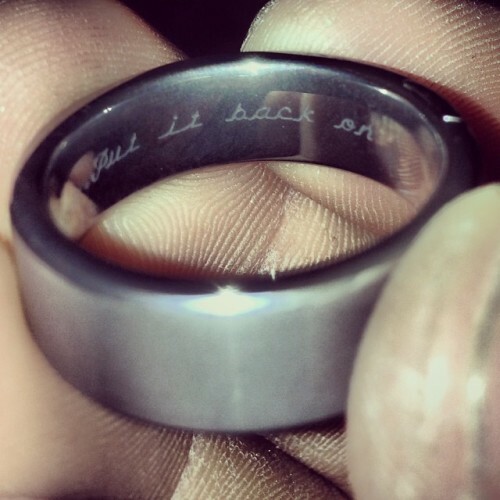 Imgur Imgur
American woman Amanda Tallman had the words "Put it back on" engraved on the inside of her husband Dan's wedding ring when they got married five years ago.
When they were getting them done, Amanda slid the note to the jeweller and had it added on the sly.
Dan had no idea, as he told The Huffington Post:
When the rings came in, I tried it on and noticed [the engraving] when I took it off. I just laughed along with everyone else in the store.
It's all a bit of craic, though:
She's a prankster. She's got a great sense of humour.
Even though they have been married for so long, it's only this week that the world has caught on after Dan's friend uploaded it to Imgur It's now been seen nearly a million times.
Any accusations that it's a controlling move were shot down by one of the top comments on Reddit:
My first thought was i bet they have an amazing relationship. You wouldn't put that on a wedding ring without total confidence and also knowing the other person totally understands your humor.
The internet applauds you.
Excellent work.