'JUST FOR TODAY' by Dundalk singer-songwriter Sinead McNally was released in August of 2012, however a fan-made video is now drawing more people's attention to the song than ever before.
Clodagh Carthy and her family created a Lego animation video to go with the song, which Clodagh says helped verbalise what they were going through in the wake of a terrible tragedy.
In a message accompanying the video, she writes:
I lost my precious husband to suicide in January 2013, father of three kids aged 13, 11 and 8. Thankfully we were cushioned by the generosity, kindness and support of family, friends and neighbours.But all of a sudden my head was dealing with funeral arrangements, finances, legalities, doctors, not to mention my own complex emotions and those of the kids and our efforts to rebuild our lives.

When I heard the song, the strongest emotion I felt was liberation because 'Just for Today' gave me permission to clear my head, to take time out, to be on my own for a while and announce that "I know what I'm doing. Leave it to me".
The family drew strength from the song, and decided to make a video to go with it, taking 'Lego Sinead' with them 'everywhere' over the Summer.
Describing what happens in the video, Clodagh writes:
The first scene is a dawn breaking which symbolises hope for us in our new lives. The second scene was filmed at the Annual National Sand Sculpting Competition in Bettystown, a competition we enter as a family each year, but which took extra effort this year because our hearts weren't in it. But little Lego Sinead encouraged us to take part because we needed a busy scene for the video.
Sinead McNally
Sinead McNally has now posted the video, complete with a message from Clodagh, on her YouTube page.
Even Lego has tweeted a message of support: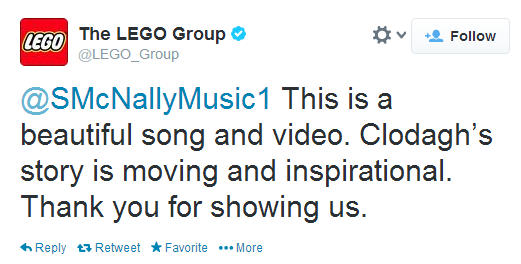 The song is for sale on iTunes, with all proceeds going to Aware.