ARGO WAS THE big winner at last night's Screen Actor's Guild Awards, taking the top honour for overall cast performance (their equivalent of best picture).
Jennifer 'Luminous' Lawrence took the best actress gong (and thanked MTV for her 'big break') while Wicklow resident and all-round good guy Daniel Day Lewis was named best actor for Lincoln.
Anne Hathaway won best supporting actress for Les Mis and Lincoln's Tommy Lee Jones won the corresponding actor award.
In terms of the telly awards 30 Rock's Tina Fey and Alec Baldwin won the SAG awards for best comedy performers. It was It was Baldwin's seventh-straight win, while Fey earned her fifth SAG prize.
The last ever episode of 30 Rock will air in the US on Thursday, when it goes up against The Big Bang Theory.
Tina Fey implored the audience to:
Just tape 'The Big Bang Theory' for once, for crying out loud.
Modern Family made up for missing out at the Golden Globes by taking the SAG award for best overall cast in a TV comedy show, while TV acting awards went to Claire Danes for Homeland and Bryan Cranston for Breaking Bad.
Downton Abbey won for best drama ensemble and Dick Van Dyke was given the lifetime achievement award.
And what about the best bits? The speeches, the gossip, the backstage antics?
Tina Fey's Trophy Cam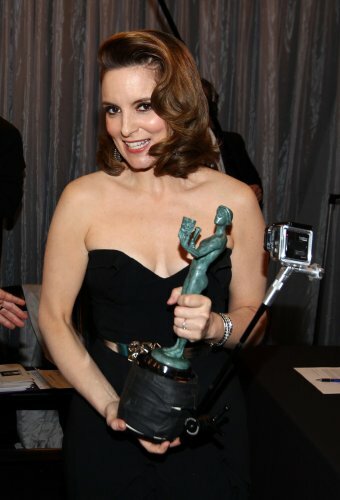 Tina Fey with Trophy Cam (AP)
Tina Fey had a surprise waiting when she arrived backstage to pick up her trophy, noticing that the base of it was covered  in black tape.
She was informed that she had been awarded with 'Trophy Cam', and that it would be following her thoughout the evening, recording the proceedings for the Associated Press.
Her first words to it were:
I didn't expect to be out of my seat at all tonight, I thought I was going to get drunk.
Jennifer Lawrence thanks MTV and My Super Sweet Sixteen
Jennifer Lawrence earned her SAG card when she was 14 by filming a promo spot for the MTV show My Super Sweet 16.
And here it is:
Ben Affleck apologises to reporter
After accidentally missing a reporter with a question backstage Ben Affleck gave a nod to his Oscar snub:
I'm sorry sir to have overlooked you. I know how it feels.
Don't cry Ben, those Oscars jokers don't know what they're talking about (John Shearer/AP/Press Association Images)
Sally Field and Daniel Day-Lewis in their glasses
Is this the cutest thing ever?
John Shearer/AP/Press Association Images
John Shearer/Invision/AP
- Additional reporting by AP