EVERY WEEKDAY MORNING, the Daily Edge rounds up the best of the day's celebrity dirt – from the top to the very bottom. Here's The Dredge.
#LOST IN TRANSLATION The tattoo belongs to Scarlet Johansson, dummies!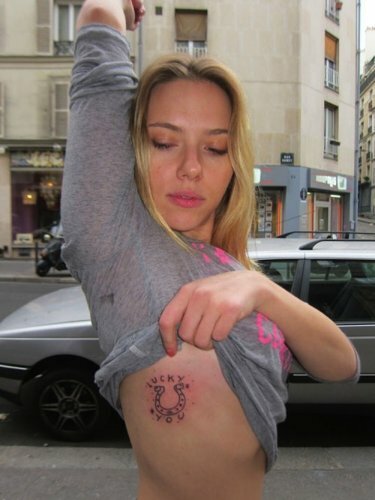 Oh, hi Scarlet (Fuzi Uvtpk)
Before you lose the run of your self and start roaring that it looks like a child completed the ink, we'll point out that the tattoo was done by French artist Fuzi Uvtpk, who is know for his simplistic tattooing style (Daily Mail).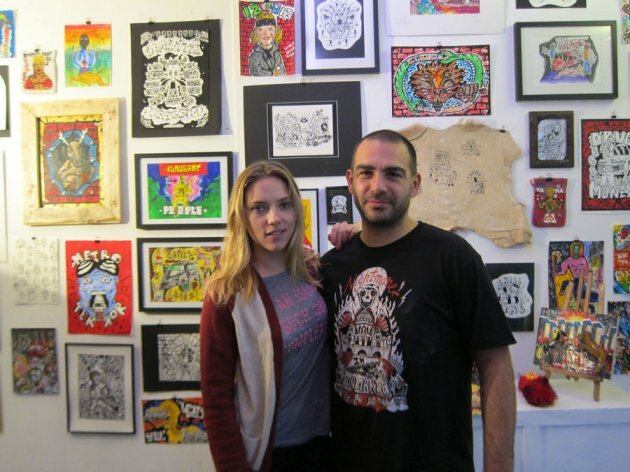 Scarlet and Fuzi. Best pals. (Fuzi Uvtpk)
#IT WASN'T ME J-Lo has hit out at allegations that she got a maid in a German hotel fired because she asked for an autograph. Lopez had reportedly complained about the worker after she knocked on the singer's door. But Jenny from the block has tweeted that it simply isn't true:
#R-PISSED? Was Robert Pattinson drunk on a US chat show during the week? That certainly seems to have been the case and he even admitted to host Jimmy Kimmel that he had been sampling the vodka backstage. (Irish Daily Mirror)
"Hang on a second, I might puke my ring up" (AP Photo/Joel Ryan)
And the rest of the day's dirt…
Daniel Craig has revealed that he wants to quit the James Bond movies, but that he's tied in to star in a few more (Irish Daily Star)
Jermaine Jackson (Michael's brother) has applied to change his name to Jermain JackSUN. Nope, we have no idea why. (TMZ)
Cheers star Kirstie Alley has revealed that her cocaine addiction was so bad that she thought she was going to overdose every time she did it (Radar)
Katie Price (aka Jordan) has backed up Chantelle Houghton's claims that Alex Reid had a sex dungeon. Ick.  (Daily Mail)
Ex-Pussycat Doll Ashley Roberts and boxer David Haye are among the stars joining Nadine Dorries in the Ozzie jungle for I'm A Celebrity which kicks off this weekend (The Irish Sun)
For more, follow @dailyedge on Twitter and like The Daily Edge on Facebook.