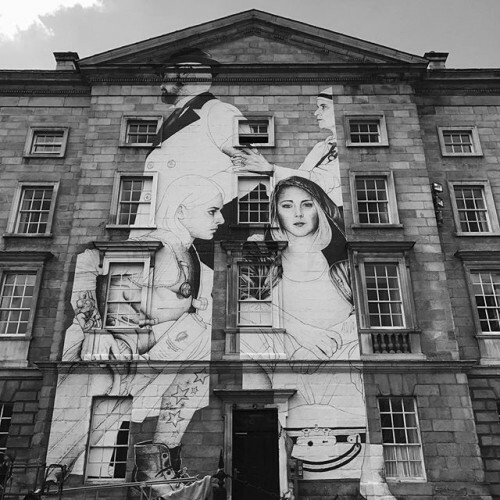 Instagram / joecaslin Instagram / joecaslin / joecaslin
A HUGE NEW piece by artist Joe Caslin has just been completed in the Front Square of Trinity College Dublin.
Caslin came to national attention back in 2015, when his mural The Claddagh Embrace went up on George's Street in Dublin and became a symbol of the marriage referendum.
This time, he is creating three separate murals about Ireland's "most pressing issues": drug addiction, mental health, and direct provision.
Facebook / Darragh Doyle Facebook / Darragh Doyle / Darragh Doyle
The first of these, The Volunteers, is inspired by a new Bill by Senators Lynn Ruane and Aodhán Ó Ríordáin which proposes that drug addicts are treated medically, not put into the prison system.
Ruane herself features as the figure in the bottom left of the mural, accompanied by Rachel Keogh, an advocate for the Bill who is in recovery from heroin addiction.
The two figures above them symbolise Ireland's healthcare service turning away from "the people who need it most".
The Volunteers took several days to install and is very personal to Caslin, who says "addiction courses through my family and friends in various guises, like most Irish households".
Powerful stuff.
DailyEdge is on Snapchat! Tap the button below to add!