AP / Press Association Images AP / Press Association Images / Press Association Images
BACK IN FEBRUARY, Kanye West caused controversy with his new song Famous, which contained the line:
I feel like me and Taylor might still have sex/ I made that bitch famous
The lyric was obviously referring to Taylor Swift, who condemned it immediately – but if you thought Kanye would leave well alone, you were wrong.
He's gone and poked the bear again with the video for the song, released last night via live stream.
What's going on in the video?
The video features Kanye and wife Kim Kardashian sleeping in a massive bed with a naked 'Taylor Swift' as well as several other nude celebrities and public figures, including:
George W Bush
Vogue editor Anna Wintour
Donald Trump
Rihanna (who sings on the track)
Chris Brown
Kim's ex Ray J
Amber Rose
Caitlyn Jenner (yes, even his in-laws didn't escape mention)
Bill Cosby
The video is heavily inspired by the American artist Vincent Desiderio, who worked with Kanye to create it. It's unknown whether the creepily realistic figures are digitally created, wax sculptures, actors wearing prostheses, or the celebrities themselves.
What does it all meeeaaan?
Kanye told Vanity Fair that the video is "not in support or anti" any of the people featured, but a "comment on fame".  Zach Frydenlund of Complex Magazine suggests that he's going for a 'celebrities – they're just like us' message:
Kanye takes these celebrities – present-day mythological figures, almost – and 'undresses' them to say, 'Yes, they're also just human beings with bodies."
Why is everyone focusing on Taylor Swift here?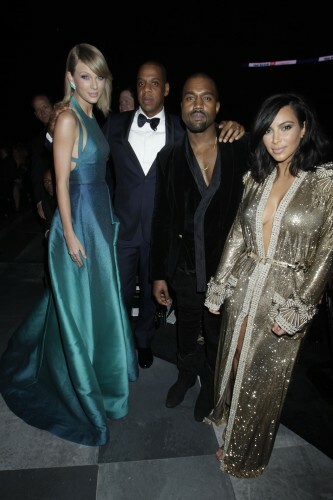 Francis Specker / PA Wire Francis Specker / PA Wire / PA Wire
Well, because of the aforementioned line, which was brought up again earlier this month when Kim Kardashian claimed that Taylor approved the lyric beforehand.
She totally knew that was coming out. She wanted to all of a sudden act like she didn't. It was funny because Taylor said, "When I get on the Grammy red carpet, all the media is going to think that I'm so against this, and I'll just laugh and say, 'The joke's on you guys. I was in on it the whole time.'"
Taylor's people released a statement refuting Kim's comments, and asked why Kanye and Kim would "not just leave her alone". This video is pretty much the opposite of that. So…
Is the sh*t going to hit the fan?
That's what people seem to think:
While some fans are lauding the video as 'art', others are just like, "FFS Kanye."
Swift has been too busy meeting new beau Tom Hiddleston's parents to comment, but rest assured – this is just the beginning.
DailyEdge is on Snapchat! Tap the button below to add!