EVERY WEEKDAY MORNING, DailyEdge.ie rounds up the best of the day's celebrity dirt from the top to the very bottom.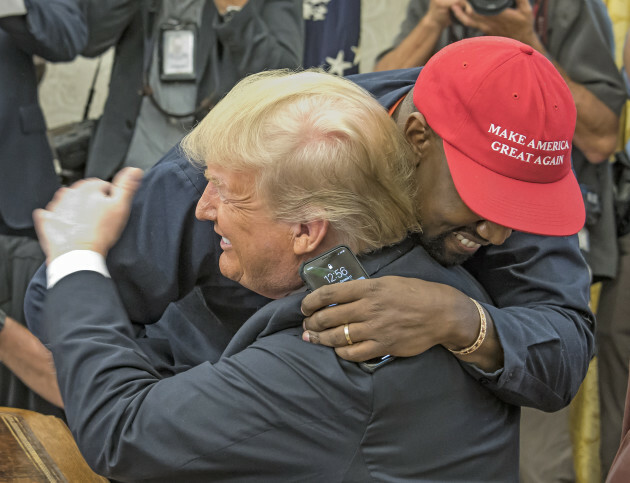 Ron Sachs Ron Sachs
Many of Kanye West's closest friends have been trying to talk sense into him for the entirety of this Trump saga. 
Poor John Legend must be exhausted at this stage. However, it seems as though somebody finally got through to Kanye. The 41-year-old rapper took to Twitter last night to tell fans that his "eyes are now wide open" to what has been going on over the last few months. 
My eyes are now wide open and now realize I've been used to spread messages I don't believe in. I am distancing myself from politics and completely focusing on being creative !!!

— ye (@kanyewest) October 30, 2018
In a series of tweets posted prior to Kanye's announcement that he's distancing himself from politics, the rapper tweeted:
I support creating jobs and opportunities for people who need them the most, I support prison reform, I support common-sense gun laws that will make our world safer. I support those who risk their lives to serve and protect us and I support holding people who misuse their power accountable. I believe in love and compassion for people seeking asylum and parents who are fighting to protect their children from violence and war. 
Is this a new beginning for Kanye? Should we get our hopes up? Is he just saying this because his new album is out soon? We'll probably find out shortly. 
Ian West Ian West
Little Mix have waded into the Nicki Minaj and Cardi B drama.
As we all know, there's absolute murder going on between Cardi B and Nicki Minaj at the moment. Yesterday, Nicki denied leaking Cardi's number and offered $100,000 to anybody who can provide her with CCTV footage of their altercation at New York Fashion Week, while Cardi branded Nicki a liar for previously saying that she was in possession of the CCTV footage.
While Cardi was hitting back at Nicki, she took to Instagram to upload ten videos of herself ranting at Nicki. In one video Cardi said "You're out here trying to say I'm stopping your bag?! I'm actually helping your bag! That Diesel deal that you got? Yeah, that came to me first. I had to decline it, because I'm already working with fashion brands." She continued:
Then, that Woman Like Me record? Yeah, I had to decline it because I'm doing a lot of pop records so I can't over-saturate myself but that came to me first and then they gave it to you! 
Cardi then proceeded to play the audio Little Mix had sent her from her phone. After this, Little Mix made the ill-informed decision to take a side in this feud. They took to Instagram to clarify that Nicki was approached first for Woman Like Me. 
Nicki decided to call a time out on the spat last night, tweeting "I know this stuff is entertaining and funny to a lot of people but I won't be discussing this nonsense anymore." Cardi Instagrammed a screenshot of the tweet and wrote "Alright then! Let's keep it positive and keep it pushing." (Independent.co.uk)
Beyoncé revealed what she's dressing up as for Halloween this year.
In a series of Instagram posts, the singer uploaded photographs of herself dressed up as Toni Braxton, calling herself Phoni Braxton. 
Yes, it's Halloween, but it probably feels like Christmas to Toni Braxton today. 
And the rest of the day's dirt… 
DailyEdge is on Instagram!